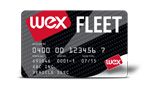 Controlling Costs with Fuel Cards
Whether a gallon of fuel costs $4, $2 or somewhere in between, it's most likely going to represent your largest equipment-related expense. Because of that, it only makes sense to do everything possible to control what is charged against fuel in your fleet. In times past, drivers, who would need to purchase fuel before returning to a controlled distribution location, were often given cash and told to bring in receipts to cover what was spent. Who could tell how many truck stop lunches were included in those receipts? Thankfully, those days are pretty much gone.
Leading the Way
Today, the use of fuel cards is a leading way for fleets of any size to control fuel costs. These work like charge cards for drivers, but limit transactions and report exactly what the charge is for, how much is charged and when the charge occurs. When a fleet enters into an agreement with a fuel card company, fleet management can decide exactly what can be purchased with the card. It can be limited to fuel only; include some maintenance items or a specific dollar amount for food or personal items on a daily or weekly basis; or even provide for an emergency cash advance. As Darry Stuart, president and CEO of DWS Fleet Management Services (www.darrystuart.com), put it, "The use of a fuel card offers fleet management the ability to control any expense charged against that card. You can pretty much decide ahead of time just how many hot dogs a driver can charge for lunch."
For example, WEX Inc. (www.wexinc.com) – the company formerly known as Wright Express that has been in the fuel card business for 30 years and continues to be a leader in the industry with almost 7 million of its cards being used by more than 350,000 business customers – offers a range of controls. One, which the company refers to as a hard control, may prohibit the purchase of fuel anytime on a Saturday or the purchase of any groceries. A soft control does not prevent a particular transaction, but it does trigger a real-time alert to notify the fleet manager of activity outside the stated policy. For instance, it would be unusual for a driver to need to fuel a vehicle three times in one day; however, there may be extenuating circumstances. The fleet manager would likely want to be notified of these transactions, but may not want to prevent them. "These exception-based controls allow customers to manage more efficiently," said Bernie Kavanagh, WEX vice president of corporate payment solutions.
"What a driver can purchase with a WEX card will be set by the company's fueling policy," Kavanagh explained. "We have a product-type control through which we restrict what a driver can purchase. A manager can decide if a driver can purchase only fuel or have the ability to purchase other automotive fluids like DEF, oil, wiper fluid, etc., but not groceries or any heavy maintenance since the fleet probably has a maintenance program in place. The card allows the purchase of whatever the manager decides. Anything else will be declined."
Fuel card companies normally capture transaction data in real time and make it available to fleet managers via secure websites. Summary reports are, of course, also available per a customer's request. Such reports can be supplied via fax or online, and can include the card number, the vehicle unit number and its odometer reading, the driver's name, the time and location where the purchase was made, and the price and amount of fuel purchased.
Fuel Card Savings
Some fuel cards come with a price discount at stations within their networks. These often take the form of the price indicated on the pump minus an agreed-upon amount or the price the fueling station pays for the fuel plus a small additional amount.
Such cards, however, commonly have a relatively restricted network, being accepted by as little as a few thousand locations compared to cards that charge pump price. WEX customers, for example, pay pump price, but know its drivers' cards are accepted almost universally and that it will still receive any discounts it might have negotiated with fuel suppliers.
While fleets generally report that fuel cards offer an operating expense savings, it's obviously important to understand what costs you will incur by using the service. Some card companies charge no transaction fees while others charge monthly fees. Some charge for reports; others don't. If you're considering the use of fuel cards, make sure you know about any fees you will incur and that your expected savings will cover them.
All fuel cards are not the same as some offer features more useful for particular operations. For example, some cards – in particular those intended for use by over-the-road operators – allow for cash advances for emergency purposes. Others are designed for local fleets that fuel from private facilities as well as retail locations, which is common for both utility and government operations.
About the Author: Tom Gelinas is a U.S. Army veteran who spent nearly a decade as a physicist before joining Irving-Cloud Publishing Company. While at Irving-Cloud, he worked in various editorial capacities for several trade publications including Fleet Equipment, Heavy Duty Equipment Maintenance and Transport Technology Today. Gelinas is a founding member of Truck Writers of North America, a professional association, and a contributing writer for Utility Fleet Professional.
Fleet Maintenance, Fuel Management
---
Tom Gelinas
Tom Gelinas has not set their biography yet
---