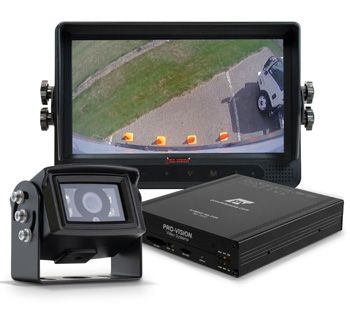 PRO-VISION Hybrid HD DVR
PRO-VISION Video Systems, a proven leader in mobile video technology and software, has announced the release of its new 900 Series Hybrid HD DVR that combines 1080p HD recording and observation technology in one device for unrivaled video coverage on commercial vehicles.
The PRO-VISION 900 Series Hybrid HD DVR simultaneously records video and provides camera views on an in-cab monitor – including the rear view while backing up and blind spots while turning – in 1080p HD resolution. The DVR provides operators with the high-quality video they need to prevent accidents and shows the details of what really happened during an incident.
With the release of the new 900 Series Hybrid HD DVR, PRO-VISION also has released a new line of 1080p HD cameras designed for the 900 Series. They are intended to help operators avoid collisions with crystal-clear views of their surroundings, providing a picture quality that's nearly seven times better than other systems.
With up to six cameras providing 360-degree video coverage, and industry-leading features including built-in Wi-Fi, automated wireless file transfer and GPS tracking, the PRO-VISION 900 Series Hybrid HD DVR is backed by a five-year system warranty. https://provisionusa.com
New Product Releases, Products & Services
---
Kate Wade
Kate Wade has not set their biography yet
---