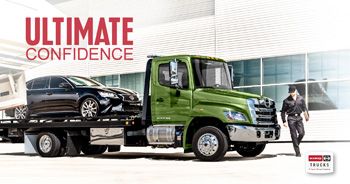 Hino Ultimate Confidence Initiative
Hino Trucks has acknowledged that the rapidly changing global health emergency is creating uneven economic effects across all industries. In response, Hino is introducing the Ultimate Confidence Initiative meant to strengthen and support their customers' businesses.
Hino Trucks, in conjunction with Toyota Industries Commercial Finance, is offering customers a No Payment in 2020 option. Subject to credit approval on applications made by August 31, 2020, this financing opportunity is available on all new Hino models.
Customers who take advantage of the No Payments and No Interest in 2020 option also will have all of their required maintenance covered in 2020 through December 31.
The current, complimentary HinoCare planned maintenance program for Hino's cabover lineup (155, 195, M4, M5 models) already helps customers stay on schedule and on budget. Now, customers with this preventive service care program on their current cabover trucks, or HinoCare that was purchased for their conventional trucks (258, 268, 338, L6, L7 models), will have a 90-day extension added to the end date of their services. www.hino.com/dealers.html
Products & Services, New Product Releases
---
Kate Wade
Kate Wade has not set their biography yet
---