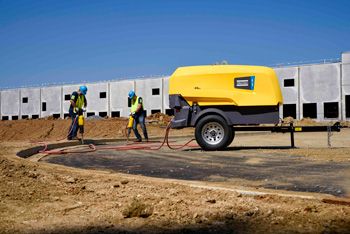 Atlas Copco XAS 188 Air Compressor
Atlas Copco Power Technique now offers the XAS 188, a single-stage oil-injected rotary screw type air compressor, powered by a Kubota Tier 4 Final, liquid-cooled, three-cylinder diesel engine. This unit brings the customer a lower total cost of ownership, the highest efficiency in compressed air, a best-in-class service experience, user-friendly features, easy transportation and environmental friendliness.
Now available in the U.S., this model is the most popular among the small diesel Atlas Copco air compressor range, which includes the XAS 110 small air compressor (110 cfm at 100 psi) and the XATS 250 (250 cfm at 150 psi).
Delivering 189 cfm at 2.37 gallons per hour, a 27-gallon fuel tank is adequately sized to operate the XAS 188 for more than 11 hours at full load. The diesel engine offers an output of 49.6 horsepower at a rated speed of 2,700 rpm. The engine starts the compressor at 14 degrees Fahrenheit with a standard glow-plug or a cold-start option starts the machine at -13 degrees Fahrenheit.
Highly efficient, a newly designed air end element includes a gear box, which demands less power from the engine, while at the same time delivering more airflow. This results in less fuel consumption and more productivity on the job. www.atlascopco.us
---
Kate Wade
Kate Wade has not set their biography yet
---