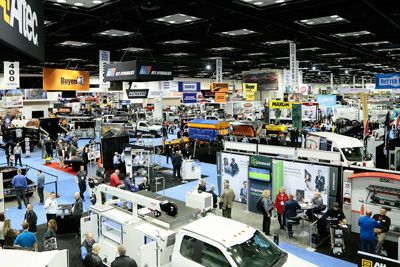 The Work Truck Show Celebrates 20 Years
The Work Truck Show returns to Indianapolis this year, where it will celebrate two decades of offering vocational truck fleet operators, manufacturers, dealers and equipment distributors an inside look at the latest trucks, vehicle components and equipment – all in one place.
Nearly three times larger now than it was in 2001, the show – produced by NTEA – The Association for the Work Truck Industry – will run March 3-6 at the Indiana Convention Center. Attendees will have access to an exhibit floor that covers more than 500,000 square feet, as well as industry-focused educational sessions and The Work Truck Show Ride-and-Drive. In addition, Nikki Haley, former U.S. ambassador to the United Nations, will deliver the keynote address at the NTEA Annual Meeting scheduled for March 5.
More than 100 companies have announced plans to introduce new commercial trucks, bodies and truck equipment at the show, and 26 companies have scheduled press conferences, including seven OEMs: Crane Carrier Co., Ford Commercial Vehicles, Isuzu Commercial Truck of America Inc., Mack Trucks, Mitsubishi Fuso Truck of America, Nissan North America and Ram Commercial. Plus, 16 leading commercial vehicle OEMs will discuss what they have planned for 2020 and beyond in chassis update sessions.
This year's Work Truck Week also will feature the Green Truck Summit and the Manufacturer and Distributor Innovation Conference, which are being held in conjunction with The Work Truck Show.
The Green Truck Summit, which takes place March 3, provides attendees with a look into the latest productivity options and alternative fuel and technology solutions for vocational trucks. Sean Waters, vice president of product compliance and regulatory affairs for Daimler Trucks North America, will be the summit's keynote speaker, delivering commentary on the future of trucks powered by electricity, diesel fuel and hydrogen fuel cells.
Paul Akers, founder and president of FastCap LLC, will serve as the keynote at the March 3 Manufacturer and Distributor Innovation Conference, a full day of training that teaches commercial truck manufacturers, upfitters, distributors and body builders of all sizes how to improve manufacturing efficiency and business results using the latest techniques and technology.
For full details about Work Truck Week 2020, visit www.worktruckshow.com.
*****
When: March 3-6, 2020
Where: Indiana Convention Center, Indianapolis
Snapshot: Produced annually by NTEA – The Association for the Work Truck Industry, The Work Truck Show is North America's largest work truck event, offering attendees the chance to discover new products, attend industry-focused educational sessions and gain access to professionals who can help them improve their operations.
---
Kate Wade
Kate Wade has not set their biography yet
---