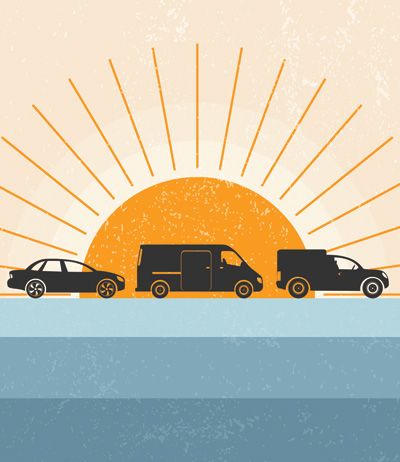 New Best Practices for Post-Pandemic Fleet Operations
In March 2020, longtime fleet professional and UFP editorial advisory board member Matt Gilliland was tasked to lead Nebraska Public Power District's (NPPD) Infectious Disease Prevention and Control response team.
Gilliland's team helped develop new COVID-19 policies and practices for the entire organization to reduce the risk and spread of infections and minimize operational disruptions from illness.
UFP recently spoke with Gilliland, NPPD's director of operations support, to learn about some of the changes his response team recommended for the fleet department that employs 12 people and oversees about 1,200 total fleet assets. Specifically, we talked about the new fleet practices developed in the past year that he believes will likely continue beyond the pandemic.
He highlighted these three changes.
1. Enhanced communication with vendors.
While NPPD handles the service on aerial devices and other hydraulic equipment in-house, it outsources most of its chassis maintenance.
"Nebraska is a big state. And it just doesn't make sense to have somebody drive 500 miles to put a serpentine belt on. So, we rely on the local retail garages. We have what we call preferred providers established regionally. You stay in-network to get your vehicle worked on – kind of like a PPO plan in health care," Gilliland said.
But as economic lockdowns began across the globe in the spring of 2020, supply chain issues emerged for local garages, making it harder for them to maintain sufficient parts and supplies inventory to serve their customers.
So, NPPD worked closely with those vendors to help ensure the shops had enough supplies, especially since the utility needed to request additional services – like deep cleaning – in response to the pandemic.
NPPD also needed to change how they got the vehicles to the shop.
"The challenge was that about 80% of the time, we rely on the vendor to do the pickup and delivery," Gilliland said. "So, we had to revisit that entire process at each location because how do you get [the vendor representative] in and out of the vehicle without coming in contact with NPPD staff? We had to coordinate with vendors to make all that work so that they didn't contact our employees."
How did the vehicle pickup and delivery process change?
"A lot of after-hours pickups," Gilliland said. "We had to pay a little extra. We had to do some Saturday and Sunday pickups with the vendor after hours. That meant some adaptation on their part and our part with gate access levels. Sometimes we had to issue temporary badges because, if the building was closed, no one was there to open the gate. We had to go through the automated gate processes to make sure those vendors had the credentials to get in and out after hours."
The upside of having to re-evaluate and adjust these processes during the pandemic?
"We enhanced our communication with our vendors. We had a lot more interaction with them. And that's something we want to continue," Gilliland said. "They were in what I would almost call a cruise-control mode, where they got comfortable with us, and our employees were comfortable with them. And expectations might be different from one location to another. But what this situation offered us was the opportunity to shore up how we communicate our expectations with vendors – what we want to be done to our vehicles and how we want those things done. And then standardize those expectations across all of our locations."
To ensure ongoing communication with vendors, NPPD's fleet department now sends a periodic newsletter to its preferred providers.
What are some of the topics discussed in the newsletter?
"For example, one of our expectations from a safety perspective is for the provider to inspect all vehicle steps," Gilliland said. "But what do we mean by a 'step'? It's anywhere that somebody will put a foot on to get in or out of that vehicle or on and off that truck. There are some pictures of recent occurrences where inspections didn't reveal the rust and somebody could have gotten hurt. And so we share these lessons of, OK, in the eastern part of the state, someone stepped on a step and it broke. Are we looking at all these issues statewide?"
2. Using remote technology to improve collaboration and efficiencies.
One byproduct of the pandemic is NPPD's expanded use of videoconferencing apps, like Zoom and Microsoft Teams, to collaborate on projects remotely. Gilliland expects that to continue, even as the utility's remote employees come back to work on-site.
"We've become experts at running this technology that we would never have been before," Gilliland said. "Even when we do our acceptance inspections – when something new is delivered – we can now have those conversations with the vendor via a distance model. It creates efficiencies. Less travel. More real-time responsiveness. More real-time interaction. And it also allows us to record a session."
The ability to record sessions provides a more efficient way to document important discussions – and refer to them when necessary. This is especially useful when fleet professionals and other stakeholders collaborate on vehicle specifications.
"It's been a real challenge since I've worked in this industry," Gilliland said. "You sit down with your stakeholders, design what the truck should look like and get it on paper. The team goes their separate ways. Then 12 months later, the truck is sitting on your lot. Stakeholders have forgotten what was discussed in the initial meetings. 'I don't remember us saying that we wanted that. How come this is here and not there?' And so forth. It's not the fault of anyone other than just the sheer passage of time. But now, we can refer back to the Zoom meeting or the Teams meeting that we recorded. 'This is what you said, and here's why you said that.' So, the video documentation allows us to reduce the number of changes after the fact."
3. Adding cleaning to standard vehicle service procedures.
Gilliland said that, before COVID, vehicle cleaning would be provided by the vendor as needed.
But when the pandemic hit, deep cleaning – not just an occasional wash or vacuum – became standard operating procedure for preventive maintenance.
Will the deep cleaning service continue after the pandemic?
"We might not do the full disinfectant-type stuff as we have during the pandemic. But the cleaning processes we developed, for the most part, will stay," Gilliland said. "It may not be a full detail job, but it will be pretty close. We pay more for this level of cleaning, but it helps our people take pride in their machine, which can help extend the life of the machine. So, I see that continuing."
---
Sean M. Lyden
Sean M. Lyden has not set their biography yet
---