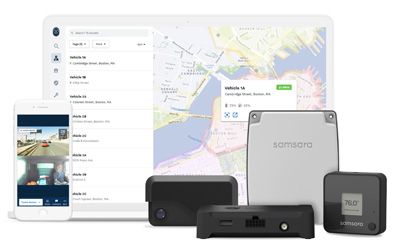 Fleets Embrace ADAS Technology to Make Drivers Safer
While self-driving utility trucks are still a few years away, advanced driver assistance systems are here now. Most commercial vehicle manufacturers offer ADAS as standard or optional equipment on at least some vehicles, and fleet operators are figuring out how to train and manage drivers using these systems.
Commercial trucks offer many of the same safety systems found on passenger vehicles: lane departure warning and assist, automatic emergency braking, blind-spot detection, adaptive cruise control and others. With all the news about self-driving cars and trucks, there can be legitimate confusion about how these systems work.
That's why driver training is crucial – so drivers understand what the systems will do and what they don't do.
Driving Dynamics (www.drivingdynamics.com), a fleet driver training provider, has included advanced safety systems in its fleet training classes for more than a year, according to Art Liggio, president and CEO. The company has discovered some uninformed expectations while training about 12,000 drivers per year.
"Drivers are assuming the vehicle technology will do things for them that it actually does not, or in some cases, they think they have technology in the vehicle that they do not have," Liggio said.
So, a driver may think they do not have to brake in traffic if the truck is equipped with emergency braking assist, for example. The technology can also provide a false sense of security where drivers feel like they don't have to pay as much attention to the road. They may rely on blind-spot detection and not be as diligent in looking at traffic when changing lanes.
"When people think that their vehicle is going to do more things to keep them safe, they take on more risky behavior," Liggio said.
Also, drivers need to understand how the systems function and what it feels like if lane-keeping assist activates to keep a vehicle between the lines. If the driver is caught off guard and tries to intervene, they may actually compound the issue, Liggio explained.
Isuzu rolled out a suite of advanced safety features on the new N-Series diesel commercial trucks, and the company expects to add it to the gas-engine version in the future, said Tim Ellsworth, product manager for Isuzu Commercial Truck of America (www.isuzucv.com).
Commercial fleet buyers are spec'ing trucks equipped with advanced safety features, especially those that can't be disabled by the driver. "Fleet operators believe they're a major benefit for the safety of the driver," Ellsworth said.
One of the most requested features at Isuzu is automatic emergency braking, where the driver receives a warning based on proximity to another vehicle. The system can automatically brake to avoid or lessen the impact of a crash if the driver does not react in time.
A limiting factor in the availability of advanced systems is the upfitting process for commercial trucks. Forward-facing cameras and sensors are built in at the factory. But systems like blind-spot monitors or 360-degree cameras that use cameras and sensors mounted on the rear of the vehicle must be integrated during the upfit. On Ram trucks, kits with rear parking sensors are shipped with the trucks for the upfitter to install on the body.
Tracking Driver Behavior
With the manufacturers' ADAS offerings, managers can't track driver habits for training and coaching purposes. So, fleets are turning to in-cab monitoring systems to track driver behavior. Certarus (https://certarus.com), a low-carbon energy supplier, uses the Samsara (www.samsara.com) dash camera and telematics device for in-cab monitoring in more than 200 light- and heavy-duty vehicles. The system uses a camera, accelerometer and other technology to (1) capture the driver's actions and the vehicle's performance and (2) send alerts through the vehicle's telecommunications gateway. When the system senses hard acceleration or braking events, a rolling stop or going over railroad tracks without slowing down, it sends a 20-second video to the safety team for review.
Certarus recently started monitoring distracted driving, said Kaylee Stach, the company's lead transportation compliance coordinator. The system sends a five-second video clip if it senses the driver taking their eyes off the road or the vehicle's instruments. With real-time updates, the team can respond to a hard-braking alert to see if the truck hit a deer, for example. "We check with the driver to see if they're OK and if there's any damage," Stach said.
When the systems were first installed, the average driver score was 90 out of 100 based on the length of the trip and their performance. In the first quarter of 2021, the average had risen to 95, Stach noted. "We'll give the drivers a gift card reward when they hit 100 for a month," she said. "It's really improved their driving habits, and speeding has gone way down," she said.
Initially, drivers weren't thrilled about being monitored, but it helped to know that only the health and safety team was reviewing the video, Stach said. "We tell them, 'If you're a great driver, we will never have to review a video from you.'" The drivers get to see the video as well, so they understand the process.
Fleets and drivers are still adjusting to the new technology, so for some fleets, the results are mixed.
"From what we're hearing from our clients, they're not experiencing the return on investment they expected from the more sophisticated driver assistance systems," Liggio said. "In fact, some of our fleet operators have experienced a slight increase in crash rates."
Hopefully, safety results will continue to improve as drivers acclimate to vehicles that help them drive.
"Fleet operators need to re-engineer their drivers for the new methodologies and operational control that they have to navigate their vehicle safely," Liggio said. "It really is a partnership between the driver and the technology."
About the Author: Gary L. Wollenhaupt is a Phoenix-based freelance writer who covers the transportation, energy and technology sectors for a variety of publications and companies.
*****
Common ADAS Technology*
Adaptive brake assist
Adaptive cruise control
Auto high-beam headlamps
Blind-spot warning
Distance alert
Forward collision warning with brake support
Lane-keeping alert and assist
Pre-collision assist with automatic emergency braking
*Names vary by OEM