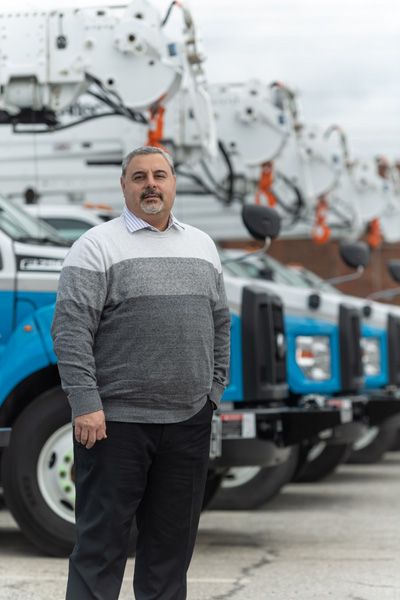 Con Edison Orders All-Electric Class 8 Bucket Truck for Pilot Program
In late March, Con Edison announced its partnership with electric truck OEM Lion Electric and Posi-Plus, an aerial device equipment manufacturer, to develop the first all-electric bucket truck in North America.
"Medium- and heavy-duty trucks are more challenging to electrify than cars, but the purchase of our first all-electric bucket truck shows the market is real today and it will only accelerate from here," Tim Cawley, Con Edison's chief executive officer, said in the statement. "While initially small in scope, this represents an important step in Con Edison's journey toward fleet electrification."
The truck will be built on the Lion8 all-electric 51,000-pound-GVWR chassis. Con Edison has spec'd the truck to be able to travel an estimated 130 miles on a single charge, with a charging time of about eight hours using two Level 2 chargers.
The production of an all-electric Class 8 bucket truck is a significant development, with zero emissions, lower maintenance costs and much quieter operations to improve safety in the field.
But it's still early in the game with plenty of unknowns.
So, how did the conversations get started between Con Edison and Lion Electric to build the truck? What was the process for determining the vehicle requirements? And what advice does Con Edison have for other utility fleet professionals considering launching similar pilot programs?
UFP spoke with Con Edison's chief automotive engineer, Fortunato Gulino, to get some of the behind-the-scenes details. Here's an edited version of our conversation.
UFP: When and how did the conversations with Lion Electric begin?
Fortunato Gulino: We started talks with Lion about [the Class 8 bucket truck] around January 2020.
We already had a relationship with Lion because of our electric school bus program up in White Plains. At the time, they were developing a Class 8 chassis and were interested in starting this chassis on a utility bucket truck platform. And that's when we started talking about this project.
A significant challenge with new powertrain technology is making sure the new vehicle can do the job. Did the requirements come from you and your team or was this a collaborative process with Lion?
It was a collaboration. We shared with Lion what we know about what our [current] vehicles can do and what we were looking for in the electric truck.
We were looking for a minimum of a 55-foot working height, with a winch set up to hoist up material to the poles.
We described how we use the truck. It's a two-shift vehicle, typically operating on a five-day workweek, except for storm response, where it switches over to 12-hour shifts. Those requirements were a little bit more stringent because it required the vehicle to operate longer.
Lion was also interested in the ranges our trucks typically travel. We told them approximately 30 to 50 miles is what we do on average per day.
With that knowledge, we worked together to develop the best chassis to meet these requirements and the type of [aerial] unit that would be installed.
Con Edison's official announcement said the truck would be capable of doing a full day's work and travel 130 miles on a single charge. How is "a full day's work" defined?
That would account for operating the truck, boom, winches and other onboard equipment for two eight-hour shifts.
The battery capacity on that truck should be sufficient enough for the two shifts. But we'll vet this out during the pilot program.
Typically, when you look at electric vehicles, whether it be a car or a truck, you intend to utilize it during the whole course of the day with the intention of charging overnight. That's what we're trying to do. We're trying to ensure that this truck is used the entire day, the two full shifts.
We're going to push that to the limits and then see how much charge is left over for future designs to say, maybe we don't have to have such a large battery. Perhaps it could be a Class 7 instead of a Class 8 truck. These are all things that are going to come out of the pilot.
When will the pilot program begin?
The truck will be delivered in early 2022. The pilot will start right after we train all our folks. We want our lineworkers to be trained to use this truck, making sure that they're familiar with the vehicle itself and the capabilities. Except for the training, the truck will go right into service in one of our locations, whether it be Staten Island, Brooklyn/Queens or the Bronx location.
How many total all-electric bucket trucks are you planning to have in the pilot?
At the moment, only this one truck. Naturally, we plan to look at other types of applications [to electrify] within the utility market. We're going to explore whatever makes sense to us and our ratepayers. We want to make sure that we get the best bang for the dollar for these trials and pilots to push this whole initiative forward.
How long is the pilot period?
The pilot period is going to be approximately three years. We want full testing in all three regions. When I say "full testing," I mean we want to ensure that each region sees all four seasons of the year, so we capture [data] in different geographies in each region. You might have hilly areas, potholes in New York City and then long lengths of driving in other regions. We want to make sure we're capturing all the peak cold and hot summers with each region for this pilot.
What advice do you have for other utility fleet professionals who might be considering a similar pilot program?
I would recommend starting where you can. It doesn't have to be an electric Class 8 vehicle; it doesn't have to be an electric car. You can try to meet in the middle somewhere, but start someplace.
Imagine if we all start joining in and testing out this new technology. This will help develop the industry and make electric vehicles more available and affordable – not just for us but also for everyone.
A rising tide lifts all boats. If each of us can try to move this forward, that would be something positive for the whole industry.
---
Sean M. Lyden
Sean M. Lyden has not set their biography yet
---