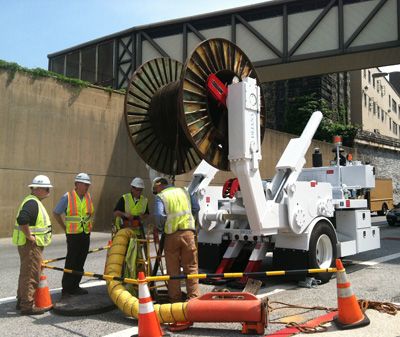 Mistakes to Avoid When Spec'ing Cable Reel Trailers
With his crew focused on downtown Austin, Texas, and several substations, size was an important consideration for Bobby Dahl, network construction supervisor for community-owned Austin Energy, when selecting a new cable reel trailer.
The new trailer upgraded outdated equipment, making work safer and more efficient. "We used to pull cable out with a one-ton truck and sit there and roll it up," Dahl said. "During the daytime, that's inferior. But we have a lot of cable failures at night, and that made it a safety concern."
He settled on a self-propelled hub drive cable reel puller from Dejana (https://dejana.com) and has a second one on order. It has multiple benefits, Dahl said, including strong pulling torque and an ability to navigate tight alleyways.
"We didn't have to have a bigger footprint to do the job," Dahl said, which can mean less traffic control needed on the job site because fewer intersections are blocked.
That maneuverability – and all the benefits it has brought – also was among the top considerations for Dahl when spec'ing a new cable reel trailer.
Greg Markert, Dejana's business development manager for the utility group, said that one of the key factors when spec'ing such a trailer is to determine where it will be used most often and for what type of cable. "It depends on whether they're working on underground power lines or overhead power lines and the size of the cable that they're trying to remove or install," he said.
Potential Errors
Utility fleet managers may know what they're looking for in a cable reel trailer, but they might not be aware of some of the pitfalls of spec'ing the equipment. So, what are some of the potential errors that fleets should avoid during the spec'ing process?
For many municipalities, hitting a certain budgetary target is the single most important deciding factor – but that can be short-sighted. "'Big enough for now' to save money will cost you more in the future," said Mark Rapp, product manager, utility and telecom products, at Felling Trailers Inc. (www.felling.com). "If you're within 10% of the payload capacity, opt for the next heavier one."
Noel C. Smith, president and senior sales engineer at REELSTRONG Utility Fleet (www.reelstrongufleet.com), said that reel trailers may not get the attention needed when it comes time to spec. "Subsequently, the buyer sometimes obtains a spec from a manufacturer they know and have done business with before," he said. "This can make it difficult to get a response from multiple manufacturers, which would result in a buyer being fully aware of the vast array of options and unique designs on the market."
Lack of time also may mean that fleets don't seek input from field operations managers and lineworkers about their needs and workflow. "It's best to discuss all options with the field before making a decision," Smith said.
The Primary Error
"Under-spec'ing" is the primary error that utilities make in purchasing a cable reel trailer, according to Markert. "They may think, 'We don't need 40,000 pounds of force. We'll never need that,'" he said. "But then they have to remove some cable from the middle of Main Street and find that they have to pull up to 40,000 pounds of force."
Rapp said cable reel trailers come in many sizes, with self-loading reel trailers being a fairly easy spec to write. "Multireel trailers require a bit more thought," he said. "Reel sizes can vary greatly through the different applications."
Some trailers can handle overhead work and underground cable, which can make the versatility worth the extra cost, Markert said. Other important considerations include the size of both the cable reel and the winch.
Rapp said the dimensions of the largest reel handled will drive a lot of decisions. The diameter "will determine the length the trailer needs to be," he noted. "The weight will determine the axle capacity and frame material needed to carry the payload. The width will determine what style of trailer can be used."
Ultimately, though, it is how the trailer is to be used that should winnow down the choices. "There are many applications for each option that can save time and make the job easier," Rapp said.
REELSTRONG's Smith said a fleet's location is an important spec'ing factor, too. "The salt air in Florida expedites rusting and component deterioration exponentially and requires upgraded options, such as stainless-steel hardware, zinc-plated precision parts and galvanized frames," he explained. "However, if you're in Arizona, the latter options aren't necessary." Swamps may dictate the need for flotation ties as well.
"The No. 1 thing I bought [the cable reel trailer] for was the safety of it," Dahl said. "If there's a great piece of equipment, I want my guys to have it. But ultimately, safety is the major consideration. That's what it's all about."
About the Author: Sandy Smith is a freelance writer and editor based in Nashville, Tennessee.
*****
What's New with Cable Reel Trailers?
Today's cable reel trailers offer several new innovations. Mark Rapp, product manager, utility and telecom products, at Felling Trailers Inc.; Noel C. Smith, president and senior sales engineer at REELSTRONG Utility Fleet; and Greg Markert, Dejana's business development manager for the utility group, showcased some of these recent enhancements.
Versatility. Dejana has introduced a unit that can be centered over a manhole, with the ability to slide left or right about half the width of the reel. "It operates just like levelers," Markert said.
Hydraulic drive. Rapp said Felling's new drive assembly helps in paying out heavy reels and winding up unused or spent cable. The company offers a pinion-driven slew ring. "This eliminates the maintenance and increases the durability over the chain and sprocket drive. It also operates more quietly," he said.
Safety. Though "most reel trailers have not changed for decades," Smith said, he pointed to pinless reel-securing mechanisms, which prevent dislodging on highways.