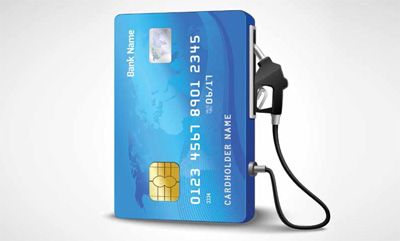 Selecting the Right Fuel Card Program for Your Fleet
With fuel being one of the greatest expenses for any fleet organization, a fuel card program can be a helpful and efficient way to keep track of spending, usually at little or no cost to fleets. Recently, Utility Fleet Professional spoke with two fuel card experts who shared tips for what to look for in such a program.
While a number of organizations house on-site fuel stations and can easily track fuel spend and consumption that way, there are still instances when drivers are unable to make it back to the garage site to fill up. For example, drivers who are dispatched for emergency or weather-related work may have to fill up at an outside retailer or truck stop instead (i.e., an area where fuel activities can no longer be monitored).
Using a fuel card program can supplement these operations to give clients flexibility and appropriate oversight of fuel use, according to Steve Jastrow, vice president of consulting and analytics for Element (www.elementfleet.com).
"If fleets don't have a managed program today, the fuel card is a great solution," he said. "Fraud prevention, oversight of usage, productivity and the data to report/benchmark can all deliver savings."
Tony Piscopo, director of global fleet/product management for ARI (www.arifleet.com), agreed.
"The backbone of an effective fuel program includes processes to authorize purchases, capture data, control spend and mitigate fraudulent activities, and most fleet fuel cards can help power those initiatives," he explained.
Most fleet fuel cards also are accepted at more than 95% of all retail fueling locations, providing a convenient solution for fleet drivers. On top of that, many offer discounts or rebates.
"In some scenarios, these discounts can significantly lower the fleet's overall fuel spend," Piscopo said.
What to Look For
Before shopping around for fuel card programs, take some time to think about what you're trying to achieve.
"Utility fleet operators need to clearly define their goals when selecting a fuel card," Piscopo said. "Each feature of a fuel card will influence other features or impact an area of your fleet operations, and you'll need to weigh the pros and cons of these various scenarios."
Every organization's fueling needs are different, and not all fuel card programs are the same.
"A card program should provide you with a variety of tools to drive productivity and savings," Jastrow said.
Features Jastrow recommended keeping an eye out for include:
Spend limit authorization controls.
Flexibility in reporting to get more granular details on product purchases.
Real-time transaction exception alerts.
Flexibility in prompts at the pump when purchasing (e.g., collecting employee identification number).
Escalation program for fraud.
Level 3 reporting to help manage fuel vs. non-fuel purchases.
The ability to combine all billing and transaction data into a single stream for the fleet operator also is a valuable function to consider, Piscopo noted.
"When you're able to combine the fuel data with your fleet's other data (maintenance history, route information, telematics data, etc.), it helps to provide a holistic view of performance and delivers actionable insight that can be leveraged to identify fraudulent transactions, reduce operating costs, forecast and budget expenses, etc.," he said.
Other items to pay attention to include fees for reporting as well as miscellaneous billing and payment terms, which can be on a daily, weekly or monthly billing cycle.
"Rebates are often part of the pricing, and the billing cycle, payment terms and Level 3 reporting will all factor into how much the rebate is worth," Jastrow said. "Careful attention and analysis should be considered when evaluating multiple programs."
About the Author: Grace Suizo has been covering the automotive fleet industry since 2007. She spent six years as an editor for five fleet publications and has written more than 100 articles geared toward both commercial and public sector fleets.
*****
Less Fuel, More Savings
Fuel is one of the largest expenses for most fleets, and utility fleets are no exception. Even during this time of COVID-19, many utility fleets deemed essential services have continued operating with no significant decreases in fuel usage.
So, reducing fuel spend is one area that can see an immediate benefit from the use of a fuel card program.
According to Steve Jastrow, vice president of consulting and analytics at Element, many of its clients approached the company after experiencing driver misuse because they lacked the right purchase controls or fueling policies within their fleets.
It's not an uncommon scenario. Fleet management company ARI shared one example in which a fuel card program was used to watch areas of potential abuse and error.
Doing so contributed to one of its clients – a large vocational fleet with light-, medium- and heavy-duty vehicles – saving more than $1 million over the course of 18 months.
The fuel card program was just one part of a multipronged program for the client that focused on the reduction of fuel costs across the fleet. The program centered on four elements essential to controlling fuel costs: fuel management policy, mpg improvement, cost-per-gallon improvement and monitoring fuel card use.
According to ARI, holding drivers accountable for their fuel card habits created a "ripple effect" across the fleet of over 8,000 units.
"This has been accomplished mainly through an improvement of mpg, but we have also captured real dollars in a relative (to market averages) reduction of the cost of fuel," according to the company.