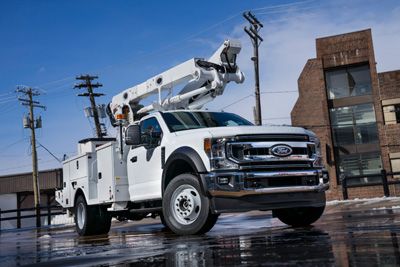 Gas vs. Diesel: Which is Better for Your Medium-Duty Truck Applications?
Diesel has been the traditional engine for medium-duty utility trucks. But with Ford, GM, Isuzu and other OEMs recently launching new gas-powered models, utility fleet professionals have more options than ever to consider. Recent volatility in fuel prices has changed the equation as well.
So, which is better – gas or diesel? The answer is, of course, "It depends."
Diesel engines use about a third less fuel than comparable gasoline engines and are particularly well-suited for high-idle situations where gasoline engines don't perform as well.
But gas-engine trucks cost less to purchase, and maintenance is usually less expensive. On the other hand, diesels tend to have a longer useful life and retain more value at high mileages when they are released from the fleet, according to George Survant, an experienced fleet consultant.
Element (www.elementfleet.com), a national fleet management company, has seen a rising interest in gas-engine trucks from fleets that have used diesels in the past.
"Recent fleet experiences are suggesting very strongly that gas engines – besides being less costly on acquisition – can be more easily and cost-effectively maintained, and that overall their lifespan is about equal to diesel depending on the application," said Mark Stumne, Element's director of truck services.
Fleet replacement cycles typically are around nine years, so the choice between gas and diesel can have a long-term impact on a utility's costs. And with rapidly advancing technology, the answers may change by the next time a fleet invests in new vehicles.
Beyond the Fuel Pump
The ramifications of the gas-vs.-diesel decision go beyond which fuel pump the driver uses. Maintenance and life-cycle costs should be part of the decision tree as well.
In some use cases, diesel trucks are still the clear winner. If the truck will be towing heavy loads, such as excavators on a trailer, or covering many highway miles, the diesel's high torque and fuel mileage make the most sense. Diesels are still the go-to option for power-takeoff operations for snowplows, generators and hydraulic accessories, like bucket lifts.
However, the two-stage emissions control system on modern diesels presents some challenges. A diesel in a high-idle application, such as operating a PTO system, doesn't reach a high enough temperature to properly activate the diesel particulate filter. The DPF emissions system can then become clogged with ash, leading to breakdowns. Preventive maintenance could include running a forced regeneration cycle to ensure the emissions system is cleaned properly, Survant said.
Gas-powered engines don't operate as well as diesels in high-idle situations, and manufacturers are beginning to recommend additional preventive maintenance, including more frequent oil changes to prevent problems.
Historically, a rule of thumb said diesels would last about 250,000 miles compared to gas trucks that were good for around 150,000 miles. Improvements in gas-engine durability mean the life-cycle gap between gas and diesel is closing. Survant noted that if the rest of the truck is ready to be taken out of service at 100,000 miles, it doesn't make sense to invest in a 250,000-mile engine.
In addition to the lower cost of acquisition, opting for gas engines can pay off in daily operations. They use fewer, less expensive filters and consume less oil, which is cheaper than oil for diesel engines.
"Switching at least some vehicles to gas can simplify maintenance and may actually reduce training costs for technicians," Stumne said.
Lastly, fleet managers should understand the reliability of their fleet – how often vehicles break down and how long they're out of service. Unscheduled downtime can lead to using contractors or unreliable backup trucks at a critical time. Every hour an electric or water line is out of service can cost thousands of dollars.
"You may discover that the cost to repair the vehicle in many cases is far less than the impact to your core business," Survant said.
About the Author: Gary L. Wollenhaupt is a Phoenix-based freelance writer who covers the transportation, energy and technology sectors for a variety of publications and companies.
*****
5 Factors to Consider
Picking the right gas or diesel vehicle for the task will help to minimize downtime, repair costs and fuel costs while enabling drivers/operators to perform their roles effectively and efficiently. Don't just look at the acquisition but also the entire life cycle of the asset. Here are five specific factors to consider before you invest.
1. First cost. Diesels carry a higher MSRP than gas-engine trucks.
2. Work mission. Road mileage, towing/hauling capacity, idling time, PTO usage and other factors can tip the scales in one direction.
3. Maintenance and repair. Diesels tend to fail less frequently but are more expensive to fix when they do break down. Maintaining diesels requires adequately trained technicians and the appropriate tools, spare parts and lubricants. Looking at costs per gallon of fuel burned is a useful way to analyze maintenance costs.
4. Vehicle life. Examine replacement cycles to see how long trucks last. Invest in diesels when it makes sense for the work mission.
5. Local regulations. State and local regulations in California and other places discourage the use of diesel fleet vehicles or recommend using biofuels.