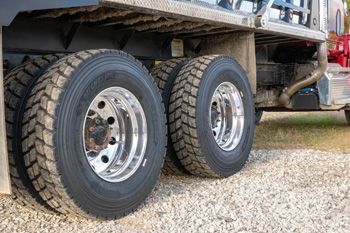 Michelin Next-Generation Drive Tire
Michelin North America Inc. is launching its next-generation on-/off-road drive tire optimized for exceptional traction, toughness and wear performance. The tire is designed for the construction, energy, concrete and logging sectors operating in mixed-use conditions.
The MICHELIN X Works D tire is designed to maximize safety, uptime and efficiency. Full-tread-depth lateral groove tread patterns provide optimum balance between stability for increased wear and improved rubber-to-void ratio for maximum traction. Teardrop sipes in the tire open as they wear, providing additional traction.
In terms of wear performance, the new Michelin tire has 15% longer life compared to X Works XDY.
Additionally, four steel belts at the crown of the tire protect from shock, impact and road hazards for enhanced durability and puncture resistance.
The new MICHELIN X Works D tire is available in the United States and Canada in 11R22.5 and 11R24.5 sizes in load range LRH. X Works D is backed by Michelin's worry-free six-month road hazard guarantee. https://business.michelinman.com
---
Kate Wade
Kate Wade has not set their biography yet
---