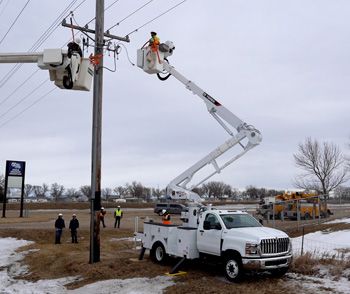 Terex Hi-Ranger TL48
Terex Utilities recently announced a new Hi-Ranger telescopic aerial device with superior jib capacities to meet the needs of trouble truck applications.
With an industry-leading side reach of almost 32 feet, the TL48 has a 500-pound bucket capacity plus a maximum material-handling capacity of 1,000 pounds. The key feature is when the upper boom is at a horizontal position, it still achieves 800 pounds of jib capacity with the inner boom retracted at 23-foot side reach and 26-foot working height, and 200 pounds fully extended at 32-foot side reach, where similar units have no material-handling capability. The product is offered with an end-mounted, cobra-style hydraulic articulating jib as well as side-mount bucket and jib configurations.
All TL units support ground access, making it easier to hand off tools, support personnel rescue and clean out debris in the platform. Like all Hi-Ranger telescopic booms, the TL48 is equipped with a rigid rectangular boom constructed from epoxy resin and bi-axial wound fiberglass filament. This process and design achieve consistency in insulating properties, size, density and strength-to-weight ratio of the boom. www.terex.com/utilities/en/product/hi-ranger-tl/tl48
---
Kate Wade
Kate Wade has not set their biography yet
---