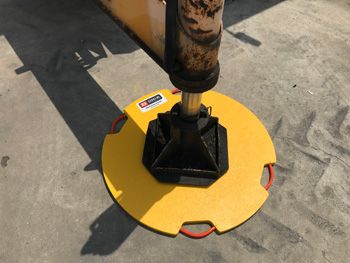 FiberTech Outrigger Pads
FiberTech Outrigger Pads are an ideal solution when extra rigidity is needed and weight is a concern. FiberTech Pads effectively spread outrigger loads and create stability for equipment such as mobile cranes, concrete pump trucks, high-reach aerial devices, rock crushers and mobile substations.
With crush ratings up to 600 psi and rated capacities up to 170,000 pounds, FiberTech Super Duty Outrigger Pads (formerly FiberMax Heavy Duty) are an economical, high-performance load distribution solution. FiberTech Pads can be used alone or as part of a multipad setup.
At least 13 layers of quad-axial continuous glass fibers and vinyl ester resin give FiberTech Super Duty Outrigger Pads exceptional structural strength and stiffness. A 1-inch-thick FiberTech Pad weighs 25% less and delivers the same load distribution performance as a 3-inch-thick SafetyTech Super Duty Outrigger Pad.
High-visibility yellow FiberTech Outrigger Pads are nonconductive, waterproof and chemical resistant. They feature DICA's patented Hi-Viz TuffGrip Handles to simplify handling. FiberTech 36-inch, 42-inch and 48-inch diameter sizes are standard stock products. Other sizes are available upon request. https://dicausa.com
---
Kate Wade
Kate Wade has not set their biography yet
---