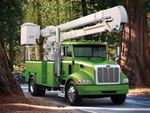 Green Fleets
Around the Industry
The National Clean Fleets Partnership, a Department of Energy (DOE) initiative, has set its sights on helping companies reduce diesel and gasoline use in their fleets by incorporating electric vehicles, alternative fuels and other fuel-saving measures into their daily operations. Through the partnership, the DOE will assist in efforts to reduce fuel use and achieve greater efficiency and cost savings by offering specialized resources, technical expertise and support.
Part of the DOE Vehicle Technology Program's "Clean Cities" initiative, the National Clean Fleets Partnership includes opportunities for technical assistance and collaboration, such as peer-to-peer information exchange, and access to expertise at DOE and national laboratories where related research and development initiatives are underway. Also possible is assistance in pursuing group purchasing so smaller companies realize the benefits of purchasing advanced technology vehicles.
The DOE has developed a wide range of technical tools to help companies navigate the world of alternative fuels and advanced vehicles. The collection includes cost calculators, interactive maps, customizable database searches, mobile applications and other vital information.
Utilimarc and CALSTART have joined forces to provide fleets with a range of valuable resources and experience about light- and medium-duty vehicles powered by alternative fuel. CALSTART, which is known for its Hybrid Truck Users Forum (HTUF), brings to bear its expertise to guide fleets in selecting and implementing new technology and measuring its benefits. Utilimarc's benchmarking data plays a critical role in assessment, monitoring and ROI calculation, ensuring a reliable comparison of industry-specific metrics with an emphasis on tracking alternative fuel vehicles.
Regulations mandating environmental protection practices are requiring fleet managers to implement new programs. These rules, which cover a wide variety of topics, include the following:
• U.S. Environmental Protection Agency (EPA) rules covering hazardous wastes defined and regulated by the Resource Conservation and Recovery Act, known as RCRA ("Rick-Rah"), including recycling and pollution prevention options
• Federal underground storage tank (UST) regulations and state UST programs approved by the EPA that are allowed to operate in lieu of the federal program and may have more stringent regulations than the federal requirements
• Safe fuel-handling regulations designed to prevent accidental spills and overfills
• RCRA, Clean Water Act and Clean Air Act requirements that may pertain to vehicle painting
• Refrigeration service activities regulated under the Clean Air Act
• Regulatory requirements for pollutant discharge and storm water runoff systems
• Requirements for hazmat incident reporting
GreenTruck (www.greentruck.com), a consolidated source of information about environmental regulations, is provided by American Trucking Associations and the Transportation Environmental Resource Center. The site details EPA programs for oil spill prevention and response, and hazmat incident reporting. Also covered are federal and state underground storage tank (UST) regulations, safe fuel-handling regulations, hazardous waste definitions, refrigeration service activities regulated under the Clean Air Act and requirements that may pertain to vehicle painting. GreenTruck also provides details on the EPA's National Environmental Performance Track program, which rewards companies that exceed minimum regulatory requirements and take extra steps to reduce and prevent pollution.
On the Road
Fleet managers continue to learn more about alternative fuel-powered vehicles. During the 2010 Electric Utility Fleet Managers Conference (EUFMC), three executives described their experiences.
Duke Energy has been operating groups of 2006- and 2009-model hybrid trucks, reported Mike Allison, director of fleet design and technical support. The hybrids and baseline vehicles in the fleet were fitted with data capture systems to compare operating information. "For the most closely matched vehicles, both driven approximately 22,000 miles," he said, "we learned that the hybrid unit used 25 percent less fuel and accumulated 800 fewer engine hours. Overall, fuel economy was 6.83 mpg for the hybrid versus 5.60 mpg for the diesel-powered model.
"Initial acceptance by operators was also good," Allison added, "and we found that savings were application-driven. Also, while we did have some performance complaints, those were corrected through software changes."
Florida Power & Light also reported "strong user acceptance" for the initial 24 Class 6-7 hybrid trucks in its operation. At the time, the fleet had 36 months of service on its first hybrid units and more than 1 million miles of combined road service on the group of trucks. "At over 99 percent, availability of the hybrid trucks has been high," said Claude Masters, manager, vehicle acquisition and fuel. "In addition, the hybrid trucks showed fuel savings of 32 to 47 percent [measured in gallons per hour].
"Factors affecting fuel economy include highway driving conditions and engine-off PTO operation," Masters also reported. "Realizing efficiencies with hybrid vehicles comes from matching the equipment to the mission."
Pacific Gas and Electric Company is also a user of alternative power trucks. "Making effective choices," noted Dave Meisel, director, transportation services, "is about looking at the highest value proposition elements, and because fuel savings are very duty-cycle dependent, no one type of alternative fuel vehicle fits all applications. In addition, there are price and return-on-investment questions that need to be asked and answered because performance varies significantly between makes, models and manufacturers."
Meisel also defined two other issues to address when considering alternative vehicles. Included were employee challenges, such as familiarity with the operation of the equipment and the availability of qualified technicians. Also to be considered are parts availability
and technical issues related to batteries and charging systems.
Today's natural gas trucks are ready to handle utility tasks, said Dave Bryant, manager, vocational sales at Daimler Trucks North America (DTNA), during the 2010 EUFMC. DTNA, he noted, has put more than 2,000 natural gas units into service in a range of applications, including utility, municipal and construction fleets.
DTNA's factory-installed natural gas solution for the Freightliner M2 112 platform features the Cummins Westport ISL G 8 engine. The five models offered in liquefied natural gas (LNG) or compressed natural gas (CNG) versions include 250, 260, 280, 300 and 320 HP options with peak torque from 660 to 1,000 lbs./ft. at 1,300 rpm. For its M2 natural gas models, the OEM offers CNG tanks in 60 diesel gallon equivalent (DGE) and 75 DGE configurations. Factory-installed LNG options include 119- and 147-gallon tanks, which equate to 65 and 86 DGE, respectively.
All Freightliner natural gas vehicles include a standard methane detection system. The system encompasses sensors mounted in the cab, engine compartment and outside the cab near the fuel tank to provide visual and audible warnings of fuel leaks. Freightliner and Cummins Westport also provide on-site fleet customer training, as well as engine and fuel system maintenance and troubleshooting services.
Bryant pointed out several benefits of natural gas engines beyond lower operating costs than diesel. "With the same rated speed as an ISL diesel, the ISL G provides 30 percent more torque at idle, and it is quieter," he said. "Other advantages include a maintenance-free three-way catalyst and no need for additional emissions control devices, diesel particulate filter regeneration or ash cleaning.
"When you look at fuel choices, natural gas is a great choice to meet short-haul and vocational needs," Bryant said. "It is less expensive than diesel fuel, and NG-powered engines have a lower cost of operation than their diesel counterparts."
Liquid propane autogas, another viable alternative for fleet vehicles, took center stage at the 2011 National Truck Equipment Association's Work Truck Show. There, ROUSH CleanTech announced its new 6.8-liter V10 propane autogas-powered Ford F-550 super duty chassis cab. The propane autogas fuel system will be available for 2012 and later models of the Ford F-450 and F-550 truck series, and is expected to ship beginning in October 2011.
The fuel system is currently in development and will be EPA and California Air Resources
Board (CARB) certified at launch. The system will be available as a Ford ship-through option for installation on new vehicles, or as a retrofit option for vehicles already in service.
While ROUSH CleanTech is still finalizing the details on tank capacity and options, the plan is to offer up to three tank configurations for the Ford F-450 and F-550 propane autogas fuel system – an in-bed tank and two under-bed tanks. The fuel tank choices will be able to be combined to conform to various body configurations and to meet the range requirements of customers. The system, equipped with a five-speed automatic transmission, will work on all cab and wheelbase configurations, as well as 4×2 or 4×4 vehicles.
"Going green is not just for light-duty vehicles anymore," said Joe Thompson, president of ROUSH CleanTech. "Propane autogas offers so many benefits to fleets in terms of safety, economics, environmental soundness and convenience. There are thousands of refueling stations across the U.S., and many fleets are installing low-cost on-site refueling infrastructure to eliminate the need for off-site stations."
Propane autogas burns cleaner than gasoline or diesel, with 20 percent less nitrogen oxide, up to 60 percent less carbon monoxide, 17 to 24 percent fewer greenhouse gas emissions and fewer particulate emissions when compared to gasoline. When compared to diesel fuel, the emissions reductions are even greater. Propane autogas also offers up to 40 percent reduction in fuel costs when compared to gasoline.
In the Shop
Southern California Edison (SCE) has been honored for green shop efforts at its Wildomar, Calif. facility, achieving Platinum certification under the Leadership in Energy and Environmental Design (LEED) program sponsored by the U.S. Green Building Council (USGBC). The USGBC process includes a green building rating system covering Sustainable Sites, Water Efficiency, Energy & Atmosphere, Materials & Resources, Indoor Environmental Quality and Innovation in Design.
During the 2010 EUFMC, James Kennedy, manager, presented details on SCE's Greening Utility Fleet Garage Facilities activities. The Wildomar service center site is home to a
21,116-square-foot, two-story garage with six truck bays, a welding bay and a wash bay, along with an office building, an assembly space and a yard management warehouse.
"In the shop we focused on environmentally-sensitive planning, design and construction,"
Kennedy said. "For example, skylights and glass bay doors in the garage were placed to optimize the use of natural light. Also used were low volatile organic compound-emitting, nontoxic paints, coatings, adhesives, carpets and floor coverings to promote high indoor air quality. In addition, the building has an HVAC system with CO2 monitoring devices and HEPA filters to regulate fresh-air ventilation when indoor CO2 levels reach a predetermined threshold."
Kennedy went on to say that the Wildomar service center is a model for new building construction at SCE. "We're committed to environmental protection," he stated. "Beyond meeting regulatory requirements, we're developing and implementing programs and practices that improve air and water quality, reduce solid waste and conserve natural resources. In addition, we're benefiting by reducing operating costs and by providing a healthier, more comfortable work environment for our employees."
SCE also earned LEED credits for its green building education practices by providing public information on the sustainable features of the Wildomar facility. The utility has also been awarded credits for its green housekeeping program that promotes the use of nontoxic cleaning supplies, for achieving water savings through the use of high-efficiency plumbing and landscaping fixtures, and for the purchase of renewable energy credits to offset the facility's energy usage.
SCE, one of the nation's largest electric utilities, operates 1,900 medium-duty trucks and 3,000 passenger and light-duty vehicles, along with 1,000 heavy-duty units and 1,100 pieces of equipment. The fleet is maintained in 44 shops staffed by 246 technicians.
Green Fleets, Fleet Maintenance, Hybrid Vehicles, Natural Gas Vehicles, Propane Autogas Vehicles
---
UFP Staff
UBM Staff has not set their biography yet
---