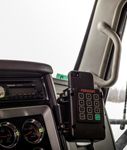 Four Technologies That Curb Distracted Driving
Bing! A new text message. Your phone is facedown on the passenger seat. You know you should ignore it and keep your eyes on the road, but you're curious. Is it urgent? Is it my boss? A quick look won't hurt, right? I'm a good driver; I can handle this!
But the research says otherwise.
Five seconds is the average time your eyes are off the road while texting – enough time to cover the length of a football field blindfolded at 55 mph, according to the Virginia Tech Transportation Institute (VTTI).
VTTI also says that visual-manual tasks such as reaching for a phone, dialing and texting increase the risk of getting into a crash by three times.
That's why, as of press time, 44 states have banned text messaging for drivers. And 12 states prohibit any use of hand-held cell phones while driving. (For the latest information about state laws on distracted driving, visit www.distraction.gov/content/get-the-facts/state-laws.html.)
Mobile devices are powerful tools to boost productivity for workers in the field. But they also can put your drivers – and the public – in danger if used while driving, increasing your company's exposure to lawsuits and the likelihood of costly negative publicity.
It's not enough to craft a strong policy to curb distracted driving; you also have to be able to effectively enforce that policy. But how can you ensure drivers won't put themselves and your organization at risk when you can't be in the cab to monitor their behavior? Following are four technologies designed to help solve that problem.
Origo
www.driveorigo.com
The Origo system requires drivers to place their phone in a docking station to start the vehicle. The driver can then engage hands-free technology, with allowable phone capabilities configured by the administrator.
If the phone is removed from the docking station at any time during a trip, the system will sound an alarm until the phone is replaced. The next time the driver tries to start the vehicle, he or she will be forced to contact the administrator in order for the phone to be reauthorized.
If the phone is lost or stolen, a one-time use code can be obtained from the administrator to start the vehicle. If the vehicle is taken to be serviced, the administrator would provide the guest driver with a PIN, and the technician would be able to normally operate the vehicle.
Cellcontrol
www.cellcontrol.com
Cellcontrol has developed an enterprise mobile enforcement technology for fleets that directly integrates with the vehicle and installs on mobile phones, laptops and tablets. Once the system is installed, no driver interaction is required.
The company's new DriveID module, which is placed on the vehicle's windshield, can automatically detect who sits in the driver's seat and only applies the safety policy to that individual's mobile devices, leaving passengers free to talk, text and browse the Web on their devices.
As the account administrator, you set the policy. So, if you want to allow drivers to make calls and use navigation, but not browse or text, you can configure the system accordingly.
FleetSafer
www.aegismobility.com
FleetSafer works with most smartphones and tablets. When employees start to drive, the system senses vehicle movement – through GPS, an onboard diagnostics (OBD) port device or telematics – and locks the phone's screen, preventing access to text, email and browser applications. Inbound text and email alerts are suppressed and a custom reply is automatically sent informing others when the employee is busy driving.
With FleetSafer, the administrator sets the policies, defining how many or how few of the phone's features are available while driving. Options include hands-free phone operation, white-listing – which allows inbound calls from authorized phone numbers, while blocking others – and select application permissions, such as enabling navigation.
Kyrus Mobile
www.kyrusmobile.com
The Kyrus Mobile solution is installed on each cell phone or mobile device and then paired with a Bluetooth module that is plugged into the vehicle's OBD-II port (for cars and light trucks) or J1939 port (for heavy trucks and buses). When the vehicle starts to move, the system enables a safe mode that prevents the driver from using the cell phone until the vehicle stops.
Users cannot type or read text messages or emails, nor can they surf the Web or use other distracting applications. Administrators have the option of banning all voice calls or permitting voice calls, if done through a Bluetooth earpiece and using voice-based dialing. If drivers attempt to tamper with the system, management is notified through email alerts.
Eliminate Temptation
Oftentimes, the urge to pick up a mobile device while driving is too strong to resist. So, why not eliminate the temptation altogether? That's what these four technologies are designed to do, empowering you to effectively manage and enforce your company's distracted driving policy across your entire fleet.
About the Author: Sean M. Lyden is a nationally recognized journalist and feature writer for a wide range of automotive and trucking trade publications, covering fleet management strategies, light- and medium-duty trucks, truck bodies and equipment, and green fuel technologies. He blogs at Strategy + Writing (www.seanmlyden.com).
Distracted Driving Facts
• Ten percent of fatal crashes, 19 percent of injury crashes and 16 percent of all motor vehicle crashes in 2012 were reported as distraction-affected crashes.
• In 2012, there were 3,328 people killed and an estimated additional 421,000 injured in motor vehicle crashes involving distracted drivers.
• Drivers under 25 are two to three times more likely than older drivers to send text messages or emails while driving.
Source: National Highway Traffic Safety Administration
---
Sean M. Lyden
Sean M. Lyden has not set their biography yet
---