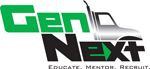 VIPAR Supports GenNext as Platinum Sponsor
VIPAR Heavy Duty has become a platinum sponsor of GenNext, the heavy-duty aftermarket's newest group formed to educate, mentor and recruit the next generation of aftermarket leaders.
"GenNext is a group with over 100 members and growing who are the up-and-coming leaders of tomorrow in the aftermarket truck parts industry," said Steve Hansen of Minimizer, who is serving as the group's president. "We are grateful for VIPAR Heavy Duty's support and commitment to help attract the next generation of aftermarket talent."
While the group's message is meant for younger executives who are 45 and under, Hansen said any age level is welcome to join GenNext.
A GenNext reception will take place at the VIPAR Heavy Duty Annual Business Conference scheduled for October 19-24 at the Marco Island Marriott in Marco Island, Fla. In addition, VIPAR Heavy Duty will also host its own Young Leaders Forum luncheon for the second year in a row during the annual meeting. www.gennexthd.com
---
Kate Wade
Kate Wade has not set their biography yet
---