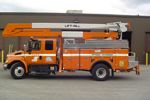 Doing It Right
Central Vermont Public Service (CVPS), headquartered in Rutland, is one of the largest businesses in Vermont and the state's largest electric company. The utility, which was organized in 1929 with the consolidation of eight electric companies, traces its roots to more than 100 companies, including one dating back to 1858.
A shareholder-owned electric utility, CVPS serves one of the most rural territories in the country, with just 18 customers per mile of line. Its customer base, however, numbers more than 159,000 in 163 communities. Due to the size of its operating territory, CVPS utilizes 617 miles of transmission line and 8,806 miles of distribution line to meet customer power needs.
In place at CVPS is a fleet of 117 vehicles under 8,600 pounds GVWR and 97 vehicles rated more than 8,600 pounds, including 68 aerial bucket- and digger derrick-equipped trucks. In addition, the company fields 75 trailers; 16 pieces of off-road equipment such as four-wheel-drive ATVs, UTVs and snowmobiles; nine materials-handling units including forklifts and cranes; nine stationary generators; seven portable air compressors; five portable substations and related equipment; and six tracked off-road pieces of equipment.
The transportation team at CVPS provides a wide range of services. Included are vehicle specification, procurement and resale, maintenance, repair and rebuilding, purchasing and parts inventory management, track vehicle operations, vehicle registration, highway permits and DOT compliance coordination, training of vehicle operators and demonstration of new vehicles, and materials, supplies and equipment delivery. Transportation also fulfills a role as front-line support for operations during storms.
Overseeing the transportation team that supports CVPS and its customers is Daniel J. Mackey, who assumed the role of fleet manager in January 2006. A 21-year CVPS employee, his experience includes six years as transportation stockkeeper and 10 years as procurement agent. Recently, Mackey discussed the CVPS operation with Utility Fleet Professional.
What factors impact vehicle purchasing, specification and replacement decisions at CVPS?
We have a vehicle specification committee that includes operators. We value their input in the purchasing and specification process for vehicles because they know what works best and what is needed to accomplish their jobs. This allows CVPS to obtain vehicles and equipment that will be accepted by everyone.
The criteria we use to identify which vehicles need to be replaced include a combination of age and mileage. For example, vehicles under 10,000 pounds GVWR are generally replaced after five to seven years and 100,000 to 120,000 miles of service. Vehicles more than 10,001 pounds GVWR are replaced after seven to 10 years and 120,000 to 150,000 miles of service. Other factors that we take into account include maintenance costs, downtime, physical condition, user comfort and functionality, along with performing a comprehensive cost-benefit analysis.
Is standardization a factor in your decisions?
All of our medium-duty trucks are International models and our lighter vehicles are Fords, although we do have a few other makes that are needed because of the function they fulfill.
Standardization of the fleet as much as possible allows us to reduce the number of suppliers we do business with, provide specific training for our mechanics, keep our parts inventory to a minimum and only purchase diagnostic equipment specific to the vehicles we operate.
Are alternative fuel-powered vehicles a part of the CVPS fleet?
We have two Toyota Prius hybrids that were converted by A123 Systems to plug-in hybrids and have been working with Green Mountain College, The University of Vermont and Idaho National Laboratory to collect mileage and cost data and evaluate the benefits of plug-in hybrid vehicles. Those vehicles averaged 76 miles per gallon during the winter months and exceeded 100 mpg in warmer months. Recently, the transportation department converted a Ford Escape Hybrid to a plug-in hybrid for use by our mailroom for local deliveries. This is the ideal work situation for a plug-in hybrid.
In 2006, we put in service 15 Ford Escape hybrids for use as meter reading and general operations vehicles, and we have realized a benefit in reduced maintenance costs and lower fuel consumption. Also, in mid-2008 we purchased the first hybrid bucket truck in New England. Compared to our standard bucket truck, the International 4300 with the Eaton hybrid drive system has exhibited a 53 percent reduction in fuel consumption.
Currently we are looking at the potential of introducing to our fleet a plug-in system that allows the aerial device when in power takeoff mode to operate from an electric motor/pump combination powered by a dedicated bank of batteries (hybrid package). This system will not impact the drivability of the chassis. When the batteries are depleted in the field, the truck will automatically be returned to the traditional power takeoff operation of the aerial unit.
What programs are in place for maintenance management, tires, parts and fuel for the CVPS fleet?
We use FleetFocus from AssetWorks to manage the fleet. The software captures all costs and handles maintenance schedules, parts inventory, fuel, labor and lease expenses. We have local and national accounts for parts and tires and use Wright Express to capture fuel use and cost data.
Please describe the CVPS fleet maintenance operation.
The CVPS maintenance team is completely self-sufficient and has the ability to perform warranty work on all vehicles and equipment in our fleet. We outsource very few services. We operate two locations for servicing vehicles, on both sides of the state. Most of the preventive maintenance (PM) is performed at night so it is transparent to our internal customers. We also have two service trailers that we use for nighttime work in the field, and during service restoration operations we use the trailers at the hardest-hit locations so we can provide immediate support.
Ed Baker, shop foreman, oversees the daily operation of the vehicle PM and repair schedule. Karly Carrara, fleet administrator, handles paperwork and the data that includes all of the costs related to the vehicles and equipment operated by CVPS. We also have a stockkeeper who obtains parts and materials needed by mechanics and our internal customers. Overall, the transportation team consists of 12 dedicated, highly skilled employees. Included are 10 mechanics, all of whom hold commercial driver's licenses, and welding and hydraulic certifications.
How would you sum up the goal and mission of the CVPS transportation team?
Our vision is to cost-effectively provide our customers with efficient, reliable vehicles and equipment. All of our services are driven by the desire to provide dependable, reliable vehicles and equipment at the most economical cost.
Central Vermont Public Service Truck Specifications
Model: International 7400 SBA 6×4
Wheelbase: 193 inches
Engine: International MaxxForce 9; 310 HP/950 lb/ft @ 1200 RPM; Diamond Logic exhaust brake
Transmission: Allison 3000_RDS_P automatic, five-speed overdrive
Transmission Oil Cooler: Modine
Front Axle: Dana Spicer, 14,000 lbs.
Front Suspension: Parabolic taper leaf springs
Power Steering: Sheppard M-100
Rear Axle: Dana Spicer, 40,000 lbs., 4.88 ratio
Rear Suspension: Hendrickson HAS-402-55, air ride
ABS: Bendix
Parking Brakes: MGM Long Stroke
Wheels: 22.5-inch steel disc, 10-hole hub piloted
Tires: 11R22.5 Michelin; XZY-3 steer, XDE M/S drive
Air Compressor: Bendix Tu-Flo 550, 13.2 CFM
Air Dryer: Meritor WABCO System Saver 1200
Fan Clutch: Horton Drivemaster; two-speed direct drive
Batteries: (2) International; 1850 CCA
Starter: Leece-Neville M130D
Alternator: Leece-Neville, 160 amp
Block Heater: Phillips, 1,250 watt
Mirrors: Lang Mekra, heated
Seats: National 2000, air suspension, high back
Fuel Tank: 70 gallon
Green Fleets, Fleet Profiles, Vehicle Specifications, Fleet Maintenance
---
Seth Skydel
Seth Skydel has not set their biography yet
---