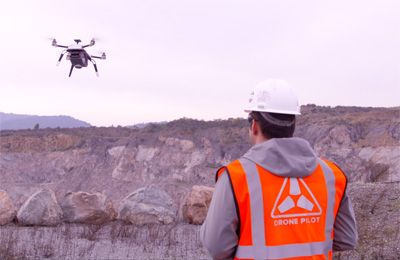 In the past year, a handful of U.S. utility companies – including San Diego Gas & Electric, Southern Co. of Atlanta and Commonwealth Edison Co. of Chicago – have received clearance from the Federal Aviation Administration (FAA) to perform limited testing with aerial drones for transmission and distribution line inspections.
"Utility assets require regular inspections that can often be dangerous, time consuming and costly for human personnel," said Christian Sanz, founder and CEO of Skycatch Inc. (www.skycatch.com), a San Francisco-based drone developer. "However, drones outfitted with different types of sensors and cameras can perform aerial surveys and provide high-resolution imagery at a much faster, safer and cheaper rate. We've seen this with using drones to detect things like defective panels on solar farms or blades on wind turbines, cracks in pipelines, and malfunctions with heavy machinery and equipment."
And the future looks bright for drones in the utility sector. According to a recent report from Navigant Research (www.navigantresearch.com), global annual revenue for drone and robotics technologies for utility transmission and distribution is expected to grow from $131.7 million in 2015 to $4.1 billion in 2024, about a 31-fold increase over 10 years.
The biggest constraint for the growth of drones in the U.S. utility market is FAA regulations, said James McCray, senior research analyst with Navigant Research and author of the report. "The potential for high growth is there," he said. "But it's more of a question as to when the regulations will permit the utilities or service companies to operate drones on an as-needed basis rather than having to file a 72-hour-prior flight plan to put one in the air. So, I'm postulating that it will take until about 2018 before we begin to see dramatic growth in the commercial drone market."
Drone-Guided Machines
Beyond line inspections, drones are also being tested for use as aerial 3-D mapping devices that transmit real-time job site data to help guide autonomous construction equipment on the ground.
The most prominent example right now is Skycatch's partnership with heavy-equipment manufacturer Komatsu (www.komatsu.com) in Japan. Since there is a shortage of skilled construction laborers qualified to operate heavy machinery in Japan, Komatsu has developed autonomous excavators, guided from the air by Skycatch drones, to take the human operator out of the equation.
This combination of drones and robotics could have interesting implications for utility fleets in the U.S., with applications ranging from autonomous trenching machines to self-driving all-terrain utility vehicles with mounted robotic heavy equipment.
"Given our partnership with Komatsu and their strong presence in North America, we are optimistic about the future of bringing similar [drone-to-machine] solutions to the U.S. over the next 10 years, or even sooner," Sanz said. "The highly accurate intelligence that drones are able to provide will become more compatible with heavy equipment and machinery, making them smarter, safer and faster."
The Value of Drones is in the Data
Will utility companies manage their own fleet of drones?
That will depend on the organization, according to McCray. "While some utilities will manage their fleet of inspection drones, many will choose to contract under a drone-on-demand services model."
In other words, the drone company would have the expertise and responsibility for maintaining and upgrading the drone hardware and software, while also ensuring that all drone operations are FAA compliant. The utility companies would then lease the drones and the software associated with them on an as-needed basis, which would help keep costs down.
McCray said that the drones themselves will eventually become commodities. "You buy one, run it for a year or two, and then you buy the next generation, like we do with mobile phones right now," he said. "The real money in the drone market will be in the integration of the streaming information coming off the drones – such as visual, temperature, 3-D mapping data – with the analytics systems at the utilities' operations centers."
Sanz agreed. "The drone [hardware] is simply the tool we are using now to capture the data – and it's in the data where the greatest value exists for customers."
*****
The Boundaries
The FAA requires special certification for commercial drone users, like utility companies. As of press time, here are the FAA's conditions and limitations governing commercial drone operation:
• A drone operator needs a pilot's license.
• The drone must weigh fewer than 55 pounds, including payload, such as cameras and sensors.
• Flights can go no more than 200 feet above the ground.
• The drone must be operated in the pilot's line of sight.
• A Notice to Airmen must be filed no more than 72 hours in advance, but no fewer than 24 hours prior to the operation.
• A Certificate of Authorization report must be filed with the FAA every month, reporting the user's number of flights – even if there were zero – pilot duty time and equipment malfunctions.