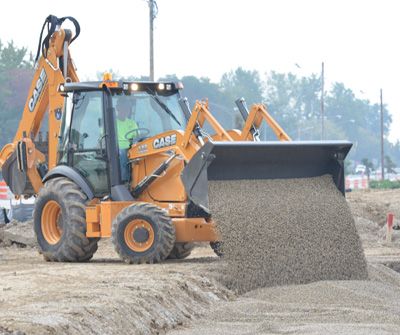 Spec'ing Backhoe Loaders With Operator Comfort in Mind
The backhoe loader is like the Swiss army knife of trenching equipment, empowering utility crews to perform multiple functions with a single machine and operator.
On the rear is a digger that carves out trenches for laying underground gas, water and power lines at appropriate depths. On the front is the loader "bucket" that lifts heavy pipe, sewer lids, dirt and other materials to be moved from one part of the job site to another. The loader is also used to pour dirt back into the trench and smooth the soil in a way that restores the ground to as close to original condition as possible.
As a fleet manager, it's easy to fall into the trap of viewing backhoe loader specs strictly through the lens of whether or not the machine can do the job. Is it the proper size? Does it offer the right dig depth? Can it carry sufficient weight in the loader? What is the machine's weight, and how does it impact the combined truck and trailer weight for travel to the job site?
But don't overlook the human factor. If your crews aren't comfortable operating your backhoe fleet, you'll likely experience an increase in worker fatigue, ergonomic injuries and lost productivity.
So, what are the specs to keep in mind when it comes to operator comfort? Following are three key areas on which to focus.
Seating
"Operator fatigue is where accidents happen, and operators often get tired either because of a hard, uncomfortable seat or they can't reach the controls easily," said Ernie Ferguson, division sales manager for Terex Construction Americas (www.terex.com/construction).
What seat specs can help maximize operator comfort?
"Six-way suspension seat, tilt wheel – you want to set up the seat so that the operator can be as comfortable as possible when working the machine," Ferguson said. "And you want to make sure the armrests are adjusted, so the operator's arms sit comfortably on the rests to operate the controls."
Ride Control
Will you be "roading" the backhoe – driving it from job site to job site at speeds of up to 25 mph? If so, consider adding ride control to ensure a smoother ride.
"If you're operating a backhoe with dirt in the loader, and you're driving down the street to fill up another hole, ride control on the loader is like a shock absorber so that you can keep the material in the loader and you're not bouncing around," Ferguson said.
Katie Pullen, brand marketing manager for CASE Construction Equipment (www.casece.com), agrees that ride control is an important seat spec. "If you are going to be frequently roading the machine or working extensively in load-and-carry applications, add ride control and a heavier front counterweight to reduce material spill and increase operator comfort."
Operator Controls
There are two primary types of backhoe controls: two-lever controls and pilot controls, which are like joysticks.
"The type of controls you choose is especially important for fleets because you have a wide range of operators to accommodate," Pullen said. "If you have a fleet that has traditionally spec'd one type of controls – let's say an older-style two-lever control – and your crews have learned that control, you may not want to switch to the more modern pilot right away. But as you bring on newer or younger operators, you'll want to consider the pilot controls because they're more intuitive."
According to Ferguson, "The reason why pilot controls are becoming more prevalent on backhoe loaders today is because operators are younger. And they're more comfortable using joysticks, like they have with their gaming systems."
Pullen ties operator controls selection to worker loyalty and productivity. "The bottom line is that you want to get the controls your operators are comfortable with, with a minimal learning curve so they can work as quickly as possible to get the job done," she said. "You want to make sure your operators stay happy with you, even if that means the older controls for your traditional folks and newer controls for your newer workers."
So, when you're spec'ing a backhoe loader for a job, make sure to also keep the operator in mind. "It's really important for fleet managers to not discount what their operators are looking for in a machine, what they're comfortable with. Because that's what creates loyalty and, ultimately, drives worker productivity," Pullen said.
---
Sean M. Lyden
Sean M. Lyden has not set their biography yet
---