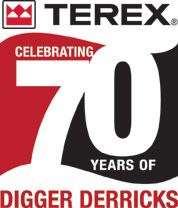 Terex Celebrates 70th Anniversary of Digger Derricks
For 70 years, utility professionals have used Terex digger derricks on power grid construction and maintenance projects to bore holes and set poles. Established in 1945 with the advent of the Tel-E-lect digger derrick, today the company's product line includes the Terex Commander 4000, 5000 and 6000 digger derricks, as well as the Terex General 65, 80 and 95 models.
Tel-E-lect digger derricks were first engineered and built by Leroy C. Lindquist, owner of the Minnetonka Manufacturing Co., which manufactured parts for the telephone and electric utility markets in Hopkins, Minn. At the time, Lindquist worked with Northwestern Bell Telephone Co. to develop a machine run by power take-off on a truck's transmission to dig holes for telephone poles. The first Tel-E-lect trucks utilized the truck's differential to mechanically turn an auger, which was suspended from the end of an A-frame boom and was raised and lowered by the truck winch line to drill a hole.
The 1950s and 1960s saw three Tel-E-lect digger derrick product innovations introduced that are still in use today: the Rite-Way auger storage bracket, pole-grabbing winch and hydraulic collector block. The Telecon was also introduced, allowing a digger to be mounted on a smaller, lighter, more maneuverable chassis, and the Commander I Series digger derrick was developed. Additionally, the company developed and introduced the first fiberglass third section built to eliminate pin-on third sections.
Tel-E-lect opened manufacturing facilities in Watertown and Huron, S.D., in the 1970s, and by the early 1980s the company had established its corporate headquarters in Watertown. In 1988, Simon Engineering PLC purchased Tel-E-lect, and the company became known as Simon-Telelect Inc. The company expanded its product offerings in 1992 with the acquisition of Hi-Ranger aerial devices. Terex purchased Tel-E-lect from Simon Engineering in 1997, which became the foundation for Terex Utilities. www.terex.com/utilities
---
Kate Wade
Kate Wade has not set their biography yet
---