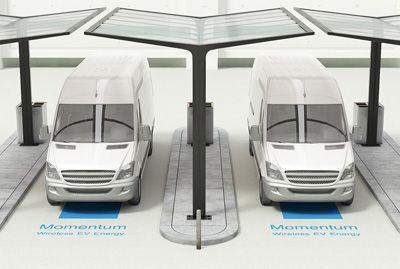 Wireless Charging Unleashes Electric Vehicle Fleets
If your utility operates electric vehicles – or is planning to do so – the emergence of wireless charging technology could impact vehicle selection and charging infrastructure decisions.
Currently, wireless charging is available for smartphones and other small electronics. But wireless EV charging could be a key to widespread transportation electrification.
In the utility industry, EV adoption is just beginning to take off. This September, Duke Energy announced an EV initiative that will convert 100% of its light-duty vehicles to electric and 50% of its combined fleet of medium-duty, heavy-duty and off-road vehicles to EVs, plug-in hybrids or other zero-carbon alternatives by 2030. The utility company already has about 600 EVs in its 10,000-vehicle fleet.
Duke will deploy new Level 2 plug-in charging stations at operations centers, field offices and power generation facilities – essentially, "wherever we are deploying the bulk of the EV fleet at any given time," according to Jennifer Sharpe, a spokeswoman for Duke Energy. "As we see growth in the fleet, we'll deploy additional fast-charging facilities for longer-distance travel of any fully electric vehicles."
The turnover in the fleet will be gradual, so Duke will build out any infrastructure required. Sharpe said there wouldn't be a compromise in operational integrity in transitioning to an EV fleet.
The company also will keep an eye on developing technologies – like wireless charging – that provide better performance than what's available in the marketplace today.
"We don't know what might come up in the next few years, but when it does, we're going to take advantage of it because our goal is to reach net-zero carbon emissions by 2050," Sharpe said.
Addressing Shortcomings
Wireless charging could address some of the shortcomings of EVs, like range anxiety. That's the fear of running out of power, which is like running out of gas for more traditional vehicles. But with EVs, there aren't charging stations along the way.
However, many fleet vehicles travel within EV range, about 250 miles a day. There's enough range to return to the charging station at the service depot. Wireless charging stations dotted throughout a city also could top up the charge on a utility truck in its service area.
Momentum Dynamics (https://momentumdynamics.com) is working to make wireless charging a viable option for commercial vehicles. The Malvern, Pennsylvania-based company has pilot projects with transit authorities to install wireless charging infrastructure for city bus routes and Jaguar I-PACE taxis in Norway.
The technology is primed for vehicles that run a regular route or return to a central location every day. Each vehicle is equipped with receiver pads, and charging pads are built into the pavement. For a bus, that could be at bus stops. For a utility truck, the charging pads could be installed where the vehicle is likely to be stopped for a few minutes.
Momentum Dynamics' proprietary technology charges much faster than standard plug-in charging does, said Michael McHale, a spokesman for the company. Standard plug-in chargers max out at 50 kW, whereas Momentum Dynamics' technology can charge up to 300 kW with modular pads.
A utility could design a system where trucks are charged 25% to 50% during the day and topped up overnight. Or, a utility fleet could use charging pads for passenger vehicles from startup charging companies such as HEVO (www.hevopower.com) and WiTricity (https://witricity.com).
If a fleet has 10 to 20 EVs, plug-in charging overnight is not a burden. But when the number reaches several hundred, the costs skyrocket for infrastructure installation and maintenance. The electrical demand also spikes if hundreds of vehicles require full charging at the same time, McHale said.
Greater Efficiency
Wireless charging can be much more efficient for fleet technicians who won't have to manage cables for numerous vehicles. Cables and charging stations also are subject to wear and tear that add to upkeep costs. Wireless charging helps break the one-vehicle, one-plug paradigm.
EVs can have both systems so they can be plugged in when necessary. But vehicles equipped for wireless charging can carry smaller batteries because they can be charged throughout the day.
"If you think you need 300-mile range and you charge only once a day, you're essentially carrying enough capacity to avoid a catastrophe," McHale said. "But you can send out a smaller battery that gets charged on the way, and you're not lugging around twice as much battery as you need."
Keeping vehicles on the road with wireless charging means the fleet doesn't have to account for wired charging time. And that means the fleet can purchase fewer EVs and still maintain service levels.
About the Author: Gary L. Wollenhaupt is a Phoenix-based freelance writer who covers the transportation, energy and technology sectors for a variety of publications and companies.
*****
Wireless Charging Technology
Momentum Dynamics uses proprietary resonant magnetic induction technology to move electricity through the air gap between the charging plate on the vehicle and the charger installed in the pavement.
The charging process is silent and there's no danger of shock, said Michael McHale, a spokesman for Momentum.
Momentum Dynamics' charging technology is 94% efficient and isn't reduced in hot or cold weather.
Charging batteries in short bursts to keep them at 75% to 85% capacity helps extend the life of the battery, compared to daily deep cycling that shortens useful life.