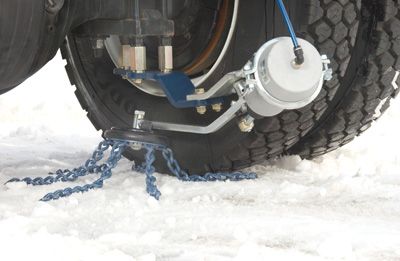 Do Tire Chains Make Sense for Your Utility Fleet Vehicles?
It wasn't so long ago that, when the calendar began its march toward winter, fleets dug out tire chains and issued them to each vehicle. When inclement weather eventually arrived, it was up to the operator to install the chains.
In recent years, however, things have changed, both in terms of options for traction devices and improvements in tires themselves. That has Dale Collins, fleet services supervisor for Virginia-based Fairfax Water, rethinking his approach to the utility's on-road fleet of 320 assets.
"Let's say we experience a blizzard," Collins said during a recent interview with UFP. "[Tire chains] work well for what they're doing. But around here, like a lot of the mid-Atlantic, heavy snowfall lasts around 24 to 36 hours. You want to use your chains. But then, you're using a chain on the semi-clear road, which causes damage to the roadway, wears out the chain itself and is an uncomfortable ride."
Essentially, there are times when tire chains make sense and other times when a different option may work better. So, here are six items to consider before you decide what to use.
1. Are chains actually needed? "A lot of drivers want chains as a security blanket," Collins said. "But a lot of the tire compounds that we use are very good in snowy and icy conditions."
Collins explained that newer tread patterns often prevent the need for tire chains. Even heavier vehicles, like dump trucks with tandem axles, often don't need them, he said.
2. Your state regulations. Most states allow the use of chains, but they often specify that chains must not damage road surfaces.
3. Ease of installation. If the challenge of installation is greater than navigating the driving conditions, tire chains should not be installed.
"Even in the most optimal circumstances, it can take 10 minutes per tire to install [the chains]," said Eric Jones, global sales director for automatic tire chain system Onspot (www.onspot.com). "And it can take up to 30 minutes. That is times four every time they go on and come off. Beyond that, you don't always know when you need a traction device. It may be obvious when you're leaving a facility, or it may not be until you're driving down the road and realize that safe operation could require a traction aid."
4. A positive locking or tensioning system to keep chains taut as they perform. If you do opt for tire chains, this type of system is a critical consideration. "[It's] as important as the ease of installation," Collins said. "There is nothing worse when you're out there with a chain and it decides to come off. It can do all kinds of damage to all kinds of things."
5. Quality. Regardless of what you choose to go with, "You definitely get what you pay for," Collins said.
6. Use conditions. In areas like Fairfax, Virginia, there might be a lighter option that works better than tire chains. For example, Collins is a big fan of cable traction devices. "They're much lighter and kinder to the suspension of the vehicles and the roadways. And they have a much more comfortable ride," he said.
The cables, he explained, often have a zigzag pattern, covering more of the tire. "I think they're probably a little bit better on ice." On the downside, cables are not as durable as chains, Collins said.
Alternatively, an automatic tire chain system like Onspot could be worth the investment, particularly in harsher climates where chains are needed more often. "The drivers never really have to worry about having to get out of the cab and put on tire chains," Jones said. "When they approach a condition where they need traction, they flip a switch and our system activates. When they are through the conditions, they can disengage the automatic tire chains – all while driving."
The automatic tire chains typically are installed at the upfitter or by the OEM before the vehicle is put into use. The system can be taken off in summer months or left on permanently. Each tire chain system is specific to the vehicle it's installed on, Jones said. Onspot is not recommended for off-road situations or on rutty, gravel roads.
About the Author: Sandy Smith is a freelance writer and editor based in Nashville, Tennessee.
*****
More Alternative Options
Not all traction devices are chains or cables. There are two other options, more widely used in Europe, that are making an entry into the U.S. market.
Snow socks. These are just what they sound like: textile materials that encapsulate tires. A snow sock must be installed during use conditions and removed when conditions improve. Makers such as AutoSock (https://autosock.us) manufacture the product for the U.S. market. A Consumer Reports test of such devices found they worked well at providing temporary traction and would be a good fit for a safety kit.
Traction sanders. These sanders are mounted near the drive wheels and dispense a small amount of sand in front of the tires when activated. "You see it a bit in the logging industry in the United States," according to Eric Jones, Onspot's global sales director. "Its use is most prevalent in northern Europe."