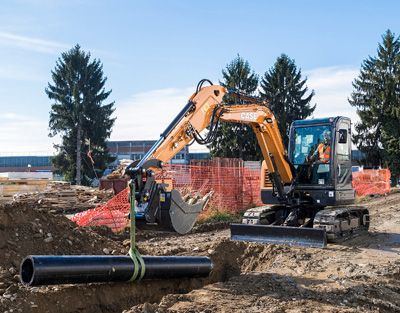 What's New in Digging Machines for Utility Fleets
When you need to dig trenches to lay underground gas lines, or drill holes for setting transmission poles, or be able to dig in tight spaces, the objective is the same: to have crews get the most work done in the least amount of time, with the least amount of effort and cost.
That's the goal that has driven the development of several new products and upgrades released by top heavy-equipment manufacturers in the past few months.
So, what new digging machines and tools have recently come to market? How can they equip utility companies and contractors to boost productivity and profit? Here are seven new developments to keep your eye on.
CASE Construction Equipment
What's New: Six New Mini Excavator Models
Website: www.casece.com
This spring, CASE Construction Equipment introduced six new mini excavator models: the CX17C, CX26C, CX33C, CX37C, CX57C and CX60C. Offered in zero tail-swing, short-radius or conventional configurations, C Series mini excavators feature an adjustable boom with the ability to offset left or right to work closer to buildings and obstacles. An auto-shift travel system offers greater ease and efficiency when operating the machine on varying terrain.
All C Series mini excavators are built with an auxiliary hydraulic system that features standard proportional controls, shut-off valve and easy-to-select joystick control patterns to equip operators to get more done in less time. A spacious and comfortable operator environment – with ergonomic controls, adjustable seating and line-of-sight digital displays – helps minimize operator fatigue.
Terex
What's New: Stand Alone Core Barrel
Website: www.terex.com/utilities
Terex Utilities recently released a new auger tool for digger derricks – the Terex Stand Alone Core Barrel – that increases productivity when drilling hard rock. The tool fits directly onto a standard Kelly bar and can be stowed like a standard auger on the boom, eliminating the need for any attachments or having to remove the tool for transportation.
The Stand Alone Core Barrel is designed for easy plug removal, with a unique tooth pattern that allows the rock plug to easily fall out of the barrel when the operator ratchets the rotation of the tool, unlike other core barrels that require workers to physically hammer the core out of the barrel.
Available in various diameters ranging from 18 inches to 30 inches, the Stand Alone Core Barrel features a barrel wall of 5/8 inches, with an overall tool length of 104 inches.
Ditch Witch
What's New: JT40 Horizontal Directional Drill
Website: www.ditchwitch.com
In February, Ditch Witch introduced the JT40 horizontal directional drill, equipped with two 7-inch LED displays to provide a direct, transparent view into all critical machine functions and operations.
The JT40 offers a two-speed, rotational drive system that produces 5,500 foot-pounds of torque to achieve greater drilling efficiency. And the machine minimizes pipe-entry distance, giving operators increased drill pipe support as the drill enters the ground.
This model is available with either a fully enclosed cab with premium heat and air capabilities or an open operator's station designed with integrated vandal covers. Both options feature a premium ergonomic seat and extended legroom.
Altec
What's New: DT65H Transmission Digger Derrick
Website: www.altec.com
Altec's new DT65H digger derrick is a hydraulically actuated, continuous rotation, heavy-duty transmission digger derrick designed with steel load-bearing structures. The machine features a fiberglass third-stage boom and has a 21,051-pound lifting capacity at 10 feet, enabling the operator to dig a hole and set a large transmission pole with just one unit setup – to help crews get the job done in significantly less time.
The DT65H offers fully hydraulic pilot-operated controls, a standard 15,000-pound planetary winch and a full-view riding seat with single handle control. The machine also incorporates a high-flow piston pump into the hydraulic system.
Vermeer
What's New: Silver Series Drill Rod
Website: www.vermeer.com
Built on the tradition of Vermeer's premium Firestick drill rod, the company's new Silver Series model offers utilities and utility contractors a quality aftermarket drill rod at a more economic price point.
Vermeer's Silver Series drill rod is composed of S135 common-grade steel to reduce cost, while still offering the same column wall thickness-to-strength ratio as the Firestick model to ensure durability and optimal steering performance.
The Silver Series drill rod is available in four sizes: 1.66 inches (4.2 centimeters), 1.9 inches (4.8 centimeters), 2.06 inches (5.2 centimeters) and 2.375 inches (6 centimeters) for use on the D7x11 through the D24x40 S3 Navigator HDD models, including all current and legacy models.
Bobcat
What's New: Next Generation R-Series Excavators
Website: www.bobcat.com
This spring, Bobcat Co. introduced its all-new, next-generation R-Series excavators. The first R-Series excavators to launch will include the Bobcat E32 and E35 in the 3- to 4-ton class.
The new dual-flange rollers extend the excavator's undercarriage structure closer to the track's edge and provide up to a 15 percent increase in over-the-side capacity, which improves over-the-side digging performance and slewing ability so that operators can get more jobs done in less time and effort.
Bobcat also has redesigned the cab to enhance operator experience. The tall, wide windows provide 15 percent more surface area to increase visibility. And there is 29 percent more floor space for the operator's feet and legs than previous models, with redesigned floor pedals that conveniently fold away. The new automatic heat and air-conditioning systems give operators complete control over the cab climate, with an optional heated seat to ensure operator comfort in especially harsh winter climates.
John Deere
What's New: 30G Compact Excavator
Website: www.deere.com
John Deere upgraded its G-Series excavator lineup in March with the introduction of the 30G compact excavator that offers increased lift capacity and improved breakout forces.
The 30G uses 27D/26G buckets and attachments that John Deere customers may already be utilizing in their fleet. It also uses several components that are common to the 35G model to help simplify parts tracking and maintenance for fleets.
Featuring a redesigned cab with heat and air-conditioning and a new seat with adjustable wrist rests, the 30G excavator keeps operators comfortable – and productive – in any climate and conditions.
---
Sean M. Lyden
Sean M. Lyden has not set their biography yet
---