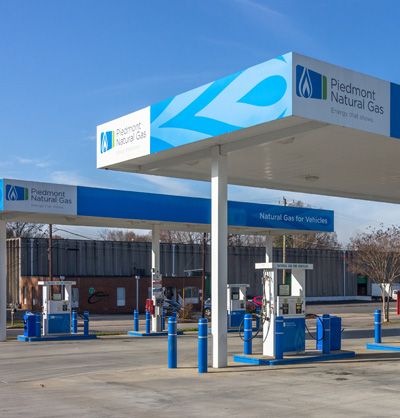 Piedmont Natural Gas Expands Its CNG-Powered Fleet
When it comes to discussions of alternative fuels and sustainability in utility fleets, electrification often takes center stage.
And for good reason. Electric utilities have a vested interest in selling more of their product – electricity – so it makes sense that they would take the lead by making big investments in electric vehicles (EVs) for their fleets. A major contributor to this trend has been Edison Electric Institute's Transportation Electrification Initiative, which in late 2014 garnered commitments from more than 70 investor-owned electric utilities to devote at least 5 percent of their annual fleet acquisition budgets to purchase plug-in EVs and equipment.
But utility fleets shouldn't overlook compressed natural gas (CNG) as part of their green initiatives, said Karl Newlin, senior vice president and chief commercial officer for Duke Energy's natural gas operations, who also oversees the fleet and public fueling station development at Duke subsidiary Piedmont Natural Gas (www.piedmontng.com), which serves more than a million residential, commercial, industrial and power generation customers in North Carolina, South Carolina and Tennessee.
That's because natural gas not only burns much cleaner than gasoline and diesel, but it also offers – at least historically – more stable pricing than conventional fossil fuels, giving fleets a greater sense of predictability with fuel costs.
Piedmont launched its fleet CNG program in 2009 with 12 natural-gas-powered Ford F-150 pickup trucks. Today, the utility operates 469 natural gas vehicles – more than a third of its total fleet of 1,215 vehicles. And in August, Piedmont expects to open its 11th natural gas filling station available to the public.
So, why has Piedmont gone all-in with its fleet CNG program? What are the best fleet applications for natural-gas-powered vehicles? And what do fleet managers need to know about deploying natural gas fueling infrastructure?
The Business Case for CNG
First, what has driven Piedmont Natural Gas to continue to expand its natural-gas-powered fleet?
"Of course, we're a natural gas company. But we have always been a sustainability-focused company," Newlin said. "So by moving more of our vehicles from either gas or diesel to natural gas, we've wanted to get the message across that we practice what we preach."
According to Argonne National Laboratory's Greenhouse Gases, Regulated Emissions, and Energy Use in Transportation model (https://greet.es.anl.gov/), light-duty vehicles running on natural gas can reduce life-cycle greenhouse gas emissions by 11 percent. And because CNG fuel systems are completely sealed, the vehicles produce no evaporative emissions.
But does CNG make good business sense for fleets, beyond the environmental benefits? After all, the price premium for a vehicle equipped to run on CNG typically ranges from $10,000 to $20,000 or so, depending on vehicle class, fuel tank configuration, and whether the fueling system is dedicated or bi-fuel capable. Dedicated systems run exclusively on natural gas whereas bi-fuel systems can switch between natural gas and conventional fuels to extend range.
In fact, the lower cost of CNG per gasoline or diesel gallon equivalent still offers a compelling opportunity to "go green" with a reasonable payback period, Newlin said.
"For example, in the region where we sell compressed natural gas, gasoline is about $2.22, diesel about $2.50, but our product is about $2 for natural gas. So there's still some cost-competitive advantage for natural gas," he said.
While the price difference between CNG and conventional fuels may not seem that big, that's only because gasoline and diesel are available at relatively low prices today – which, as recent history has proven, can change quickly with the volatility of global markets and conflicts in the Middle East.
Consider this as a frame of reference: In the October 2011 "Clean Cities Alternative Fuel Price Report," the price gap per gallon equivalent between CNG and gasoline was nearly $1.40, with gasoline at $3.46 and CNG at $2.09.
Price Stability
So, any discussion of the business case for CNG in fleets should also include the topic of price stability.
That's because since that 2011 report, the price of CNG has remained relatively unchanged. According to the most recent "Clean Cities Alternative Fuel Price Report," the national average for CNG is $2.15, only a 6-cent difference from October 2011, with minimal variation in price in the years in between.
"One thing we are seeing is that some of the more sophisticated fleet managers who are also responsible for fuel procurement are becoming more attracted to natural gas because it's been a very stable-priced product for the past several years. Whereas, of course, we've seen diesel prices fluctuate greatly," Newlin said.
What's driving the price stability of natural gas versus traditional fuels?
"It's the advent of additional supply of natural gas that's been discovered in the U.S. since about 2008, with the ability to unlock – via fracking and horizontal drilling – the large deposits of natural gas in the Pennsylvania and Ohio regions, as well as in West Texas," Newlin explained. "And that means on-shore production. This is important because previously we'd have price disruptions because of hurricanes in the Gulf of Mexico, but we really don't have that phenomena anymore."
Newlin said that natural gas is more of a national market versus a global market, which also has helped stabilize the price of CNG since about 2010. "The supply-demand differentials of natural gas within our country aren't really impacted very much by what goes on in the Middle East or in Asia like they are with oil."
Optimal Applications
What are the best fleet applications for CNG-powered vehicles?
"We're seeing strong adoption across a wide range of duty types of trucks and vans," Newlin said, referring both to Piedmont's own fleet and the fleets of some of the utility's commercial customers. "We're seeing a high adoption rate from everything from Ford Transit Connect service vans all the way up through Class 8 tractor-trailers. So I think we're seeing a lot of fleet managers experiment with what's possible. But clearly, the return-to-base applications or those where the trucks are on a route that offers a sufficient number of CNG stations are seeing solid adoption and penetration."
Newlin said that the majority of Piedmont's nearly 500 CNG-powered vehicles are light-duty pickup trucks and vans used by service technicians, and SUVs for general fleet use and personnel transportation.
Fueling Infrastructure
If a fleet is interested in acquiring CNG-powered vehicles, what's involved with deploying on-site fueling infrastructure?
The first step, Newlin said, is to determine whether there is natural gas nearby so that the natural gas company can provide service to the fleet location. Then, the next step is to decide is whether you need a time-fill or fast-fill station.
What's the difference?
"With a time-fill station, as you might imagine, the trucks can come back from their route, sit in the parking lot overnight, and the tank is filled slowly over a few hours," Newlin explained. "But if their business requires a rapid-fill or a fast-fill, that's typically a higher capital cost because it requires additional compression to be able to hook up the pipe and refill the tank, just like you would a gasoline vehicle, in about 90 seconds."
What does it take in terms of capital cost to deploy an on-site fueling system?
"There are a lot of variances when it comes to on-site fueling deployment costs," Newlin said. "But as you might imagine, the time-fill requires less capital investment than fast-fill. If you're doing a time-fill station, depending on your existing infrastructure, you're in the several-hundred-thousand-dollar range. And if you're doing a fast-fill station, then you're probably in the 1- to 2-million-dollar range."
The Bottom Line
While Newlin couldn't comment on future plans for expanding the number of CNG vehicles in Piedmont's fleet, he did offer numbers that provide insight into the growing demand for natural gas as a transportation fuel.
"From an overall business standpoint, our CNG volume has grown by a third from 2015 to 2016. That's for all of our gallon equivalents that we've sold. And I think it can grow another third from 2016 to '17. So, I would look for the overall gasoline gallon equivalents [of CNG] delivered to continue on a rapid pace for the next five years as the fuel becomes more widely adopted. And I think the penetration will continue to be healthy in the commercial fleet arena."
---
Sean M. Lyden
Sean M. Lyden has not set their biography yet
---