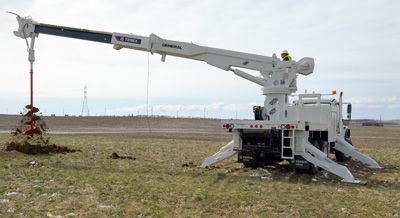 What's New in Digging Machines for Utility Fleets
Whether the job is digging trenches, drilling holes or digging in confined areas, you're looking for machines and tools that can help your customers – the business units your department serves at your company – increase crew productivity at lower operating costs.
Those are also the goals that many heavy-equipment manufacturers have in mind as they design and develop new digging machines and accessories.
So, what's new in digging machines for utility fleets this year? Here are six new developments to watch.
Terex
What's New: Updated General 65 MAX digger derrick
Website: www.terex.com/utilities
Terex Utilities introduced the next-generation General 65 MAX digger derrick for utility transmission applications during the virtual Electric Utility Fleet Managers Conference in June.
At a 10-foot radius and fully retracted, the General 65 MAX can lift 22,620 pounds. With the optional X-Boost, the General 65 MAX features 25,000 pounds of capacity at high boom angles, generating 26% more power than its predecessor.
The General 65 MAX incorporates Terex's signature design features, such as trapezoidal dual hydraulic cylinders, which stabilize the boom during digging and rotating, a retractable rectangular boom and a filament-wound fiberglass third boom section.
Fleet professionals can equip the General 65 MAX with optional tools and accessories, including several styles of transferable pole-guide arms, material-handling jibs and a full lineup of Terex augers to match the digging conditions.
Ditch Witch
What's New: MT26 Microtrencher
Website: www.ditchwitch.com
Ditch Witch's new MT26 microtrencher attachment is part of a complete microtrenching system that includes the RT80 ride-on trencher and HX75 vacuum excavator.
With the MT26, operators can create a clean, deep, narrow trench in one pass and install cable deep enough to meet most requirements with minimal disruption to the surrounding infrastructure.
Designed with a standard hydraulic plunge to provide variable depth control, the MT26 can cut a clean trench from 1.5 inches up to 3 inches wide and down to 26 inches deep, which allows contractors to install a typical 2-inch fiber or power cable line with the required 2 feet of ground cover.
In the past, cutting a narrow trench at a 26-inch depth required a rock saw – which would leave a more invasive trench, with spoils and dirt on the road – or a horizontal directional drill, which would require more setup time.
The MT26 attachment can be equipped with various blades, including the standard carbide-tipped blades and the Ditch Witch PDC blades with diamond-embedded carbide. All blades are changeable with common hand tools. The MT26 is also compatible with 4-, 5- and 6-inch vacuum excavator hoses, allowing contractors to use their preferred vacuum excavator.
Vermeer
What's New: QuickFire HD connection system for utility horizontal directional drills
Website: www.vermeer.com
The new Vermeer QuickFire HD connection system for utility horizontal directional drills (HDDs) helps reduce the labor involved with switching from pilot bore to pullback tooling while working in harsh ground conditions.
The new connection system uses two heavy-duty roll pins to secure the locking collar over the non-torqued threaded connection. And it allows the collar to be assembled at any orientation so that it doesn't have to be rotated to align with the retention bolt hole, unlike other systems.
The QuickFire HD is available in three sizes:
QuickFire HD 300 for HDDs in the 10,000-pound drill range (Vermeer D10x15 S3 or Ditch Witch JT10 HDD).
QuickFire HD 400 for HDDs in the 24,000-pound drill range (Vermeer D23x30 S3 or Ditch Witch JT30 HDD).
QuickFire HD 460 for HDDs in the 40,000-pound drill range (Vermeer D40x55 S3 or Ditch Witch JT40 HDD).
Vermeer offers weld-on connection options to convert existing tooling to the QuickFire HD connection system.
Caterpillar
What's New: Hydraulic mini excavators
Website: www.cat.com
Caterpillar has introduced its new 302.7 CR, 303 CR and 303.5 CR hydraulic mini excavators for the 2.7- to 3.5-ton class machines to increase operating efficiency, lower maintenance costs and improve operator comfort.
Built on Cat's Next Generation platform that offers a consistent operator experience through the 1.5- to 10-ton range, each new mini excavator model features exclusive stick steer, cruise control, operator-adjustable settings, and tilt-up canopy or cab as standard.
The three new mini hydraulic excavators feature a compact radius swing that reduces overhang when working to the side, allowing the machines to work in confined spaces. Fixed undercarriage widths for the 302.7 CR, 303 CR and 303.5 CR are 59.1, 61.0 and 70.1 inches, respectively.
There's also an expandable undercarriage option for the 302.7 CR, allowing the operator to narrow the track width to 53.3 inches to operate in confined spaces and expand to 70.1 inches to improve digging and lifting stability.
The Cat C1.1 Turbo engine powers the 302.7 CR and 303 CR models, while the Cat C1.7 powers the 303.5 CR. Both engines meet U.S. EPA Tier 4 Final emissions standards and offer 23.6 horsepower net power.
Volvo Construction Equipment
What's New: Two short-swing compact excavators
Website: www.volvoce.com
Volvo Construction Equipment has added two new short-swing compact excavator models in North America: the ECR50 and ECR58. The 5-ton ECR50 is a new entry for Volvo in North America, while the 6-ton ECR58 adds performance updates from the D-series model.
The zero-tail-swing radius of the ECR50 and short-swing radius of the ECR58 enable the excavators to work in confined spaces while reducing the risk of damage. And the in-track boom swing ensures the swing post and cylinder remain within the track width when digging alongside obstacles.
The company said the new ECR58 increases lifting capacity by 10% compared to the D-series. It also generates 5% greater bucket breakout force and 7% greater arm tear-out force, allowing customers to handle larger attachments more efficiently, especially in challenging ground conditions.
The ECR50 and ECR58 compact excavators are eligible for a free year of ActiveCare Direct, Volvo's advanced telematics service that provides 24/7/365 machine monitoring and fleet utilization reporting directly from the manufacturer.
Terex
What's New: Three augers
Website: www.terex.com/utilities
In May, Terex Utilities introduced three new augers at the International Foundations Congress & Equipment Expo.
The first is Terex's new Foundation High-Production Auger to improve drill footage in various soil conditions. It features a standard heavy-duty 1-inch flighting and an optional extra heavy-duty 1.5-inch flighting.
The second auger is the Bullet Tooth Rock Auger for penetrating hard limestone, cobbles, boulders and fractural rock formations. Standard flighting is 1 inch, and an extra heavy-duty flighting of 1.5 inches is also available.
"The cut pattern and tooth attack angle allow the bullet teeth to act as 'fingers' that penetrate through and lift fractured or broken material," said Dale Putman, Terex's product support manager.
The third auger is Terex's Dirt Auger, which also offers a standard 1-inch and optional 1.5-inch flighting. This tool improves drill footage in loose to compacted soils, stiff clay, loose gravel and soft shale.
---
Sean M. Lyden
Sean M. Lyden has not set their biography yet
---