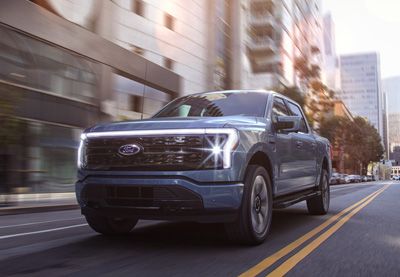 An Electric Pickup to Watch: The Ford F-150 Lightning
In May, Ford unveiled its all-electric F-150 Lightning pickup, joining GM, Tesla, Rivian and others racing to bring an affordable and practical battery-powered truck to the mainstream market.
The truck is expected to arrive in spring 2022 with four models and two battery options. Within three weeks of Ford's announcement, the F-150 Lightning had surpassed 100,000 reservations (which can be made for $100 at www.ford.com/trucks/f150/f150-lightning/2022/).
So, what does this new entry in the electric truck race mean for utility fleets? Will it be practical for fleet applications? Here's what we know about the F-150 Lightning so far.
What's the price?
The Pro work truck model starts at $39,974 MSRP before any federal or state tax credits (or fleet incentives), while the mid-series XLT model starts at $52,974 MSRP.
What's the range between charges?
The F-150 Lightning offers two battery options: a standard-range battery targeting 230 miles of range and an extended-range battery targeting 300 miles.
All Ford F-150 Lightning models come with the 32-amp Ford Mobile Charger, allowing operators to charge from a traditional 120-volt or 240-volt outlet. No special stations are required.
The extended-range battery comes standard with the 80-amp Ford Charge Station Pro, which generates a peak charging power of 19.2 kilowatts enabled by the battery's dual onboard chargers to fully charge the vehicle overnight.
How long does it take to charge?
With the 80-amp Ford Charge Station Pro – standard with the extended-range battery – the F-150 Lightning adds an average range of 30 miles per charging hour, fully charging an extended-range truck from 15% to 100% percent in about eight hours.
On the road, operators can access what Ford says is North America's largest public charging network through FordPass, offering over 63,000 charging plugs across the U.S. With a 150-kilowatt DC fast charger, an extended-range F-150 Lightning should get up to 54 miles of range in 10 minutes and charge from 15% to 80% percent in about 41 minutes.
The truck's Intelligent Range system calculates range, factoring in weather, traffic, payload and towing weights. The SYNC 4 navigation identifies public charging locations and prompts operators to charge at convenient points on each drive.
What configurations will be available?
The F-150 Lightning is available only in the crew cab (four-door) configuration but with four trim levels: Pro (the work truck version with vinyl seats); XLT (mid-level trim with cloth seats); Lariat (up-level trim with leather heated and ventilated seats); and Platinum (high-end premium trim).
Will four-wheel drive be offered?
Yes. The F-150 Lightning is equipped with a four-wheel-drive system with four selectable drive modes: Normal, Sport, Off-Road and Tow/Haul.
What is the payload capacity?
The F-150 Lightning is designed to haul a maximum of 2,000 pounds in the standard-range model with 18-inch wheels. The payload capacity is lower with the extended-range model because of the heavier battery.
The truck offers an available onboard scale that uses sensors to estimate payload so that operators can know precisely how much weight they're hauling. And since payload impacts range, the onboard scale is integrated with Ford's Intelligent Range system to provide operators as accurate an estimated range as possible.
Since there's no gas-powered engine under the hood, the F-150 Lightning has a "frunk" – a front-loading trunk – that offers an additional 14.1 cubic feet of cargo space to carry up to 400 pounds.
What is the trailering capacity?
The maximum available towing capacity for the F-150 Lightning is 10,000 pounds on the XLT and Lariat models with the extended-range battery and Max Trailer Tow Package.
What are the Lightning's horsepower and torque ratings?
The F-150 Lightning targets 563 horsepower and 775 pound-feet of torque, with a 0-60 mph time in the mid-four-second range when equipped with an extended-range battery.
What onboard power systems will be available?
Standard on the Pro and XLT models is 2.4 kilowatts of power with the option to add more, while the Lariat and Platinum models come standard with 9.6 kilowatts of power – a combination of up to 2.4 kilowatts available through the frunk and up to 7.2 kilowatts through outlets in the cab and bed.
Also available is a Ford Intelligent Backup Power system, with the ability to offload 9.6 kilowatts to power a home – including lights, appliances and security systems – during an outage.
According to Ford, the F-150 Lightning with the extended-range battery can provide full home power for up to three days, or as long as 10 days if power is rationed.
The company also said that in the future, it will introduce Ford Intelligent Power, which can use the truck to power homes during high-cost, peak-energy hours while taking advantage of low-cost overnight rates to charge the vehicle in time for the morning commute.
How extensive is the service network?
Fleets will be able to access more than 2,300 EV-certified Ford dealers across the country.
Ford Roadside Assistance in the U.S. is for five years or 60,000 miles, whichever comes first. You can choose where to have the vehicle towed and recharged within 35 miles of the vehicle location. Beyond 35 miles, Ford will take the vehicle to the nearest available option.
Ford will also deploy standard over-the-air software updates – called Ford Power-Up – to add new software features and fix issues without extra trips to the dealership.
What's the warranty?
The F-150 Lightning limited factory warranty includes these coverages:
EV component coverage: 8 years or 100,000 miles, whichever occurs first, with retention of 70% or more of the original high-voltage battery capacity over that period
Powertrain coverage: 5 years or 60,000 miles
Bumper-to-bumper coverage: 3 years or 36,000 miles
Safety Restraint System coverage: 5 years or 60,000 miles
Corrosion coverage: 5 years/unlimited miles
---
Sean M. Lyden
Sean M. Lyden has not set their biography yet
---