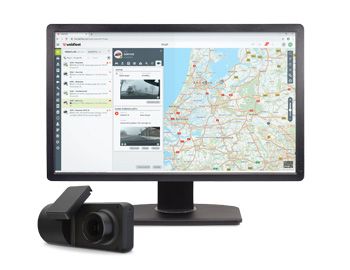 WEBFLEET Video Telematics Solution
Webfleet Solutions, one of the world's leading telematics providers and part of Bridgestone, has launched WEBFLEET Video into the market. With the technology of Webfleet Solutions and Lytx, a leading global provider of video telematics solutions for fleets, integrated on one platform, users can access and manage both their vehicles and their in-vehicle cameras from a single interface.
Road-facing and optional cabin-facing HD dashcam event footage is displayed alongside driving data to give users the full context of road incidents. Users can request video from a specific time and position of a previous trip or instantly livestream from the road to take action immediately when an incident occurs.
Accompanying WEBFLEET Video is the CAM 50 dashcam. This hardware uses artificial intelligence technology to automatically identify risky behavior, such as distracted driving and mobile phone usage. When it does so, it notifies the driver with a visual and audio alert, helping them avoid dangerous situations. www.webfleet.com
---
Kate Wade
Kate Wade has not set their biography yet
---