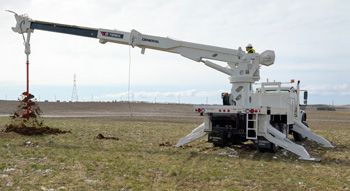 Terex General 65 MAX
Terex Utilities has introduced a new generation of the General 65 digger derrick for utility transmission applications.
At a 10-foot radius and fully retracted, the General 65 MAX can lift 22,620 pounds. With the optional X-Boost, the machine features 25,000 pounds of capacity at high boom angles, which is 26% more power than its predecessor. X-Boost adjusts hydraulic pressure to increase load-handling capability and enables strong performance for lifting at high boom angles.
The General 65 MAX leverages many Terex pioneered digger derrick design features, such as trapezoidal dual hydraulic cylinders, a retractable rectangular boom and a filament-wound fiberglass third boom section.
Other common features will make life easier for technicians and operators. Radio controls and other control station options are available so controls can be customized. Technicians will also experience ease of maintenance working on a simple, full-pressure hydraulic system and overall maintenance access to features such as the collector block and extension cylinders.
The General 65 MAX can be equipped with a variety of tools and accessories to increase productivity. Options include several styles of transferable pole guide arms, a full lineup of Terex augers to match digging conditions and material-handling jibs. www.terex.com/utilities/en/product/commander-general-series/General-65
---
Kate Wade
Kate Wade has not set their biography yet
---