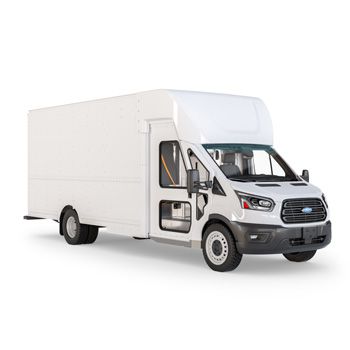 Utilimaster Velocity F2 Walk-In Van
Utilimaster, a business unit of The Shyft Group, has announced its latest production-ready, purpose-built walk-in van: the Velocity F2. Built on a sub-10,000-pound GVWR Ford Transit chassis, the Velocity F2 combines nimbleness, comfort and fuel efficiency with the cargo space, access and load capacity similar to a traditional walk-in delivery van. The company is taking production orders for the Velocity F2 now.
Utilimaster has expanded their product portfolio to include this Class 2 purpose-built walk-in van to meet the rapidly growing global e-commerce and delivery demand. As the leading manufacturer of last-mile delivery vehicles, Utilimaster and The Shyft Group fulfill a segment void with the market-ready, purpose-built Velocity F2.
Benefits of the Velocity F2 include lower total cost of ownership and operation than Class 3-6 vehicles; drivers of Class 2 vehicles do not need a commercial driver's license to operate; and ease of compliance with Department of Transportation requirements.
Additional features include better fuel economy; improved safety step heights; lightweight aluminum sidewalls; 600-700 cubic feet of cargo space; and a corresponding payload range of 3,700-4,300 pounds.
The Velocity is also offered in a Class 3 (GVWR 14,000) vehicle, available on both the Ford Transit (Velocity F3) and the Mercedes Sprinter (Velocity M3) chassis. www.utilimaster.com/velocity-f2
---
Kate Wade
Kate Wade has not set their biography yet
---