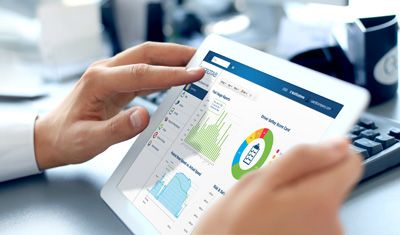 Use New Tech to Manage Fleet Fuel Costs More Effectively
Despite all the technology available in today's utility trucks, the most critical connection is still between the driver's brain and foot.
But OEMs and the aftermarket are also offering tools to monitor driver and vehicle performance, and upgraded equipment can reduce the need for idling. Making smart fleet acquisition decisions can pay off as well.
American Idle
As fuel prices rise, cutting back on idling is low-hanging fruit that fleets can grab to make quick improvement. In the typical fleet, idling behavior accounts for 40% of engine hours, according to Ron Zima, founder and CEO of GoGreen Communications Inc. and a consultant known as the Idle Free Guy.
Utility supplier Altec found utility vehicles idle in park for 65% of their engine-on time, and each hour equals 25 miles of driving. Overall, idling vehicles consume 6.6 billion gallons of fuel in the U.S. and Canada each year. Every hour of idle time decreases fuel efficiency by 1%, so fleets could save thousands of gallons of fuel each year.
Of course, in a utility fleet, a certain amount of idling is unavoidable, or so most people believe.
Not only does unnecessary idling burn fuel, but it increases maintenance costs and reduces the engine's life cycle. There's also a penalty in greenhouse gas emissions, which many utilities have pledged to reduce.
Gear Up Now
While more electric vehicles are coming to market, there's no need to wait for trucks like the new Ford F-150 Lightning to start improving fuel economy. OEMs and the aftermarket offer technology now for internal combustion engines to help fleets curb their fuel budgets.
Start-stop technology is widely available on lighter-duty vehicles, such as pickups, SUVs and sedans. The car senses it's at a stoplight and turns off automatically. When the driver presses the accelerator, it roars to life. In heavy traffic, fuel savings can add up to 8% or more, according to SAE International.
Fleets can also connect existing vehicles to smart systems to track fuel performance. Fairfax Water in Fairfax, Virginia, handles all fueling in-house and tracks fuel use with a system that downloads updated vehicle data every time the vehicle pulls up to the pump.
"We track truck mileage and flag any huge discrepancies, and that also drives our maintenance plan," said Dale Collins, the utility's fleet services supervisor.
Fairfax Water operates in the notoriously bad traffic of the Washington, D.C., metro area, so idle time can be high. Overall, the utility averages about 2 million miles a year for its fleet that includes Class 1 through Class 8 vehicles.
"Our mileage reports help us stay on top of fuel economy and how many miles we're driving and where we're working," Collins said.
The utility doesn't have a telematics system to monitor driver behavior, but it is considering one for the future. Instead, there's an aggressive driver training system.
"We make sure the drivers understand they are in a company vehicle, and they are a representative of this organization," Collins said.
Tracking Performance
While some vehicles offer real-time indications of fuel consumption, that doesn't help fleet managers track performance. Newer vehicles like Ford's commercial trucks offer telematics and data services to monitor vehicle and driver performance. The data can be used with the OEM system or integrated with an aftermarket solution such as Geotab to monitor vehicle performance and driver behavior.
With Geotab, utilities can set rules, such as no idling longer than five minutes. The in-cab device will alert the driver to turn off the vehicle, said Steven Berube, the company's senior business development manager for off-road and vocational vehicles.
The system can adjust for the local climate – a user can run the air conditioner in Phoenix and keep the cab toasty in Ontario. With Geotab, fleets can save 10% or more on fuel costs by managing engine-on time.
"Fleets who are interested in saving fuel costs will have a good idle policy and reward drivers who idle least," Berube said.
Smart telematics systems distinguish between a stop at a traffic light and an hours-long traffic tie-up on Interstate 95. And they can monitor speeding and hard acceleration that guzzle fuel, especially as vehicles get larger.
"Having drivers accelerate in a normal fashion helps tremendously," Berube said.
Choose the Right Vehicles
Choosing the right vehicles with the right engines cuts fleet fuel use as well. Fairfax Water tested two Ford F-150s with turbocharged EcoBoost engines that returned 30% higher fuel economy than a truck with a standard engine.
They also looked at engine specs and downsized both diesel and gas engines. For three-quarter-ton pickups, they dropped from 7-liter gas engines to 6 liters and bought medium-duty trucks with 7-liter diesels instead of 9 liters.
"We fit the vehicle to the task it's expected to do, and that's helped out a bunch," Collins said.
It's easy to overcome some long-standing reasons for idling, like powering scene lighting and climate control. Fairfax Water has added LEDs for scene and traffic control lighting that uses little battery power so that drivers can shut down a truck and be confident it will start.
"In a test, we've turned on all the safety lights and vehicle lights for three hours and the truck started up and drove away," Collins said.
In the near future, power centers on the truck will run climate controls and small tools while the engine is turned off to further reduce the need for idling.
About the Author: Gary L. Wollenhaupt is a Phoenix-based freelance writer who covers the transportation, energy and technology sectors for a variety of publications and companies.
*****
Succeeding at an Idling Reduction Initiative
Idling is the third rail of fleet management because nobody wants to touch it, according to Ron Zima, aka the Idle Free Guy. He said the success of an idling reduction initiative requires two things:
1. Management must be visible champions of the strategy.
2. Drivers must care at an emotional level about reducing idle time.
*****
Idling Myths
Some fleet managers and drivers still think idling is good due to myths that may have been true decades ago but are no longer relevant. Here are a few of those myths:
Restarts are bad.
Long warmups are necessary.
Idling is good for the vehicle.
In each case, modern engines don't perform as well during long idle times.
"Idling is probably the worst operating condition for any engine built in the last 20 years," said Ron Zima, aka the Idle Free Guy.