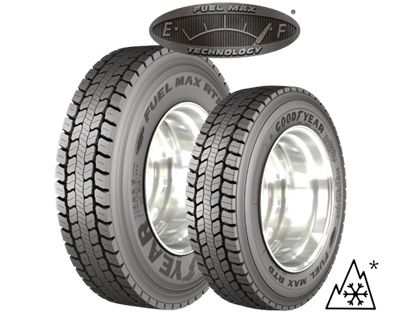 Top Trends in Commercial Truck Tire Technologies
A number of tire manufacturers are developing high-tech solutions for the truck and bus radial market segment, which includes tires for the Class 4, 5 and 6 trucks that are the backbone of many utility fleets. Tires and related items typically are among the top three costs of running a fleet, so even incremental improvements can slash expenses.
Smart Tires
Tire makers are developing intelligent tires that communicate information about performance in real time, including wear, temperature, pressure and speed. Each tire has a sensor that sends information to the cloud, where fleet managers can access it for individual vehicles or the overall fleet.
Fleet managers also can benefit from interactivity with other smart environments – like fleet telematics – to improve sustainability and efficiency. So far, Goodyear (www.goodyear.com) has collected more than 3 million miles of data in its intelligent tire testing.
"As vehicles become smarter and more autonomous, intelligent tires – as the only part of the vehicle that actually touches the ground – will become even more critical," said Johnny McIntosh, director of integrated solutions and tire management for Goodyear.
Connected tires combine with algorithms tweaked to predict replacement intervals and maintenance, which allows for scheduling of services before a tire fails.
The intelligent tires use an RFID tag, a sensor that transmits tire information to a cloud-based application that enables fleet operators and drivers to identify and resolve potential repair issues that might result in vehicle downtime.
For example, if a tire on a truck suddenly lost air pressure, a fleet operator would be notified immediately, even before the driver had time to pull over.
When a tire needs replacement, real-time data – including the tire brand, model and size, as well as the speed and traction ratings of each tire – is available on one screen for fleet operators to review.
All Michelin (www.michelin.com) commercial truck tires are manufactured with RFID technology, but it's currently limited to inventory use, said Brandon Gray, operational marketing manager – B2B Services for Michelin North America. Connected tires help fleet managers control inventory to reduce losses and ensure tire availability.
Fleet Services
Another current tire trend is Tires as a Service, similar to Software-as-a-Service and other X-as-a-Service offerings. For example, Goodyear's Tire Management suite offers management and monitoring for fleet operators. The TireReady service manages the life cycle of a tire using a subscription model. Another option provides active on-vehicle monitoring that can identify leaks and high temperatures in real time. Other tools – such as a drive-over reader device and a digital inspection toolset – offer efficient, digitally based tire-monitoring solutions that give fleet managers more information at a faster rate.
Michelin's Tire Care is a predictive tire program in which tires are inspected on-site for low pressure, irregular wear and uneven tread depths. Fleet managers get customizable reporting to track immediate needs, performance data, forecasting and even cost per mile, Gray said.
Tire Design
Utility fleet managers look for tires that last a long time and help improve fuel economy with every mile. Class 4-6 truck tires need to carry a 25,000-pound truck over the harshest roads and terrains in the country, from servicing power lines in the middle of Vermont forests to fighting wildfires throughout California. They need to be tough enough to endure the cutting and chipping of unpaved access roads and then roll the truck comfortably and safely down the highway.
Strength and durability are of utmost importance to a good tire in this vehicle class, said Phil Mosier, Cooper Tire's commercial tire development manager. Cooper (https://us.coopertire.com) is working on compounds to balance treadwear characteristics, such as cut and chip resistance, handling and life cycle.
"The latest tread compounds improve handling and reduce rolling resistance of the tires for better fuel economy," Mosier said.
Goodyear's Fuel Max RTD, a regional drive tire, was designed with a low rolling resistance compound, helping to increase fuel efficiency, traction and long miles to removal, according to Dustin Lancy, commercial product marketing manager for Goodyear. The tire, which bears the three-peak mountain snowflake badge for winter traction, is built to provide a high level of traction as it wears, allowing the truck to stay on the road longer before it's time to change the tire.
Michelin's advanced compounds use two layers, the top one that provides long life and the bottom layer that dissipates heat to improve tire casing life, Gray said.
About the Author: Gary L. Wollenhaupt is a Phoenix-based freelance writer who covers the transportation, energy and technology sectors for a variety of publications and companies.
*****
4 Tire Performance Factors
1. Removal mileage. It's a measure of the miles per 1/32 inch of tread depth that a tire should run before it should be replaced. Some fuel-efficient tires may be constructed with less tread depth to reduce weight and rolling resistance. New designs can improve removal mileage by 15%.
2. Low rolling resistance. Tires with low rolling resistance can save a lot of fuel over the life of the tire. However, there may be tradeoffs with durability and traction, depending on the truck's work profile.
3. Driver behavior. Improving driver behavior can boost tire mileage up to 35% through reducing wear and spotting signs of trouble before they lead to failure.
4. Tire pressure. Maintaining proper air pressure is the simplest step to improving tire life. Follow manufacturer recommendations for tire size and load range.