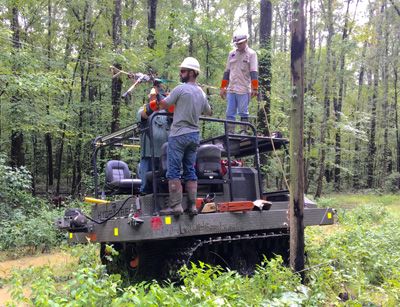 New Developments in All-Terrain Vehicles for Utility Fleets
Utility work occurs rain or shine, day or night, and whether we're in the midst of a pandemic or not. Often, that work takes place on rugged terrain and in other challenging environments. All-terrain vehicles provide solutions to safely move utility crews, tools and equipment in and out of these environments, and ATV manufacturers continue to introduce new and improved products to meet the needs of utility fleets. Here's a roundup of six products that have been introduced so far in 2020.
Hydratrek
What's New: Smaller CM66 model
Website: https://hydratrek.com
Hydratrek has been experimenting with going smaller for the last five years, according to Craig B. Simonton, vice president of sales and marketing for the amphibious ATV manufacturer. "We've built at least three prototype versions to find the right combination of power, torque, comfort, stability and reliability in this model. This has resulted in the new CM66 model that features a gasoline engine, seating for four persons and a smaller chassis."
The CM66 is made in the USA and features many of the same characteristics that customers expect from Hydratrek, Simonton said, including aluminum construction, a hydrostatic drive, a rubber track option and an available water propulsion system.
Polaris
What's New: PRO XD gas model with occupant dividers
Website: https://commercial.polaris.com/en-us/pro-xd/
Polaris PRO XD's new gas model includes a new occupant divider kit available for the two- and four-seat PRO XD vehicles. The kits "were designed to help minimize direct contact between occupants," said Trevor Thill, PRO XD product specialist for Polaris Commercial. "Polaris engineered the kits with clear, marine-grade vinyl to be durable for the job site and minimize impact on visibility. Installation and removal are straightforward with no special tools required for the sturdy straps and snaps that secure the occupant divider to the vehicle frame."
The four-seat kit contains a front and rear divider as well as side-by-side dividers for both the front and rear seats.
PowerBully
What's New: Telematics option for track carriers
Website: www.powerbully.com
PowerBully track carriers have picked up the telematics/SNOWsat package from the PistenBully product line. The system provides "a real-time view into all aspects of the track carrier and attachments, as well as all other rolling stock monitored by the fleet department," according to Josh Nelson, PowerBully SNOWsat product manager. It is equipped with an operator login so that the fleet manager can view who was operating the machine and where and when it was used. The feature also provides PowerBully's technical department the ability to log in and troubleshoot any issues that arise.
"The goal is to maximize uptime," said Scott Merrill, vice president of PowerBully. When repairs are needed, the fleet can gain greater understanding of the situation and ensure that the technician has the necessary parts, tools and supplies.
PRINOTH
What's New: Vegetation management enhancements
Website: www.prinoth.com
PRINOTH's 74.8-inch-wide M450 mulching head now comes in two additional sizes: 63 inches and 86 inches. The heads are available for a range of carrier vehicles. With a plug-and-mulch feature, the M450 can be set up on a skid-steer loader. The rotor includes two types of cutting tools: steel knives and carbide teeth. One version includes a hydraulic-driven mulcher for remote-controlled carriers. No matter the size or type of carrier, the head is lightweight for safety improvement and produces finely mulched material. The mulching improvements pair with PRINOTH's PANTHER T7R crawler carrier, the first to include a Stage V engine.
Terramac
What's New: Utility carriers in three sizes
Website: www.terramac.com
Terramac's new utility carrier line includes extended front and rear frames and various hydraulic pump-drive configurations. The carriers "make it easier than ever for contractors to traverse rugged utility rights-of-way with the support equipment necessary to complete projects safely and efficiently," said Jesse Whittaker, Terramac's director of sales and business development.
The carriers minimize the need to build access roads or lay mats while also providing reduced slippage. They exert low ground pressure and can be equipped with digger derricks, aerial devices, concrete mixers, personnel carriers and more.
UTV International
What's New: Mounted tip winch for easier pole handling
Website: www.utvint.com
The design of UTV International's Achiever tracked vehicles now includes a tip winch on the end of the fiberglass. "This means no more winch lines crossing the insulated section," according to Doug Shand, project manager for the company. The new winch also maintains the same capacity as the older turret winch.
Shand also said that the design improves safety, eliminating potential path to ground. And there's an added bonus: "We've seen a drastic reduction in replacement ropes being sold as there is a far less chance of pulling the rope into the sheave," he noted.
About the Author: Sandy Smith is a freelance writer and editor based in Nashville, Tennessee.