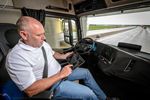 The Latest Developments in Crash Avoidance Systems
In July, Daimler, the parent company of Mercedes-Benz, debuted its fully autonomous Future Truck 2025 with an on-highway test drive on the Autobahn near Magdeburg, Germany.
And while a production model of the self-driving truck may be more than a decade away, many of the technologies required to make autonomous driving a reality are available today. They're known as crash avoidance systems, which serve as an extra set of eyes to help keep drivers and the public safe.
Considering that 90 percent of all accidents in the U.S. are caused by human error, according to the Network of Employers for Traffic Safety, crash avoidance technologies could make a major impact on reducing accidents – and the costs associated with those crashes.
This is especially important to utility fleets because drivers of large aerial platform, digger derrick, and service trucks often must navigate congested roads and parking areas in residential and urban areas. These areas may have numerous potential blind spots to parked cars, property and even children who might dart in the way of the truck. All it takes is one preventable accident that causes a major injury or fatality to ignite a potential public relations firestorm.
How can you reduce preventable accidents to protect your drivers and your company's reputation? Following are three crash avoidance technologies available today for commercial trucks.
Collision Avoidance Systems
www.collisionavoidancesystems.net
What if your truck could see an obstruction as you drive in reverse and, as you get closer and closer, tell you the precise distance from potential impact so that you can effectively maneuver the vehicle and avoid damage?
That's what the Collision Avoidance Systems Vehicle Reversing Aid is designed to do. Using ultrasonic echo location sonar, the system alerts the driver to potential obstacles, with an audio pulse alert that changes frequency as the vehicle backs closer to the obstacle.
The system also offers a Voice Distance Indicator module, which employs an audible voice to inform the driver how close the rear of the vehicle is from the obstruction. The voice calls out the distance in feet, starting at 12 feet. Then, as the vehicle reverses toward an obstacle, you hear the system say, "9 feet … 6 feet … 5 feet … 4 feet … 3 feet … 2 feet …18 inches …12 inches." When the system senses the vehicle is fewer than 12 inches from an obstacle, the voice issues the urgent warning, "CRASH!"
Additionally, when a detected object suddenly moves outside the system's sonar zone, the system issues a loud "OBJECT IN BLIND AREA!" warning message.
OnGuard Collision Mitigation System
www.meritorwabco.com
Even with the best reflexes, you can't always sense when traffic ahead of you will come to a sudden stop – until it may be too late. But what if your truck had the ability to automatically detect the danger and apply brakes as necessary to help you avoid a crash?
Enter OnGuard, a radar-based active safety system developed by Meritor WABCO, a joint venture between Troy, Mich.-based Meritor Inc. and WABCO Holdings Inc., which is headquartered in Piscataway, N.J.
OnGuard uses radar sensors and advanced algorithms to measure your truck's position relative to other vehicles, alerting you to possible danger of collision using audible and visual warnings – through an in-cab display – so you can take corrective action.
If the system senses that a potential collision is impending, and the driver hasn't adjusted course, OnGuard automatically de-throttles the engine and applies both the engine and foundation brakes to decelerate the truck.
Mobileye
www.mobileye.com
Imagine that your truck had an extra "eye" that never got distracted and could see danger, even when you couldn't, to alert you in time to do something about it.
That eye is Mobileye, which uses an intelligent camera system mounted on the vehicle's dashboard to identify objects in your vehicle's path that may pose threats, such as other vehicles, cyclists or pedestrians. The system continuously measures the distance and relative speeds of these objects to calculate the risk of your vehicle colliding with them.
The system can also detect lane markings and traffic signs, alerting drivers when they veer out of their lane or when they go over the speed limit. When Mobileye detects imminent danger, it issues visual and audio alerts in real time that warn the driver and give him or her sufficient time to make necessary corrections.
The Bottom Line
The promise of self-driving vehicles may be not be fully realized for another 10 to 20 years. However, fleets can at least begin to incorporate some of the component technologies available today to equip their vehicles – and drivers – to more effectively avoid crashes.
About the Author: Sean M. Lyden is a nationally recognized journalist and feature writer for a wide range of automotive and trucking trade publications, covering fleet management strategies, light- and medium-duty trucks, truck bodies and equipment, and green fuel technologies. He blogs at Strategy + Writing (www.seanmlyden.com).
Crash Course on Collision Avoidance Terminology
Front Crash Prevention System: Uses various types of sensors – such as cameras, radar, or light detection and ranging – to detect when the vehicle is getting too close to one in front of it, issuing a warning and precharging the brakes to maximize their effect if the driver responds by braking.
Lane Departure Warning and Prevention System: Uses cameras to track the vehicle's position within the lane, alerting the driver if the vehicle is in danger of inadvertently straying across lane markings.
Blind Spot Detection System: Uses sensors to monitor the side of the vehicle to detect vehicles approaching blind spots.
Park Assist and Backover Prevention System: Uses cameras and sensors to help the driver avoid objects behind the vehicle when backing up.
Source: Insurance Institute for Highway Safety (www.iihs.org)
---
Sean M. Lyden
Sean M. Lyden has not set their biography yet
---