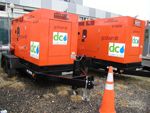 Road Map
For the fleet management team at the District of Columbia Water & Sewer Authority, the goal is clear. "We are in a position of public trust," said Tim Fitzgerald, fleet director at DC Water – Department of Fleet Management. "We are also a revenue-generating utility. While our management gives us the freedom to do a lot of innovative things, we are held to high standards internally and by our customers. In the end, we have to be able to measure and prove the success of our efforts."
Responsible for approximately 600 vehicles and 1,200 pieces of equipment, the DC Water – Department of Fleet Management oversees the specification, purchasing, maintenance, and replacement of a wide range of cars and trucks, from light-duty vans and pickups to medium-duty units equipped to handle water and sewer system work.
The DC Water fleet operation consists of two shop locations in the greater Washington, D.C., area, one for mostly small equipment and the other for servicing heavy equipment and light- and medium-duty trucks. The management team under Fitzgerald's direction includes:
• Anthony Lancaster – Supervisor, Fleet Maintenance
• Frank Torcisi – Fleet Analyst Acquisition/Disposal
• Larry Thomas – Quality Assurance Technician
• Lauvern Williams – Executive Assistant
• Tiffani Bing – Data Analyst
• Catreaune Bellinger – Mobile Support Technician
Tighter Control
"DC Water's service area continues to grow," Fitzgerald said, "so we have to routinely fit units to the operation, and adopt technology that is seamless to implement and use. With the fleet expanding in order to meet the increasing demand for a range of business critical operations, we are continually exploring opportunities to streamline operations, better manage business processes and gain tighter control over expenses.
"We had concluded that a new, robust and automated approach to data management was necessary to ensure that our growing fleet is operating as efficiently as possible," Fitzgerald continued. "The first item on our list was to address the method we were using to manage fleet processes and associated data. Essentially, we realized that it's hard to manage what you can't measure, and that the system we were relying on to store vital fleet information was incapable of reporting on the data it held."
With a legacy system that was adding little value and producing few benefits, DC Water – Department of Fleet Management embarked on a process of reviewing proposals and attending demonstrations from major suppliers of fleet management systems. Ultimately, it selected a solution that Fitzgerald said "supported the short- and long-term vision and directives of the organization, especially those relating to supporting and streamlining existing business processes, had an ability to provide accurate, real-time information, and automatically measured and reported on specific key performance indicators so the fleet department could make informed decisions relating to a range of processes from acquisition through disposal."
DC Water's choice in fleet management software was FleetWave from Chevin Fleet Solutions, which was rolled out across the organization in August 2012. Today, the software is enabling data-based decisions about equipment and maintenance.
"While many factors influence purchasing and specification decisions, such as OEM ratings, customization and configuration, ease of and intended use, departmental needs, budget considerations, environmental friendliness and technology scalability," Fitzgerald stated, "we now have essential access to data on life-cycle costs and total cost of ownership, and we better understand preventive and predictive maintenance needs. It all leads to an understanding of true costs, and in turn a faster return on investment."
Intelligent Process
DC Water also works closely with its vehicle and equipment suppliers, and shares information with them to help make better, more informed choices. "We meet with manufacturers and we take part in development teams for evaluating products, such as the Greater Washington Region Clean Cities Coalition," Fitzgerald related. "We also take cues from other similar fleet operations around the country and share information locally with the D.C. Department of Public Works. In an intelligent acquisition process, it is imperative that information be shared and utilized."
For meeting fleet maintenance and repair needs, DC Water has partnered with G4S Integrated Services, an on-site contractor that supplies everything from technicians and management staff to parts dedicated exclusively to the utility fleet's operation. "We are accountable to our internal customers, so we continuously challenge ourselves and G4S to get to the right answers expeditiously," Fitzgerald said. "Through this partnership, we have implemented a systematic approach to planning maintenance based on type of resources, experience, predictive needs and knowledge sharing."
Behind much of that activity, according to Fitzgerald, is the FleetWave system, which at DC Water has been uniquely configured to consist of a range of modules. For example, the Maintenance module automatically schedules repair and maintenance tasks for vehicles; flags looming compliance details such as pending, due or past-due inspections; and automatically emails detailed, in-depth reports. There is also a Vehicle Orders module, which is used to automate and streamline the management of equipment procurement and specification processes, while providing complete audit capabilities.
DC Water also uses FleetWave's Motor Pool module, which provides a direct means for employees of the authority to access and reserve vehicles by logging into an online portal. "The system allocates only available, appropriately maintained and fully inspected vehicles that are available," Fitzgerald explained. "That removes the need for the fleet department to deal with reservations without reducing our control of the motor pool."
Other FleetWave uses at DC Water include an Accident Management module that assists in recording and managing details relating to damaged vehicles, including repairs, insurance claims processing, driver training and compliance oversight. Additionally, an integrated Drivers module stores all driver-related information, such as training course completion and any historical involvement in accidents. "With it, we not only have a centralized tool set to manage driver activities," Fitzgerald said. "The Drivers module also enables us to assess trends relating to driver behavior and ensure compliance with internal policies and legislation."
Managing Details
For Fitzgerald, one of the most valuable benefits of FleetWave is its ability to automatically track and measure key performance indicators. "KPIs provide the insight we need for smart decision-making," he stated. "Access to accurate, real-time information and performance measures using a simple dashboard has provided our organization with invaluable knowledge that helps us to better understand our total cost of ownership.
"We're a more efficient operation today and we're not done improving," Fitzgerald said. "We have reduced turnaround times for service by 30 percent and downtime by 20 percent. We've also noticed improvements in technician productivity. All of these contribute to cost savings and a better return on investment for DC Water."
About DC Water: The District of Columbia Water & Sewer Authority provides water and wastewater services in an area of approximately 725 square miles for the more than 600,000 residents, 17.8 million annual visitors and 700,000 people who are employed in the District of Columbia.
DC Water maintains and operates 1,300 miles of water pipes, four pumping stations, five reservoirs, three water towers, 36,000 valves and more than 9,000 fire hydrants. The organization also provides wholesale wastewater treatment services to Montgomery and Prince George's counties in Maryland, and Fairfax and Loudoun counties in Virginia.
About the Author: Seth Skydel has more than 28 years of truck- and automotive-related publication experience. In his career, he has held editorial roles at numerous national business-to-business publications focusing on fleet and transportation management, vehicle and information technology, and industry trends and issues.
Fleet Profiles, Fleet Maintenance
---
Seth Skydel
Seth Skydel has not set their biography yet
---