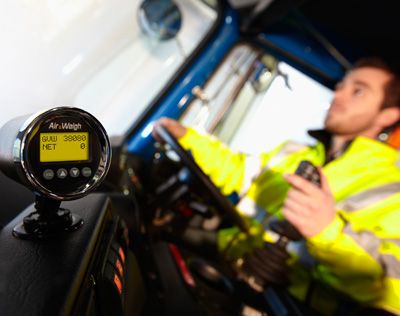 Prevent Overloading with Onboard Scales
Overloading trucks and trailers can be an expensive habit. It puts the safety of operators and the public at risk, increases fines and leads to premature wear and tear on vehicles. But when you can't physically inspect drivers' loads throughout the day, how do you ensure your trucks are operating at a safe weight?
One solution is to install onboard scales, which help operators immediately determine whether loads fit within the allowable weight capacity of a truck and/or trailer.
How do onboard scales work? Air-Weigh's LoadMaxx system (www.air-weighscales.com) measures change in pressure within an air suspension and then converts the scale's measurements into comparable on-the-ground weights displayed on an in-cab digital gauge. For axles with leaf-spring suspensions, LoadMaxx uses a deflection sensor that measures the flex in the suspension to determine weight.
Vulcan On-Board Scales (www.vulcanscales.com), which are compatible with most suspension types, use load-cell technology with built-in strain gauges that monitor changes in electrical resistance when the cell is deformed by a load. The system transmits and converts the cell's resistance signals into actual weight readings.
Hauling Variable Loads
While onboard scales can be applied in a wide range of straight truck and tractor-trailer applications, they are especially useful when hauling variable and unpredictable loads.
One day, for example, a Class 8 tractor-trailer might haul a heavy transformer. The next day, that same unit could be transporting a large backhoe. When you're dealing with variable weights from load to load, onboard scales give crews visibility into the weight of the truck and individual axles (or axle groups) during the loading process.
And the weight of each axle is important to get right. As Tricia Baker, marketing manager for Air-Weigh, put it, "The DOT will still issue a fine when you have just one axle that's overloaded, even if the total vehicle weight is OK."
To help ensure compliance with individual axle weights, onboard scales enable crews to quickly identify the optimal load placement relative to each axle. "If you place the transformer too far forward on the trailer [ahead of the trailer axle], your drive weight will be too high because too much weight has been transferred toward the fifth wheel [the hitch above the tractor's rear axle]," Baker explained. "But if you load the transformer too far behind the axle, the trailer's axle weight will be too high."
With onboard scales, crews get immediate feedback on load placement so they can make adjustments, if necessary, without having to drive to the nearest truck scale and wait in line.
Both Vulcan and Air-Weigh systems offer wireless communication capabilities to transmit vehicle weight data to fleet managers and other authorized personnel, giving them greater visibility into their crews' performance with their day-to-day vehicle payloads.
Baker also said that Air-Weigh's customers have talked about using onboard scale technology as an effective CDL driver retention tool. This is because onboard weighing helps CDL drivers ensure their load is always compliant, reducing the risk of truck-weight violations being placed on their safety record.
According to Baker, an Air-Weigh tractor and trailer system starts at about $1,000 and goes up from there, depending on the configuration that best fits the application. The company's online return on investment calculator (www.air-weighscales.com/roicalculator) offers scenarios of how much time it can take for fleets to recoup their investment based on the system type, projected number of weekly loads and the estimated scale fees that are eliminated by using onboard scales.
A Practical Application
When you can't personally inspect each vehicle before it leaves your yard, onboard scales offer a practical way for you to hold crews accountable, ensuring they are operating their vehicles within the proper weight limits. This protects their safety while reducing your organization's liability exposure.
*****
The Expense of Excessive Weight
Onboard scales can help your fleet reduce these costs associated with operating overweight trucks and trailers:
• Increased liability and safety risks to crews and the public.
• Department of Transportation fines.
• Accelerated wear on tires and brakes.
• Premature failure of major components such as engines, transmissions and axles.
• Potential loss of warranty coverage.
• Shorter vehicle life cycle.
---
Sean M. Lyden
Sean M. Lyden has not set their biography yet
---