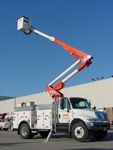 OPPD's Continual Evolution
Founded in 1946, Omaha Public Power District is a publicly owned, business-managed electric utility governed by an elected board of directors and headquartered in Omaha, Neb. With a fleet operations staff of more than 50, OPPD services 5,000 square miles, covering 13 counties in southeastern Nebraska and serving 352,000 customers. In fact, OPPD is the 12th-largest public power utility in the United States in number of customers served. OPPD maintains multiple facilities, including three full-service garages in the metropolitan Omaha area, one full-service garage in south rural Omaha and a light-duty garage in downtown Omaha.
Working Smarter
Mike Donahue has spent the last three years as manager of transportation and construction equipment for OPPD, and has 18 years of industry experience working with fleets. Donahue said that a recent method OPPD has adopted to keep its fleet running smoothly and cost-effectively is the addition of Energy Xtreme mobile power units to two of its trucks. The system runs all electrical accessories – including emergency lights, tools, battery chargers, computers and cab heaters – but not the hydraulics. Though early in the process, Donahue said the old trucks were averaging 12.6 miles per engine hour, and the new trucks are averaging 16.9 miles per engine hour, an improvement of approximately 33 percent.
OPPD will also be adding two Altec JEMS units in the near future. These basket trucks are equipped with an electrical package that is comparable in concept to the Energy Xtreme units, except the electric power will run the hydraulics and boom as well, and also have an HVAC solution.
Other measures have been taken to reduce idling and fuel expense times as well. OPPD has employed a single fuel card for internal and external fuel transactions, with increased security on its internal fuel transactions with the implementation of the FuelFocus package through its fleet software provider, AssetWorks. An automated pool system, KeyValet from AssetWorks, has also been implemented at two of OPPD's main sites to handle light-duty vehicle pools.
The utility has been locking in prices for bulk fuel on an annual basis, as well as regularly analyzing its fleet size, looking for units that are underutilized or that can be pooled, shared, traded, downsized, eliminated or repurposed. This effort has resulted in significant fleet reductions of nearly 40-50 units. Additional analysis of fleet replacement vehicles also is regularly performed.
"Vehicles are replaced based on lowest life-cycle cost calculations," Donahue said. "Example replacement cycles are 10 years for large bucket trucks and 12 years for digger derricks. We have started to transfer small aerials and fiberglass bodies to new chassis at seven years."
Donahue said the process is primarily for troubleshooter trucks, such as an Altec AT37G mounted on a Ford F-550 or Dodge 5500 chassis. "The trucks tend to get high miles, high engine hours, but not as much boom operation, so the booms and bodies tend to be in decent condition, whereas the engines and chassis equipment are being taxed heavily after that time frame," he said. "We save more than 50 percent of replacement cost of the boom and body by transferring. We are also cycling out of the engines in those trucks, which will benefit us as well."
A wide assortment of factors can come into play when researching and deciding to purchase new vehicles for the fleet. Donahue said that the economy over the past few years has really sent a jolt to the work that OPPD's internal and external customers are doing.
"When the economy was hot, OPPD was installing new home services and neighborhood backbones just as fast as possible," he said. "Now, that work has slowed down quite a bit and the focus has spread to more maintenance on the existing system. Those factors have really affected the need for trenchers, boring equipment, easement machines and mini-excavators. Storerooms, facilities and production facilities have seen increased production from telehandlers and self-propelled aerials, so they are requesting more of those types of units. Designers are requiring taller poles and placing them farther off the roads, which drives the need for taller aerials and bigger derricks.
"In a nutshell, we continually investigate what our customer needs are when determining the best vehicles for their applications," Donahue noted. "We stay up to date on trends in the industry, available technology, what makes sense for OPPD, alternative fuels versus standard gas or diesel engines, idle reduction technology, maintenance experience and rental options. We do the best we can to encompass all those components when making purchasing decisions. It is a constant challenge."
OPPD has seen positive results from many of the steps it's taken. Improved fuel management and improved fuel economy have been achieved, and fleet reductions and the purchase of replacements with smaller, more fuel-efficient engines have helped with increased pool size and better fleet utilization. These efforts will continue, according to Donahue.
Happy with Hybrids
The utility has a growing fleet of hybrid and plug-in hybrid vehicles, mainly passenger cars and SUVs. Donahue said that all of OPPD's hybrid vehicles have performed exceptionally well and improved the mileage in their vehicle classes.
"We have hybrid Toyota Priuses, Camrys and Highlanders, Honda Insights and Civics, a Chevrolet Malibu, a Ford Fusion and an International 4300M7 with the Eaton transmission," he said. "We also have a Chevrolet Volt which has been averaging well over 100 mpg in our application. We look forward to receiving Ford C-MAX Energi and Fusion Energi plug-in extended-range hybrids in the very near future. We understand that application of these units has a significant impact on the successful implementation of these units so we consider that application when making the purchasing decision."
In regard to hybrid vehicles, Donahue said that there are gains to be made on virtually all sides of the issue, including reduced fuel consumption, fewer emissions out of the tailpipe, less wear and tear on the engine, less maintenance and fewer repairs, an extended truck life and less engine noise.
"OPPD is evaluating the expansion of the plug-in fleet and proceeding where it is appropriate," Donahue said. "Idle reduction is a significant opportunity. The operators are even feeding back that they enjoy less fumes and quieter work environments. I anticipate that it will ease expanded implementation on similar units in the future."
Moving Forward
The current challenges to his fleet are not so different from when he first entered the industry 18 years ago, according to Donahue. Keeping the mechanics trained on the wide variety of vehicles and equipment they need to maintain and repair, keeping tools and diagnostic equipment up to date, finding long-term direction on fuels, and adjusting the workplace culture to improve engagement, safety and accountability all are issues he has encountered. Donahue belongs to NAFA Fleet Management Association and the Upper Midwest Utility Fleet Council, and attends fleet-related conferences like the Green Fleet Conference & Expo and ICUEE to help him pick up information to deal with fleet issues.
"Our mindset now needs to be one of continual improvement, employee development, staying on top of issues and technological developments, fuels, recognizing our customer needs and staying involved in fleet communities facing similar challenges," Donahue said.
The future for OPPD and its fleet should see significant attention to alternative fuels and the things that come along with them. Donahue said OPPD is going through what one might call "a significant commitment point on alternative fuels."
"With so much attention being paid to diesel and the associated emission equipment, hybrids, plug-in hybrids, natural gas, propane, other gaseous fuels, ethanol and biodiesel, it's challenging," Donahue said. "We look over the last 10 years and see all the emission changes that took place from 2003 to 2013, the fuel and technology development, and if we are anywhere close to that rate of change over the next 10 years, it's hard to imagine where we will be. That's the challenge we all should love, right? OPPD will continue to work on all these areas to manage doing the best we can for our customers, our customer owners and the environment. It should be a fun ride."
About the Author: Wade Vonasek is a writer and editor. His work has appeared both in print and online for publications such as Mass Transit, Professional Tool & Equipment News, Fleet Maintenance and more. He resides in Bristol, Wis.
---
Wade Vonasek
Wade Vonasek has not set their biography yet
---