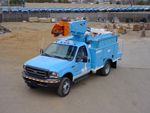 Making Effective Choices
With about 14,000 units ranging from passenger cars to Class 8 trucks, the Pacific Gas and Electric Co. fleet is sizable by any measure. Add to that a fleet maintenance operation that encompasses 63 facilities and 80 mobile service vehicles, and employs about 375 technicians and nearly 60 administrative personnel.
Another challenging aspect of the PG&E fleet is that its equipment covers more than 70,000 square miles of service territory including urban, suburban and rural areas. For Dave Meisel, senior director – transportation and aviation services, it all adds up to the need to make highly effective vehicle choices.
"When we're looking at replacing vehicles, we have several considerations," Meisel said. "We operate entirely within the state of California, which has the strictest clean air regulations in the country. That means we need to take into account the number of vehicles we have to replace to meet alternative fuel and regulatory requirements.
"We also need to look at vehicle additions that are needed for our business model," Meisel added, "along with questioning if owning a unit might be more advantageous than long-term rentals. Simultaneously, we have to consider units that are out of life cycle, or will be in the planning year.
"We determine a vehicle's life cycle by benchmarking against other operations," Meisel continued. "Once or twice a year, we exchange visits with other fleets, including utility and nonutility operations, to learn from each other. Every time we make those visits, we learn something that we can do better."
Exchanging Knowledge
As a utility operating about 14,000 vehicles in a single state, Meisel noted, it's hard to find other operations that can be compared to PG&E's fleet. That challenge, he related, is addressed by sharing information with some of the few multistate utilities in the country that operate more than 10,000 units, and with other types of fleets such as package, food and beverage operations that are similar in size.
For an industry perspective, PG&E also turns to Utilimarc, a provider of benchmarking, fleet consulting and business intelligence services, to compare specific fleet metrics within its own organization and against an industry database of as many as 400,000 units.
"Utilimarc forces you to provide data in a consistent structure, which gives us a true comparison of where we stand and how we relate to other fleets," Meisel said. "Their methodology lets us look at detailed reports on costs by mile, unit, type, region and fleet size. We can also poll individual and groups of fleets on specific issues. For a relatively low cost compared to the quality of information we receive, Utilimarc's analytical data tells us where there are opportunities to improve."
The PG&E fleet now includes primarily Ford and GM models through Class 5, and Navistar and Peterbilt Class 6 through 8 trucks. The acquisition decisions that are made about the fleet are also the product of an evaluation of financing alternatives.
"Capital is the desired method of purchasing long-term assets in a regulated and decoupled utility like PG&E," Meisel said. "We buy our vehicles outright in most cases because there is a return on capital associated with that activity. The practice of decoupling also promotes the conservation of energy.
"When we replace vehicles outside of our normal replacement cycle, it's most often when major components have failed or there's a structural integrity issue," Meisel continued. "All other costs are maintenance related, which we handle primarily in-house. We have an outsourcing strategy and it's not to outsource – except for items that are hard to cost justify internally, such as glass and body work."
Lessons Learned
PG&E's approach to managing its fleet is also based on both Meisel's experience and the lessons he learns by remaining involved in the industry. His career began in the late 1970s as a mechanic at his family's tractor and trailer rebuilding facility. From there, Meisel went on to management roles at Roadway Express and the Frito-Lay fleet, and at Consumers Energy in Michigan before joining PG&E more than six years ago.
Meisel currently serves on the Electric Utility Fleet Managers Conference board of directors and is a regular attendee at shows like the International Construction & Utility Equipment Exposition. "Many conferences and shows don't offer a lot of value," he said, "but these events bring together major players and decision-makers. In a few days at ICUEE we can see a lot of the newest technology that suppliers have to offer. At EUFMC we get very valuable feedback from other fleet managers and get the opportunity to build relationships with some of the most senior players in the supplier world. It doesn't get any more efficient than that."
About PG&E: Incorporated in 1905, Pacific Gas and Electric Co. is the San Francisco-based subsidiary of PG&E Corp. and one of the largest combination natural gas and electric utilities in the U.S. PG&E currently provides natural gas and electricity to approximately 15 million people in northern and central California through 141,215 circuit miles of electric distribution lines and 18,616 circuit miles of interconnected transmission lines as well as 42,141 miles of natural gas distribution pipelines and 6,438 miles of transportation pipelines. That utility operation relies heavily on a fleet of almost 14,000 vehicles and the capabilities of a maintenance team that numbers more than 425. In turn, the decisions made by the fleet management operation at PG&E are driving efficiency in all respects.
About the Author: Seth Skydel has more than 27 years of truck- and automotive-related publication experience. In his career, he has held editorial roles at numerous national business-to-business publications focusing on fleet and transportation management, vehicle and information technology, and industry trends and issues.
---
Seth Skydel
Seth Skydel has not set their biography yet
---