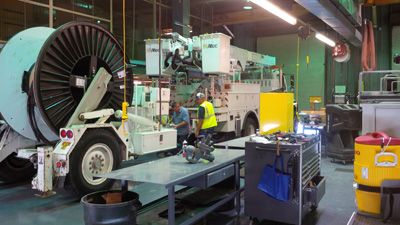 In-House Vehicle Maintenance vs. Outsourcing: What's Right for Your Fleet?
All utility fleet operations have to make one especially critical choice – whether to handle vehicle maintenance in-house, hire an outside vendor to take care of the work or use a mix of both. And it's not an easy decision to make. There are many factors to consider, not to mention the wrong choice can lead to real problems such as increased vehicle downtime and higher operating costs.
"It's not a cookie-cutter solution," said Dave Fisher, a 28-year fleet industry veteran and fleet manager with PNM Resources, which includes subsidiaries Public Service Company of New Mexico and Texas-New Mexico Power. "Managers need to ask what the vehicles are worth. In-house maintenance can oftentimes provide far superior quality and less downtime, but outsourcing can cost less."
Fisher oversees close to 1,300 utility vehicles: approximately 900 on-the-road vehicles and 400 trailers and pieces of equipment. Vehicles are used for anything from meter reading to transmission and distribution work, and include light-duty vehicles, medium-duty trucks with service bodies, small buckets and cranes, aerials and more. PNM's vehicle maintenance program consists of both an in-house component for large trucks and big equipment and an outsource component for light-duty vehicles.
Factors to Consider
Cost is one of the most important factors for management to consider when determining whether to outsource maintenance or keep the work in-house. Often, outsourcing can provide a lower cost than in-house maintenance because there's no need to invest in maintenance equipment, train personnel or stock and keep track of parts.
"It doesn't make sense for us to do our light-duty preventive maintenance for 1-ton pickups and down because our internal labor rates can't compete with what the industry offers," Fisher explained. "We're an $85-an-hour loaded labor rate, and that can't compete with a $40 oil change at a dealer or Quick Lube."
Even though cost is a driving factor in a utility fleet manager's ultimate decision about how to handle vehicle maintenance, other criteria – like access to high-quality, well-trained personnel – can come into play. Fisher pointed out that the outsource-versus-in-house decision should take into account where vehicles operate as well as dealer network reliability.
"For some of our vehicles, we are limited in finding quality repairs for our aerial equipment in our dealership network, so we rely on our guys who are hydraulic certified," he said. "I can't find that expertise in the field, and it's getting harder and harder to find."
Another argument for keeping maintenance in-house is the ability of a utility to establish its own quality controls and generate quicker turnaround time.
However, outsourcing vehicle maintenance does offer other benefits in addition to potentially lower costs. For instance, with the time saved by not performing maintenance work, utilities can place greater focus on issues such as customer service. Additionally, fleets that outsource can benefit from expert advice provided by their maintenance vendors as well as vendor-supplied reports that document critical life-cycle metrics.
What's Best for You?
At some point, a utility must choose whether to perform their own in-house vehicle maintenance, outsource the work or use a combination of both methods, depending on what's best for the organization. Not all factors are equal, and as Fisher pointed out, one solution does not fit all.
For PNM, Fisher's hybrid outsource/in-house approach has worked well. "On our light-duty preventive maintenance, I can trim close to $50,000 a year by outsourcing," he said. "And for our heavy-duty trucks, I can save $350,000 to $400,000 per year by repairing them in-house."
While Fisher has been "playing with" PNM's preventive maintenance program for the past seven years, he continually monitors and assesses it.
"It's a moving target," he said. "And I'm getting ready to relook at our entire PM program again."
About the Author: Cheryl Knight has written for the fleet industry for more than 20 years. Her work has appeared in Automotive Fleet, Fleet Financials, Government Fleet and a number of other niche-market publications.
*****
The Importance of Benchmarking
For utility fleets, it can be quite difficult to decide how to handle vehicle maintenance. The use of benchmarking – which allows a utility fleet to compare its performance to that of other, similar organizations – is one way fleet managers can determine what best suits their unique needs.
By using a benchmarking program, fleet managers can measure their operational costs, technician wages and other data against data provided by utilities across the country that are similar in size and other criteria. This process of comparison allows fleet managers to identify the areas in which they are doing well and the areas in which improvements may need to be made. For instance, benchmarking can help utility fleet managers determine the cost-effectiveness of their current vehicle maintenance program and whether it would be worthwhile to make any program modifications.