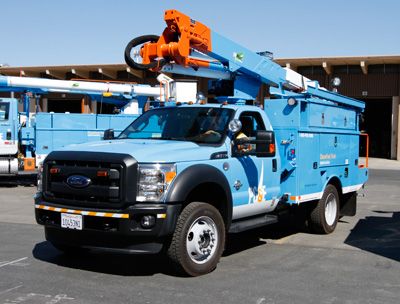 How Plug-In Hybrids Impact Vehicle Maintenance
Utility fleets are leading the way when it comes to the use of plug-in hybrid electric vehicles – a growing solution for operations that must work around the clock to provide vital services to the general public.
While going green and convenience are definite pluses, plug-ins also enable significant operational savings over conventional vehicles and typically have longer useful lives, according to the Edison Electric Institute. Extending vehicle life also means lengthening purchase cycles and really getting the most value out of these units.
Fewer Parts Provide More Savings
Part of the value of owning and operating plug-ins is reduced maintenance expenses. Manufacturers and fleets agree that electric-based vehicles have lower maintenance costs due to fewer parts and less engine use. Some manufacturers even purposely design their trucks with that in mind.
VIA Motors (www.viamotors.com), for instance, did away with the transmission, starter motor and alternator in designing its "virtually maintenance-free" single-speed, extended-range electric pickup, according to Jeff Esfeld, VIA's director of national fleet sales and business development. The company currently installs its technology on GM platforms, specifically the Silverado truck and Express van. Installed components are maintenance-free except for coolant. Any component failure is a plug-and-play replacement.
"Maintenance is a function of components," Esfeld said. "When items are not there, obviously you're talking of a lower maintenance cost situation."
Pacific Gas and Electric Co. (PG&E), which operates 1,500 electric-based vehicles and has even made the plug-in its standard company car, can attest to the maintenance reductions from these models. Dave Meisel, senior director of transportation and aviation services, said the utility hardly uses the internal combustion engine, which has stretched time between oil changes from quarterly to yearly.
On top of fewer moving parts in the electric drive tank, he also noted extended brake life as a result of regenerative braking.
"On an internal combustion, we take our foot off the gas and put our foot on the brake. Now, in many cases, we're just taking our foot off the gas," Meisel explained.
Keeping Vehicles in Top Shape
Manufacturers typically service vehicles, but they also provide training to larger fleets with in-house mechanics.
Maintenance for VIA Motors vehicles is done by its dedicated team of master technicians or through specific GM-authorized service centers. The company also trains GM technicians to get them up to speed and to the level of its master technicians, some of whom have come off the production side and moved into service and maintenance because they know the VIA pickup so well, Esfeld said.
Odyne Systems (www.odyne.com), a manufacturer of hybrid systems for medium- and heavy-duty work trucks that is partially owned by Allison Transmission (www.allisontransmission.com), uses Allison's service and warranty network throughout North America.
The company also offers a two-day course for larger fleets with in-house mechanics.
"It gives them a good base for common repair work," said Matt Jarmuz, director of sales for Odyne. "If it's a major issue, we'll take that to the Allison dealer for repair."
Using the train-the-trainer model, PG&E spent about three days training its in-house technicians to work on the utility's electric vehicles. With 63 garages in its service territory and about 380 shop-based and mobile mechanics, PG&E had the vehicles' manufacturers train some of its best technicians and then let those technicians train their peers on how to work the high-voltage systems.
Jarmuz described the training process as more electrical than mechanical. "It's a different skill set – troubleshooting wire harnesses and trying to solve issues on a hybrid vehicle versus a mechanical failure where a part's broken and you have to replace it," he said.
Preparing Your Fleet for Plug-Ins
Luckily, fleets don't have to change much to outfit their shops for plug-in vehicle maintenance. For example, PG&E had to purchase specific plug-in tools, but its shops stayed the same.
"The manufacturers were really clear on what we were supposed to have, so we created a high-voltage kit for every garage when they work on a high-voltage unit," Meisel said.
VIA customers need two specialized pieces of equipment: a custom transmission lift that drops the battery pack and the H bracket, and a special hand-held diagnostic tool. The tool recognizes every GM and VIA part and also codes all their parts and labor jobs. In addition, it has a video camera and light that connect to the company's technical assistance line. "A technician can actually call and speak to the engineer and tell them what issue they're having and our guy can see it," Esfeld said.
Overall, preparing for plug-in vehicles is not a highly complicated process, Meisel said.
"Train your people how to use them, teach your technicians how to work on them, have your hardware in place and have charging infrastructure in place," Meisel said. "Buying them and fixing them is the easy part."
About the Author: Grace Suizo has been covering the automotive fleet industry since 2007. She spent six years as an editor for five fleet publications and has written more than 100 articles geared toward both commercial and public sector fleets.
*****
The Payback for Plug-Ins
Are plug-in hybrid vehicles the right fit for your fleet?
A plug-in hybrid system will cost more upfront versus a conventional model, but the initial investment will pay back over the years through reductions in fuel and maintenance.
Payback depends on the application, according to Odyne's Jarmuz.
"The big thing about plug-ins is the more miles you run or the more hours the vehicle engine operates, the more that you save," he said. "Primarily, you're exchanging diesel/gasoline for electricity and you're extending the mileage intervals – the oil changes and those scheduled maintenance items. So the higher the miles or engine hours, the better the return."
Jarmuz recommends calculating your direct costs, such as fuel and maintenance, but also factoring in soft costs, which are more difficult to assign a dollar figure and include items such as refueling time and the time a vehicle is out of service while in the shop.
"We see payback anywhere from five to 10 years depending on how often [utility fleets] use the vehicle and number of miles or engine hours per year," he said.