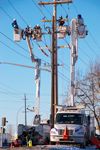 Helping Fleets Shine
Managing a fleet can be a challenging task. In addition to the day-to-day procedures and duties, it is essential to think long term as well. Whether a seasoned professional or a new arrival to fleet management, it is necessary to utilize new strategies and technologies to find efficiencies, cut costs and lower the total cost of ownership (TCO). How this is achieved can be a different strategy for each fleet.
ARI is a privately held vehicle fleet management services company with a workforce of more than 2,500 in offices throughout North America, Europe, the United Kingdom and Hong Kong. Founded in 1948 by parent company Holman Automotive Group, ARI manages more than 1 million vehicles in the United States, Canada, Mexico, Puerto Rico and Europe.
According to Rob Hoysgaard, director of sales support at ARI, "Having a strategic partner with the knowledge, experience and flexibility to help run an efficient fleet and manage the data the fleet returns is critical to ensuring the fleet is achieving maximum cost savings and the lowest TCO possible. We work with customers to solve complex problems with fleet vehicles and equipment, combining business insight and optimal life-cycle analysis, best-in-class services, and high-powered technology to push up vehicle fleet efficiency and cut costs." ARI helps the fleets it works with to achieve this through controlled management of vendor-out maintenance and repair, in-house garage maintenance, fuel management and more.
SEMCO Energy
One of ARI's partnerships is with Port Huron, Mich.-based SEMCO Energy, a regulated public utility that delivers natural gas to approximately 290,000 residential, commercial and industrial customers in the southern half of Michigan's Lower Peninsula, as well as in the central, eastern and western parts of the state's Upper Peninsula.
According to Hoysgaard, SEMCO understood that its core competency is delivering natural gas to its customers, and therefore it made sense to partner with a company like ARI to assist in managing its fleet. SEMCO's Fleet Analyst Chris Kowalski said that ARI's expertise and focus on the utility market made them a logical partner for his company. SEMCO chose ARI after an exhaustive request for proposal with several other vendors, including face-to-face meetings with finalists. The company was very satisfied with the seamless transition from a previous vendor to ARI.
"Our processes seem to be streamlined in terms of ordering and preventative maintenance repair," Kowalski said. "ARI received high marks in our internal survey of fleet users on ease of maintenance, in essence, how improved the process for getting a vehicle in and out of a shop for preventative maintenance was as compared to the previous vendor."
One strategy SEMCO uses to lower its TCO is the use of GPS technology, which Kowalski said has been a large driver in controlling fuel costs and work management.
"In retiring vehicles, ARI has allowed us easier access to our cost per mile and has completed studies for us that let us pinpoint the vehicles we should retire, not just the ones we think should be retired," Kowalski said. "We have been able to input our internal repair orders at our one maintenance facility, which greatly enhances our preventative maintenance exception accuracy and assists in capturing our internal costs – both of which were missing previously.
"For SEMCO's fleet, fuel cost is a challenge," Kowalski continued. "Leasing costs are down due to interest rates being nil and maintenance is a cost of doing business, as trucks will break when used. However, fuel is something we have no control over the price of. We have control over the size of engines, size of our vehicles, idle time and weight that we carry. How to balance operations' wants and needs while optimizing our fuel costs will always be a challenge. As a fleet manager, I cannot help but feel that ARI representatives truly care about my business, no matter what their role."
Piedmont Natural Gas
Piedmont Natural Gas provides natural gas to more than 1 million residential and business customers in North Carolina, South Carolina and Tennessee. According to Hoysgaard, Piedmont was seeking a partner to offer guidance and insight on running a more efficient fleet – not just a leasing partner.
"Piedmont decided to partner with a fleet management company to eliminate both on-site vehicle and equipment maintenance and all of the company's garages," said Keith Gindoff, Piedmont's manager – fleet and inventory control, finance, who noted that while the company still operates two garages, its three mechanics primarily assist with vehicle management. "In addition, it allowed Piedmont to gain an expertise in vehicle purchasing, maintenance, licensing and more that we didn't have at the time. Our partnership also allows us to free up some resources to perform other value-added activities."
According to Gindoff, ARI assists Piedmont with the specification and procurement of company vehicles. ARI also manages the maintenance issues, as well as the title and licensing programs, for all of Piedmont's vehicles and heavy equipment. Gindoff added that Piedmont is very happy having ARI as its business partner.
"We are happy for many reasons," Gindoff said. "The biggest reason is the day-to-day expertise of the ARI employees. They have experts in procuring the vehicles, licensing and registration, maintenance, report generation and more that we can utilize without having to hire specific individuals for those positions.
"ARI has the ability to group many companies together throughout the country to assist us with pricing that we normally wouldn't be able to receive by ourselves," Gindoff continued. "They also have other utility companies like ours as clients, which help to facilitate industry best practices through an annual utility fleet forum where other fleet managers from utility companies across the country get together to discuss important topics affecting our industry. That, coupled with real-time technological platforms for communications with peers, definitely increases everyone's awareness and knowledge about new ideas and more efficient ways to operate."
Integrys Energy Group
Electricity and natural gas provider Integrys Energy Group is headquartered in Chicago with approximately 3,500 vehicles in its fleet. According to Hoysgaard, Integrys has multiple operating units spread across several states, and ARI's advanced technologies have helped the company to integrate its data and systems for easier access and understanding, making sure its fleet is running as efficiently and cost-effectively as possible.
"To sum it up, [using ARI as a strategic partner] provides better management tools and improves the bandwidth and knowledge base of our fleet department employees," said Tim Harteau, customer strategy leader, Integrys Energy Group.
Harteau said choosing to work with ARI came down to understanding the current needs of Integrys' different utilities and identifying a service provider that gave them a wide range of products to meet the varied requirements of those utilities going forward. The relationship with ARI started out with activities related to the implementation and support of a specific product, but now is a blend of support for the current programs and strategic planning to address challenges within Integrys.
One new strategy Integrys has implemented is third-party maintenance management of its vehicles for a small segment of its fleet, with an ongoing effort focused on vehicle acquisition and procurement activities.
"There have been some inroads to establish standard vehicle designs across multiple business units," Harteau said. "As we speak, there is a pilot project to implement a new garage management system. Soon we will be looking at the title and licensing area that will free up internal resources to work on new fleet initiatives."
According to Harteau, one of the best features of the partnership for Integrys is that it can select the product that meets the needs of a specific subsidiary. One subsidiary may have a need for a garage management system and licensing services while another subsidiary is looking for better fuel and maintenance management.
"From a corporate perspective, I now have all of the information consolidated to support compliance and performance reporting for the entire company," Harteau said. "With this partnership, Integrys is now starting to capture consistent data from six different subsidiaries and present it in a consistent format to measure our performance. Ultimately, these measures will provide the support for the best possible decisions."
About the Author: Wade Vonasek is a writer and editor. His work has appeared both in print and online for publications such as Mass Transit, Professional Tool & Equipment News, Fleet Maintenance and more. He resides in Bristol, Wis.
Natural Gas Vehicles, Management
---
Wade Vonasek
Wade Vonasek has not set their biography yet
---