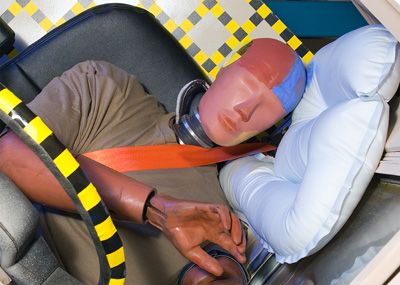 Going Sideways: Technology that Protects Crews in Rollover Incidents
It was early 2017.
A crew for Oklahoma City-based Oklahoma Gas & Electric (OG&E) was traveling on the highway in a Class 8 digger derrick when the unforeseen happened.
There was a truck pulling a trailer ahead of them when, suddenly, the axle broke off that trailer and began hurtling, with wheels still attached, toward the digger derrick.
As the OG&E driver swerved to avoid the incoming debris, his truck flipped onto its side before coming to a stop.
"The driver was okay, and the passenger broke his hand, but it could have been a lot worse," said Paul Jefferson, fleet manager at OG&E, who oversees about 2,000 of the utility's fleet assets.
His crew was indeed fortunate. In fact, rollover crashes account for 55 percent of all commercial truck driver fatalities, according to the Insurance Institute for Highway Safety.
"The driver did a great job by setting [the truck] down on the shoulder of the road," he said. "If they had gone any farther, they would have hit the embankment."
This was an eye-opening experience for Jefferson and his team. After all, even when you equip your trucks with stability control and advanced collision-avoidance technologies, and your drivers consistently follow safety best practices, there still are incidents like this that your people won't be able to avoid.
So, if you can't prevent all rollovers through technology and driver training, how can you at least reduce injury risk when a rollover does occur?
That's the question Jefferson posed to his truck OEM reps.
The consensus: add a seat option equipped with the RollTek side rollover protection system by IMMI (www.imminet.com).
How It Works
RollTek combines side airbag protection with advancements in seat-belt technology to reduce the potential for death or serious injury in a rollover incident.
How does it work?
When the roll sensor inside the cab detects an imminent rollover, the system deploys three components in about a quarter of a second. The occupant pretensioner tightens the seat belt to keep the occupant secure in the seat. The suspension seat drops to its lowest position to increase survivable space. And the side airbag inflates to cushion the head impact, reducing head and neck injuries.
Passenger Seat Availability
Jefferson now specs RollTek-equipped seats on all of his fleet's new Class 8 trucks. But when he first started ordering the RollTek option, his truck OEMs only offered it for the driver side.
"At the time, [the OEMs] didn't have it engineered for the passenger side because there wasn't a lot of demand," he said.
But Jefferson pushed for the passenger option – and eventually got it added for his spec.
"I told [the OEMs] that if there's ever an accident, you can't tell the widow of the passenger, 'It'd cost too much money to put [RollTek protection] on the passenger side,'" Jefferson said.
UFP reached out to Julie Cooley, director of marketing communications at IMMI, to get more information on passenger-side availability for RollTek.
"While IMMI encourages the truck OEM to include the passenger-side version in their engineering project when releasing RollTek in a specific cab model, some OEMs do not elect to release a passenger-side version," Cooley said. "Some OEMs may elect to release only the driver side initially, while later including the passenger side. A lot of time it is limited engineering resources being deployed to the highest volume."
But Cooley added that IMMI has noticed a growing interest in the passenger-side version. "In the past, fleets that had included both sides were primarily van trailer applications," she said. "Now we are seeing more demand of RollTek in vocational applications, and we are seeing vocational fleets that might have a driver and passenger in the truck specifying both sides."
Under the Radar?
Are most utility fleet professionals aware of this type of safety technology? Or is it still under the radar?
"I think it's still under the radar," Jefferson said. "I really do. I've talked to some people in the industry about it. Most people don't know about it."
*****
Safety Tech to Have on Your Radar
Besides side rollover protection systems, here are three other fleet safety technologies that may not be on your radar – but should be.
1. Anemometers for Aerial and Lift Trucks
Either hand-held or attached to the aerial platform, an anemometer measures wind velocity to ensure crews do not use aerial devices in unsafe wind conditions. One system from Etesian Technologies (www.etesian-tech.com), for example, alerts crews with a text message the moment that wind speeds exceed safe levels.
2. Wheel Lug Nut Indicators
These are directional attachments to the lug nuts that enable the vehicle operator to quickly spot loose wheel nuts with a visual inspection. For example, with Wheel-Check (www.wheel-check.com), the wheel-nut indicators are placed in a uniform pattern on the wheel nuts after the wheel nuts have been torqued to spec. This way, if a wheel nut becomes loose, the indicator will appear out of sequence, making it easy for drivers to spot it on their pre-trip inspection.
3. Voltage Detectors on Construction Equipment
These also are referred to as "power-line proximity devices" that alert operators when the machine gets near high voltage. For example, the Voltek NS by Voltek Systems (www.volteksystems.com) uses a wire antenna running the length of the boom of the equipment to detect the electromagnetic field when working near power lines. The system translates the detected relative strength of the electromagnetic field into usable information for the operator. So, if the system senses a strong voltage signal, it will generate a warning siren with increasing frequency, telling the operator to proceed with caution. But if the machine gets dangerously close to a power line, the siren will alert with a more urgent constant sound, and the system will shut the machine down.
---
Sean M. Lyden
Sean M. Lyden has not set their biography yet
---