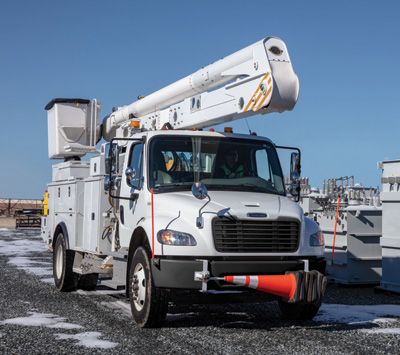 Fleet Management Gets Smarter with Remote Diagnostics
If the last time your utility bought medium-duty trucks was eight to 10 years ago, the advancements in remote diagnostics available on new vehicles could be a game-changer for fleet maintenance.
Today, every OEM offers some level of remote diagnostic capability in their commercial trucks. Those diagnostics use onboard electronic sensors and connections to monitor and communicate components' performance and status to fleet managers in real time. There are aftermarket solutions that provide a deeper level of management capabilities as well.
The original telematics technology captured the diagnostic trouble codes or fault codes generated by a vehicle's onboard diagnostics required for emissions control beginning in 2005. As the technology and regulations developed, manufacturers deepened the level of information available from transmissions and other components.
A few years ago, truck telematics and remote diagnostics were considered separate functions. Today, with technology advancements and widespread adoption, they're essentially the same, said Steven Berube, senior business development manager of off-road and vocational for Geotab (www.geotab.com), a remote diagnostics provider.
"The technology continues to become more and more effective, and you have more and more connected components on vehicles," he said.
Like the system available on Ford medium-duty trucks, most telematics allow fleet users to monitor locations via GPS tracking and geofencing, get live vehicle health alerts to plan and limit downtime, set reminders for vehicle service, analyze driver behavior and help manage fuel usage to reduce costs.
Moving to Condition-Based Maintenance
Using real-time data from vehicles, fleet managers can move from interval-based maintenance to condition-based maintenance.
"Instead of changing the oil every six months, you can monitor the performance of a vehicle and not bring in trucks that don't need to come in, or if a truck gets worked harder than others, you can bring it in sooner," Berube said.
The Detroit Connect system on suitably equipped Freightliner and Western Star trucks diagnoses fault codes into service information, service soon or service now categories, said Len Copeland, product manager.
"It allows the fleet manager to determine whether he should call a tow truck or allow the truck to do its work," he said.
For fleets that sign up for the plan, the Detroit Connect call center can diagnose the vehicle and locate the nearest service center with the necessary parts. It can even capture engine performance 60 seconds before the fault code, during the fault code and 15 seconds afterward for more diagnostics information.
"The system is geared toward the elimination of unplanned downtime, or converting unplanned downtime into planned downtime," Copeland said.
More vehicle systems – such as transmissions, tires and even fluid filters – are being connected to the diagnostics systems. Knowing the temperature of the tires and wheel hubs can help manage tires, one of the highest costs for fleet operators.
"As more components on vehicles are connected through connected solutions, condition-based maintenance becomes more effective," Berube said.
Managing the regeneration cycle for diesel trucks can help reduce maintenance costs for vehicles that spend a lot of their life at idle speeds.
"There's a lot of attention focused on the diesel regeneration system because if it's not managed properly, it's going to cause challenges," Berube said.
Fleets also look to telematics and remote diagnostics to manage fuel economy. With a properly spec'd truck, fleet managers can monitor idle time, driving behavior and other factors. The data also can help to make sure trucks are properly spec'd for their use, such as choosing the right transmission for the job.
"Fleet managers can have some actionable insights into how they can save money on fuel consumption," Copeland said.
Fleets can partner with analytics companies and mine data based on engine and vehicle conditions for prescriptive maintenance information. The analytics could focus on an individual vehicle as well as vehicle models or use cases.
"Plenty of fleets are already proactively consuming fault code data from their remote diagnostic partner and then feeding that into a maintenance application to identify major critical faults to prevent catastrophic failure," Berube said.
With two-way connections to the vehicle, manufacturers will be able to update firmware on engines and other components, similar to how Tesla can manage the programming on its cars remotely. Monitoring tire pressures and oil filter health in real time are coming soon as well.
Improved Failure Forecasting
As more connected vehicles enter fleet use, there will be a more extensive database to support machine learning, leading to more sophisticated algorithms for predictive maintenance. Based on millions of miles worth of data, systems will improve the ability to forecast when a component will fail according to the sensor data and any fault codes that are generated.
"If you can predict with better than 75% certainty that the component will probably fail, the system can identify that and notify the customer to eliminate unplanned downtime," Berube said.
Fleet data is becoming a valuable commodity as manufacturers and vendors are vacuuming up engine and component diagnostics information as well as driver behavior and environmental conditions that feed into the analytics models.
"Big data companies are wanting to partner with fleets and ingest their data and effectively predict fault codes," Berube said. "Fleets will know when they have a dangerous condition before it happens."
About the Author: Gary L. Wollenhaupt is a Phoenix-based freelance writer who covers the transportation, energy and technology sectors for a variety of publications and companies.