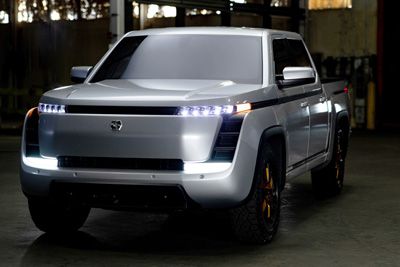 An Electric Pickup to Watch: The Lordstown Endurance
A major bottleneck to large-scale fleet electrification is the electric pickup truck – because you can't buy one right now.
That's about to change.
Brands like Tesla Cybertruck, GMC Hummer, Rivian R1T and Ford F-150 are expected to launch a full-size all-electric pickup starting this fall to mid-2022.
But these models, at least initially, are being built with the high-end retail customer – not fleets – in mind.
So, does this mean fleets have a few more years to wait for a product that will be practical for work truck applications?
Not necessarily. One truck OEM has quickly gained attention and momentum in the past year by designing an electric truck specifically for commercial fleets.
It's Lordstown Motors Corp. (https://lordstownmotors.com), which expects to begin production of the all-electric Endurance crew cab pickup this September.
Founded two years ago by former Workhorse CEO Steve Burns, Lordstown Motors has surpassed 100,000 pre-orders of the Endurance, with an average order size of nearly 600 vehicles per fleet. And the company has received letters of intent to purchase from multiple North American utility companies, including Duke Energy and FirstEnergy.
Lordstown Motors unveiled the first pre-production Endurance last June with then-Vice President Mike Pence in attendance to take a test drive and give remarks. And on October 26, 2020, the company began trading on Nasdaq under the ticker symbol RIDE. "We have a near production-ready plant and approximately $675 million in proceeds from this transaction, which is more than enough funding to get us through initial production," Burns said at the time.
So, what does this new entry into the electric truck market mean for utility fleets? Is the Lordstown Endurance ready for prime time?
Here's what we know about the Endurance so far.
What's the price?
The Endurance starts at $52,500 before federal tax credits. The company has not released any information on available options that could impact the vehicle's final pricing.
For a frame of reference, the GMC Hummer Edition 1 EV, available this fall, starts at $112,595. The Tesla Cybertruck that begins production in the fourth quarter will be the tri-motor model at a $69,900 base price. The Rivian R1T, available this June, starts at $75,000. Ford has not released any pricing information on the F-150 Electric.
GMC, Tesla and Rivian are releasing their higher-end models first and then offering their lesser-equipped, lower-priced versions later – in some cases, up to two to three years later.
What's the range?
The range for the Endurance is 250 miles. But what is that number based on? Is it based on empty miles? What is the range when fully loaded? In other words, what's the effective range?
UFP reached out to Lordstown for comment. The company responded, "This information has not yet been released. One of the purposes of our beta build is to provide vehicles for a wide range of internal engineering testing and optimization."
How long does the battery take to charge?
It takes 10 hours with Level 2 charging and 30 to 90 minutes with Level 3 (fast) charging.
What are the electric drive system ratings?
The Endurance is powered by an electric drive system comprised of four in-wheel hub motors – a system that the company said generates maximum power to all four wheels while creating perimeter weighting and a low center of gravity to enhance stability and safety.
In May 2020, Lordstown Motors announced an exclusive licensing agreement with Elaphe Propulsion Technologies to build the hub motors for the Endurance. At the time, Elaphe CEO Gorazd Lampic said in a statement, "We strongly believe that the packaging, modularity, redundancy and advanced functions of vehicle control that Elaphe hub motors enable are key to delivering torque in the way a true [four-wheel-drive] should be done."
The Endurance's combined hub motor drive system is expected to produce 600 horsepower, 2,000/4,400 pound-feet of torque (continuous/peak), and 0-60 mph in 5.5 seconds.
The top speed is software-governed at 80 mph.
What's the projected "fuel" economy?
The company said that the Endurance's in-wheel hub motors are 95% efficient – compared to 25% efficiency for combustion engines – to deliver 75 miles per gallon of gasoline equivalent.
What are the truck's payload and towing capacities?
The Endurance is expected to haul up to 2,000 pounds of payload and tow up to 7,500 pounds.
How extensive will the service network be for the Endurance?
UFP asked Lordstown Motors, "For utility fleets that purchase the Endurance, how extensive is Lordstown's service network to perform warranty and other service work on the trucks?"
The company responded, "We are phasing in a combination of company-owned service facilities, partner service facilities and training for customer maintenance personnel. Evaluation of the first Camping World/Lordstown Endurance Service Centers continues. In addition to Lordstown Motors-owned service centers – such as the newly opened facility in Irvine, California – the company is continuing its review of plans to utilize Camping World's extensive footprint and service expertise to ensure nationwide service coverage for all Lordstown vehicles."
"Camping World/Lordstown Endurance Service Centers" refers to a December 2020 announcement where Camping World Holdings, the nation's largest RV retailer, and Lordstown Motors formed a partnership to create a national electric vehicle service and collision network for Lordstown Motors vehicles.
Camping World's service footprint includes over 170 service and collision centers across the U.S., with several thousand technicians and service bays, a 24/7 tech hotline and the Good Sam Roadside Assistance program. The joint press release touted that "Lordstown Motors customers are expected to enjoy one of the most comprehensive EV support systems ever designed."
In a statement at the time, Lordstown's Burns said that "Lordstown's partnership with Camping World will help us help ensure that our fleet customers have the highest possible uptime of their vehicles."
What safety features will be available?
The Endurance is expected to offer advanced driver assistance safety systems that include lane departure warning, automatic emergency braking and rear cross-traffic alerts.
What's the warranty?
The warranty is three years of bumper-to-bumper coverage and eight years for the battery.
The Bottom Line
So, is the Lordstown Endurance ready for prime time? That remains to be seen. But on paper, the Endurance looks promising for utility fleets, with the expected pricing and performance that's more practical for work truck applications compared to the initial electric truck models offered by other OEMs.
Endurance production begins in September. So, watch this space.
---
Sean M. Lyden
Sean M. Lyden has not set their biography yet
---