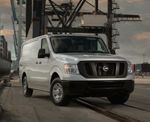 Five-Point Checklist for Selecting the Right Service Van for the Job
The cargo van landscape has undergone an extreme makeover the last few years, providing more options than ever for utility fleet managers to consider when purchasing new vans.
In 2008, there was only one small van available in the U.S. – the Ram C/V Tradesman, a stripped-down version of the Dodge Caravan. But then came the Ford Transit Connect in 2009, with the Nissan NV200, Chevrolet City Express and Ram ProMaster City (expected 2015 model year) also entering the fray.
The full-size van market has also experienced a major transformation since 2008, when there were only three players: GM (Chevrolet Express/GMC Savana), Ford (E-Series) and Freightliner/Mercedes (Sprinter).
Today, there are five automakers in this segment, offering a much wider range of configurations and capabilities. Ram (formerly Dodge) recently re-entered the full-size segment with its ProMaster. Nissan launched its NV full-size van in 2011. And Ford is phasing out its traditional E-Series van in favor of the new high-roof, Euro-style Transit.
So, how do you sort through all the new options to select the right van for your fleet operations? Use this five-point checklist as your guide.
1. Payload Capacity
What equipment, parts, tools and products will the van be hauling? How much will that cargo weigh at maximum load? Your answer to the weight question will help you determine what size van you need (see "Van Classifications" sidebar).
As fuel costs continue to escalate, a growing number of fleets have been considering whether to move out of full-size vans and into more fuel-efficient compacts, like the Ford Transit Connect and Nissan NV200. But before you downsize, make sure that the actual payload is in line with the smaller van's capabilities, cautioned Mike DeCesare, regional truck manager for ARI (www.arifleet.com), a full-service fleet management firm.
"Although very fuel-efficient, mini cargo vans are extremely easy to overload," DeCesare said. "Where the fit is right, there could be tens of thousands of dollars in fuel savings, but companies would be wise to make sure that the van they select can actually do the job. Otherwise, a less expensive, more fuel-efficient van could end up being a very costly mistake if it's not up to the task."
2. Trailer Capacity
Will the van pull a trailer on a regular basis? If so, what will be the total weight of the trailer and its cargo at maximum load?
This is an important consideration because van manufacturer and engine selection are impacted depending on how much weight the van needs to pull.
Take one-ton vans, for example. The Chevrolet Express 3500 offers maximum trailer capacities of 7,400 pounds with a 4.8-liter V-8 gas engine, and 10,000 pounds with the 6.6-liter V-8 Duramax diesel engine, whereas the Ram ProMaster 3500 is limited to 5,100 pounds towing.
Both are one-ton vans, but there's a wide gap in their towing capabilities. And even with the Chevrolet Express 3500, engine selection alone can make the difference of more than 2,500 pounds in trailer capacity. So, check the trailering guidelines for any of the vans you're considering to confirm they can do the job.
3. Van Length/Wheelbase Options
How much space do you need inside the cargo area at maximum load?
If you're considering a full-size van, you'll have multiple wheelbase options to consider that impact cargo volume. For applications that require hauling pipe, conduit and other long materials inside the van, the extended wheelbase options give you that flexibility.
4. Roof Height Options
Will your drivers spend a lot of time working inside the cargo area of the van?
If so, the Euro-style full-size vans – such as the Ford Transit, Ram ProMaster, Freightliner Sprinter and Nissan NV – offer high-roof options, with cargo area heights above 6 feet, in some cases, that make it easier and safer for drivers to work inside the van without having to strain or bend down.
5. Gas vs. Diesel
Most full-size vans offer the option for gas or diesel. But with an upfront premium of $7,000 to $10,000 for diesel, how do you determine which is the best engine for the job – and your budget?
One factor to consider is the projected annual miles for the vehicle. "Since diesel tends to be more fuel-efficient than gas, the vehicle needs to travel about 40,000 miles per year to recoup the upfront investment in diesel through fuel cost savings within a reasonable time period," said Don Scare, manager of truck excellence for fleet management firm PHH Arval (www.phharval.com), now part of Element Financial Corp.
In addition to better fuel economy, diesel also offers higher torque for towing and driving on mountainous terrain.
"The key question is, what's the ROI? Because at the end of the day, you're looking at about a several-thousand-dollar investment to go to diesel. The application needs to justify that higher investment," Scare said.
Keep TCO in Mind
When it comes to proper van selection, "always keep total cost of ownership in mind," advised Marcin Michno, business consultant, enterprise consulting and analytics for PHH Arval. "If you have a van that's not spec'd correctly, then you risk driving up operating expenses [in terms of excessive repair and fuel costs] while diminishing resale value due to excessive wear and tear. In the end, choosing the right van with the right specification makes a huge difference in the total cost of ownership of that vehicle."
About the Author: Sean M. Lyden is a nationally recognized journalist and feature writer for a wide range of automotive and trucking trade publications, covering fleet management strategies, light- and medium-duty trucks, truck bodies and equipment, and green fuel technologies. He blogs at Strategy + Writing (www.seanmlyden.com).
Van Classifications
Consider the four van classifications below and their corresponding payload capacities as you evaluate the optimal van size for your requirements.
Compact
Examples: Ford Transit Connect, Nissan NV200
Payload Capacity: 1,500-1,700 pounds
Half-Ton
Examples: Chevrolet Express 1500, Nissan NV1500
Payload Capacity: 2,300-2,500 pounds
Three-Quarter-Ton
Examples: Ford Transit-250, GMC Savana 2500
Payload Capacity: 3,000-3,300 pounds
One-Ton
Examples: Ram ProMaster 3500, Ford Transit-350
Payload Capacity: 4,000-4,600 pounds
Note: Although terms like "half-ton" and "one-ton" historically corresponded with actual payload capacity, today – as you can tell – that's not the case. However, the industry has retained those terms as standard classifications for trucks and vans.
Management, Vehicle Specifications
---
Sean M. Lyden
Sean M. Lyden has not set their biography yet
---