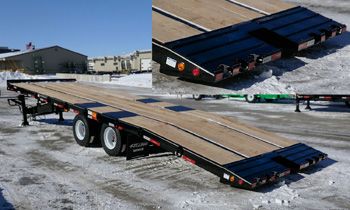 Felling Air Tilt Product Line
The Felling Trailers' Air Tilt model has undergone design modifications to increase operator ease of use and safety.
One of the more notable updates is the fixed approach ramp, which has been extended in length from 14 inches to 22 inches. Extending the fixed approach ramp's length reduced the load angle by approximately 10 degrees, providing a better load angle with a more subtle breakover point. The new design also allows for the option of full-size oval recessed strobe lights.
The Air Tilt product line was first released to the trailer industry in early 2010. Initially, the model line consisted of the FT-40-2 TA and FT-50-3 TA. Over the past 10-plus years, the line has expanded to offer six models, with payload capacities ranging from 19,700 pounds to 50,000 pounds. The Air Tilt's unique design utilizes air – powered from the tow vehicle – to tilt the trailer and optional ramps, eliminating the need for hydraulics. The air power from the tow vehicle fills two airbags (or an optional four airbags), which then raise the trailer smoothly. The airbags will then keep the deck in the tilted position to allow for loading/unloading of multiple pieces of equipment. Superior towing capability and balance were achieved by placing the axles farther back on the Air Tilt model than other tilt trailers on the market. www.felling.com
---
Kate Wade
Kate Wade has not set their biography yet
---