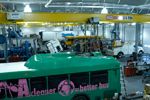 Ensuring Fleet Readiness
Improving communication and access to information during service events leads to less downtime.
Whether you outsource some or all of your fleet's maintenance and repair work or handle everything in-house, an efficient and accurate exchange of pertinent information is vital to success. One solution that is steadily growing in use among fleets is the Web-based Decisiv Service Management Platform.
The Decisiv platform was designed to connect fleet managers with internal and external service locations. "The platform pulls together historically separate silos of information and places them within a single Web portal," explained Dick Hyatt, president of Decisiv. "With the platform, fleet, service location, mobile service and call center personnel can all share information and effectively communicate throughout a service event. The result is the ability to save hours per service event, getting trucks back in service faster."
The volume of service business handled on the Decisiv platform in the past two years topped 630,000 cases. Continued growth in fleet usage has brought the number of assets from more than 175 fleets loaded onto the platform to more than 150,000.
Decisiv also continues to expand the capabilities of the platform to more readily integrate telematics devices and a growing scope of applications from third-party developers. For example, the platform is enabled to provide real-time alerts and information from telematics devices. Included are location, mileage, engine hours, fault code and other relevant data, which is then used to open service events and initiate requests to service locations. In addition, telematics driven in-context information is used to trigger repair and maintenance operations, and to populate the platform's date-/time-stamped electronic folder with fault codes and vehicle information.
"Fleet managers are inundated with information from multiple portals, websites and information sources," said Hyatt. "By seamlessly integrating with third-party and OEM applications, including accessing real-time information from telematics devices, the Decisiv platform provides an in-context service initiation and management solution that greatly simplifies the service management process."
The Decisiv platform is now in use at more than 500 service locations as MVASIST at Volvo Trucks North America and Mack Trucks dealers, as the WheelTime Customer Service Platform at WheelTime Network Detroit Diesel-Allison distributors, and as the Decisiv Service Management Platform at Freightliner dealers and other facilities. To learn more, visit www.decisivconnect.com.
Facilitating Service Operations
Properly specified, installed and maintained shop lifts can enable technicians to work on vehicles more productively.
The first consideration for fleet managers when choosing vehicle lifts is the type of services a facility performs. Available from several manufacturers are different types of lifts used in truck maintenance facilities.
Another important consideration is whether the lift has received certification by the Automotive Lift Institute (ALI). The industry association founded by vehicle lift manufacturers promotes the safe design, construction, installation, operation and maintenance of lifts, including those used to service commercial vehicles.
ALI testing includes verification of the structural integrity of a lift's systems and components, proper function of its controls and load-holding devices, proper lowering speeds and overload protection. ALI has also developed standards covering a lift owner's responsibilities regarding operation, inspection and maintenance, as well as a standard on the installation and service of vehicle lifts. Visit the ALI website at www.autolift.org for more information.
Lift Choices
There are several different types of vehicle lifts based on design, including:
In-ground lifts that raise the vehicle by its axles and retract when not in use occupy less floor space, ease the movement of vehicles in service areas and provide excellent access to vehicles during service.
Two-post lifts provide easy access to the vehicle's undercarriage and drivetrain. Featuring two sets of lifting arms attached to two columns used to lift a vehicle at designated points on the frame, two-post lifts are offered in symmetrical designs that are preferred for use on large vehicles.
Four-post lifts in a range of lengths and lifting capacities, and with adjustable runway track widths to accommodate most vehicles, are often among the fastest and simplest to use because no setup is required to drive the vehicle onto the runways and raise it to a comfortable working height. These lifts can also be fitted with rolling jacks to lift the front or rear wheels off the runways.
Parallelogram lifts include surface mount, surface with recessed mount and flush mount designs. Featuring runways that are raised using a parallelogram motion, these lifts can also be fitted with rolling jacks.
Mobile column lifts link four or six portable columns that are rolled to a vehicle and connected using control cables. Highly portable, these lifts are used to turn open space into inspection or service areas.
Pit lifts expand maintenance and repair capabilities of service pits. Types of pit lifts include floor-running, with wheels so they can be rolled anywhere in the pit, rail-mounted that move along a rail system at the bottom of the pit, and suspended pit lifts that ride on rails installed at the top of the pit.
Placement, Maintenance, Training
Vehicle lift selection and placement should also be part of the shop planning process. Each type and model of lift's footprint and the turning radius and length of vehicles being serviced in the facility should be considered.
To keep lifts functioning safely and properly, manufacturers advise that fleets follow maintenance and adjustment recommendations. Lubrication is especially important for maintaining lift performance and longevity. Annual inspections and repairs, such as seal replacement or pressure testing, should be performed by qualified lift service personnel.
It is also essential that technicians operating lifts know how to use them correctly. All lift manufacturers offer training materials for this purpose.
Lift Suppliers
ARI-HETRA (www.ari-hetra.com)
Products: Heavy-duty lifting systems for 48,000- to 320,000-pound loads. Drive-on models include Surface Mounted Scissor Lifts and Flush Mounted Scissor Lifts with platforms wide enough for dual-wheel vehicles.
MOHAWK LIFTS (www.mohwaklifts.com)
Products: Two-post lifts in 26,000- and 30,000-pound capacity models. Four-post lifts ranging in capacity from 19,000 to 75,000 pounds. In-ground lifts in 55,000-, 66,000-, 82,500- and 99,000-pound capacities. Mobile column-style lifts with per column capacity ratings of 12,000 to 40,000 pounds. Parallelogram lifts with capacities from 36,000 to 100,000 pounds and track lengths from 26 to 48 feet, in surface or flush mount designs.
ROTARY LIFT (www.rotarylift.com)
Products: In-ground scissor lift for any medium-duty or heavy-duty vehicle weighing up to 60,000 pounds. Mobile column hydraulic lift with adjustable wheel forks for different wheel sizes. Suspended and floor-running pit lifts. Parallelogram lift systems in capacities up to 100,000 pounds and platform lengths from 26 to 48 feet. Any of these models can now be ordered with a new wash bay package featuring marine-grade paint and stainless steel feet to resist corrosion caused by constant exposure to water, grime and chemicals. Rotary Lift's wash bay lift also includes an ALI-certified stainless steel control panel.
Jenny Electric Two-Stage, Horizontal-Tank Stationary Air Compressors
Electric two-stage, horizontal-tank stationary air compressors from Jenny Products Inc. displace between 9.1 and 107 CFM at 175 PSI. The 22 belt-driven models in the product line include:
• 2- and 3-HP; 60- and 80-gallon tanks; 9.1 and 13.4 CFM
• 5-, 7.5- and 10-HP; 60- to 120-gallon tanks; 18.3 to 43.6 CFM
• 15-HP; 120- or 240-gallon tanks; 72.4 CFM
• 20-HP; 120- or 240-gallon tanks; 92.6 CFM
• 25-HP; 120- or 240-gallon tanks; 107 CFM
The Jenny compressors feature a heavy-duty, two-stage cast-iron compressor pump; powder-coated, ASME-certified tank; manual tank drain; tank gauge; large canister intake filter with replaceable filter elements; and a pressure-relief safety valve. A large flywheel provides for extra cooling and easier startup, and a directional air shroud also helps reduce pump temperatures.
To help maintain consistent pressure levels, an automatic start/stop control with a pressure unloader is standard on the company's two-stage series. A constant-run feature can be installed for operations requiring a continuous, heavy flow of compressed air, and a dual-control option is offered. Visit www.jennyproductsinc.com for more.
---
Seth Skydel
Seth Skydel has not set their biography yet
---