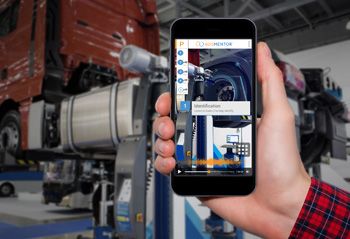 Design Interactive Augmented-Reality Training Solution
Design Interactive Inc., providers of augmented- and virtual-reality training solutions for fleet maintenance personnel, vendors and OEMs, recently announced that the company's AUGMENTOR transportation-focused, augmented-reality training solution is now available on Android and iOS mobile devices.
The new mobile applications for AUGMENTOR include an augmented-reality mode that lets technicians visualize procedure steps where they are conducted. For example, if a vehicle requires an inspection of its tires or brakes, the step is placed near or on that component or system. Users also can see 3D virtual representations of parts for reference during inspection or repairs. The mobile app includes videos, audio messages and text instruction.
For fleets, AUGMENTOR helps lower training, labor and parts costs, and increases vehicle uptime and shop productivity. Especially as new technologies continue to increase the complexity of the repairs, tools and skills needed by technicians, this transportation-focused solution ensures training consistency by enabling access to updated content. http://designinteractive.net
---
Kate Wade
Kate Wade has not set their biography yet
---