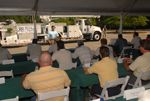 "The unique thing about the Electric Utility Fleet Managers Conference is that it's put together by volunteers from within the industry it serves," said George Survant, director of fleet services at Florida Power & Light and current EUFMC president. "The result is a highly valuable event featuring technical and management presentations, and a show that's built on the guidance of fleet professionals."
EUFMC has been held annually since 1953 in Williamsburg, Va. The gathering of fleet executives from investor-owned electric utilities, electric cooperatives and electrical contractors continues to attract record numbers of attendees from across the U.S. and Canada, as well as representatives of equipment and service suppliers.
"The time we spend at the Electric Utility Fleet Managers Conference is an investment in our people," said David Meisel, director of transportation services at Pacific Gas and Electric Company. "I don't know of any other conference where attendees from our company can learn as much and meet as many influential people, in both the utility industry and the supplier community, in such a short period of time. EUFMC is completely unique and something that each person who attends will find very valuable for years to come."
Suppliers are also quick to agree that EUFMC offers high levels of value for everyone involved. "EUFMC lets us learn as much as possible about the needs of our customers who attend the show and meet with many high-level fleet management business contacts," said Matt D'Arienzo, national fleet manager at The Goodyear Tire & Rubber Company. "The formal meeting structure at this conference is excellent and informative, and the informal environment makes it very easy to have valuable conversations with contacts from all over North America. In this economic environment, we would not be at EUFMC unless the conference was truly top-notch."
Each year EUFMC's officers and board of directors put together a comprehensive program that includes fleet managers, suppliers and industry experts who address topics that are most relevant to attending fleets. In 2011, for example, the theme of "Focused Strategies for Future Success" will be covered in the following sessions:
• Fleet Strategies: Acquisition, Maintenance, Parts – Gill Nichols, Baltimore Gas & Electric; Herb Kramer, Oklahoma Gas & Electric; Gary Butler, Progress Energy; Moderator: Bill Doggett, LGE-KU
• 2010 Emissions Systems: Fleet Experience and Strategies – Steven Hopkins, Georgia Power; Jay Massey, AmeriGas
• Hybrid Truck Life Experience: One Year Later – Mike Allison, Duke Energy; David Meisel, Pacific Gas and Electric Company; Glenn Martin, Florida Power & Light
• Utilization of Benchmarking Data to Define Success – Chris Shaffer, Partner, Utilimarc
• Acquisition and Funding Strategies – Mark Smith, National Technology Deployment Manager, National Clean Cities Program
• Washington Update: Legislation and Regulations Impacting Fleets – Pat O'Connor, President, Kent & O'Connor Inc. and U.S. Legislative Counsel, National Association of Fleet Administrators
• Plug-In Hybrid Electric Vehicles – Mark Kosowski, Technical Executive-Hybrids, EPRI
• Emerging Market Update – Bill Van Amburg, Senior Vice President, CALSTART
• New Standards for Cranes and Digger Derricks – Joel Oliva, Program Manager, National Commission for the Certification of Crane Operators; Jim Olsen, Product and Safety Engineer, Terex; Josh Chard, Director of Product & Corporate Safety, Altec Industries
"We work as a group for many months to sort through a large array of issues and determine what subjects will have the greatest interest to the fleet and supplier community," Survant related. "By focusing on the most important critical issues, EUFMC is highly valuable. Attendance at this conference helps fleet professionals make a difference in their organizations."
Other valuable and popular aspects of the conference continue to attract attendees to EUFMC. Every year a keynote speaker from a utility leads off the conference. This year Mike Sole, vice president of government affairs, Florida Power & Light, will address the group. In 2010, Des Bell, senior vice president of shared services and chief procurement officer at Pacific Gas and Electric Company, kicked off two days of technical presentations.
EUFMC also features guest speakers from the outside the industry who share important perspectives with attendees. This year, Coach Lou Holtz, one of the most celebrated and accomplished coaches in sports history, will return to Williamsburg – where he served as the College of William & Mary's football coach from 1969 to 1971 – to address the conference.
Aptly called "the greatest motivator of our time," Holtz had a 26-year career of inspiring players and motivating them to be winners, most notably with the University of Notre Dame "Fighting Irish" football team. At EUFMC, Holtz will use his experience and humor to help attendees learn to assess their strengths, work as a team and embrace the values that can help improve their organizations.
EUFMC is noted for its exhibition of the latest utility equipment and services. The EUFMC equipment demonstration this year will feature more than 60 displays where fleet managers can meet with 270+ representatives from more than 95 manufacturers and service providers. Since its inception, the conference has promoted close cooperation between fleet representatives and manufacturers and suppliers engaged in the development and design of vehicles and equipment associated with the electric utility industry.
"EUFMC provides incredible value," said Judie Taylor, president of Utility Equipment Leasing Corporation. "Not only does it connect utility fleet managers together in discussions centered around their most current challenges, it also connects suppliers as a part of the solution to meeting their needs. The drive-through demonstration and equipment display offer the ability to learn about technology, while the conference seminars provide substantive information to assist fleet managers in learning about industry trends. Overall, this is one of the best conferences in our industry."
The sharing of best practices continues to attract new attendees to EUFMC. The meeting provides a forum where fleet representatives can exchange information and discuss mutual concerns, including EUFMC's highly popular fleet and supplier roundtables.
"As a first-time attendee at EUFMC I found the conference to be of great value as a fleet manager," stated Bill Bonham, senior manager at Tennessee Valley Authority. "The networking opportunities with other electric utility fleet managers are a one-of-a-kind experience that can't be found anywhere else. Everything about the conference was great."
With all it has to offer, EUFMC continues to attract record numbers of attendees. In 2010, the conference had its highest level of fleet participation, including 100 fleet managers from more than 50 companies. Also included were more than 30 first-time participants.
This year's 58th annual EUFMC is on track to set another attendance record. "EUFMC continues to offer amazing value to fleet managers," said Wesley Keller, manager, transportation at PPL and this year's EUFMC chairman. "The attendance at the conference reflects how great a forum this is for gathering valuable information and learning about best practices and technology developments that can be used to improve the efficiency of fleet operations. The record number of attendees shows clearly how this unique industry event provides exceptional value."