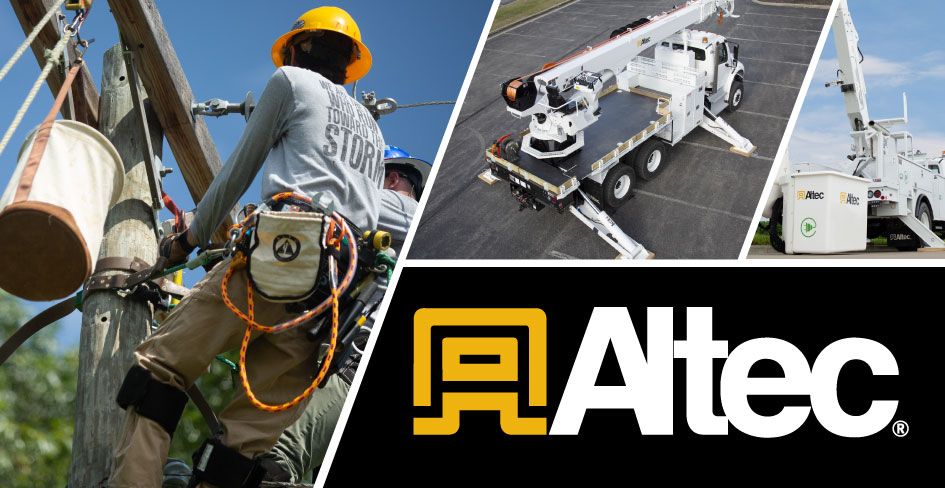 2021 UFP Powerplay Advertiser Products
Check out these products from UFP's advertisers and meet with many of them September 28-30 at The Utility Expo (Formerly ICUEE) in Louisville, Kentucky!
Check out these products from UFP's Powerplay Advertisers and meet with many of them September 28 – 30 at the Utility Expo (Formerly ICUEE) in Louisville, Kentucky!
Altec Equipment Mix (Booth E128)

Altec will showcase its largest equipment mix, including aerial devices, digger derricks, cranes, backyard units, bodies, specialty units and more. The Altec lot will feature scheduled demonstrations and opportunities to operate units. Representatives will also be on hand from Altec Capital, Altec NUECO, Global Rental, Altec Supply, Altec Fleet Services, Altec Worldwide and Altec Sentry, which offer value to customers beyond the sale of equipment.

Andax Industries Big Containment Pac

The Big Containment Pac is a spill kit that can contain spills up to 110 gallons and fits in an 18-inch-by-15-inch-by-5-inch vacuum-sealed package that easily fits behind truck seats and in other tight spaces.

The Pac includes everything needed to respond to a spill of up to 110 gallons, including three 48-inch oil-selective Sorb Sox (mini-booms); 20 15-inch-by-19-inch oil-selective absorbent pads; a disposal bag and tie; protective gloves; and a 60-inch-by-10-inch-high pop-up containment pool with a carrying case and CO2 cylinder.

In the event of a spill, the mini-booms and absorbent pads can be used to block off a storm drain or waterway, while the inflatable pop-up pool can contain the bulk of the spill. The Big Containment Pac is a complete spill response system in one pilfer-proof package.

Bigfoot Construction Equipment Twilight Pad (Booth N1306)

The Twilight Pad features a magnet-held light with multiple options for working at night. This will bring attention to the setup, equipment and personnel working, plus eliminate tripping hazards. The light is waterproof with a rechargeable battery.   

BOSS Industries MechanX 250 (Booth E1117a)

The MechanX 250 is a unique multifunction gas piston 23 CFM (delivered), 250-amp welder and 5.0-kW generator. This portable unit offers 23 horsepower and is ideal for the entry-level mechanic and contractor industry.

Bullet Proof Diesel EGR Cooler Set

With a track record of more than a decade, Bullet Proof Diesel changed the light truck diesel segment with the advent of the BulletProof EGR cooler, which greatly reduced the failure rate of the component. Taking the technology further, Bullet Proof Diesel has engineered a patented, self-accommodating H-core design that allows for the natural expansion and contraction of cooling tubes inside the EGR cooler.

A more forgiving EGR cooler design is integral to the durability of the component. During the life of an engine, a thermal event – that is, an occurrence in which sufficient coolant flow is prevented from reaching the EGR cooler – will cause a temperature spike in the unit that often leads to component failure.

The BulletProof International MaxxForce 11/13 Complete EGR Cooler Set joins the BulletProof EGR cooler offerings, including EGR coolers for the Maxxforce 9/10/DT, Cummins and more. This will add to the BulletProof EGR cooler heavy-duty lineup of EGR coolers for Class 5-8 trucks.

 

Dakota Service Bodies (Booth E1037)

Dakota Bodies can provide more than just your average service body. We go above and beyond industry norms by constantly updating our designs to keep our customers prepared every single day. Our service bodies have proven to be the best choice for reliable, long-lasting truck bodies that can provide optimal storage and organization to protect and secure tools and equipment. Unistrut on the inside of the compartments provides infinite shelving placement options along with adjustable dividers to keep your small parts organized. The double panel compartment doors have internal reinforcements for ultimate durability, gas cylinder door holders to withstand everyday use, and automotive bulb-type weather stripping to keep compartments dry. 

Our service bodies are offered in aluminum, stainless steel and galvanneal steel. Most service body manufacturers use A40 galvanneal steel, but Dakota Bodies uses A60 galvanneal steel, which contains a higher percentage of protective coating and is therefore a tougher body. Our heavy-duty powder coat and zinc-rich primer also provides superior corrosion resistance.

Dejana Hub Drive Cable Trailer (Booth E1349)

Dejana's all new galvanized Hub Drive Cable Trailer stands up against the elements and is specifically designed for areas where conditions can cause premature deterioration and equipment fatigue. 

This self-propelled cable-pulling machine utilizes patented technology and can deliver up to 400,000 in-lbs. of pulling power. The 24-inch lateral movement of the arms makes spooling cable in difficult locations quick and easy. This feature gives greater flexibility on the job site by allowing obstacle avoidance with the reel unit and facilitates even spooling, providing offset or side-pull capability when removing or installing cable. The trailer also features a self-propelled and steerable nose wheel that is capable of being driven by remote control at speeds of up to 2 mph. The system is designed for both underground and overhead cable-pulling applications and has a lift arm capacity of 16,000 pounds. The patented reel drive system is unique in that it is all hydraulic with a direct drive crankshaft powered by two hydraulic cylinders on each arm. The hydraulic lifting cylinders are directly connected to the arms without any linkage, which means fewer parts, less breakage and longer service life.

Elliott E150i Aerial Work Platform (Booths E951 and N1226)

Elliott's new E150i is five machines in one. Designed to maximize utilization and versatility, the E150i can be configured as follows: a 130-foot telescopic material-handling aerial; a 150-foot articulating steel construction aerial; a 150-foot articulating 500-kV live-line aerial; a 60-degree over-center articulating substation aerial; and a main boom material handler.

Key to this is Elliott's hot-swap technology, which allows the user to interchange booms and platforms depending on the application. This enables users to literally turn a 500-kV articulating aerial work platform into a telescopic material handler in a matter of minutes. The ability to swap a fiberglass 500-kV boom with a steel boom allows crews to configure the machine for proper use each day. This flexibility maximizes utilization and minimizes the user's capital cost. 

The E150i is also loaded with other features, such as EZ Crib outriggers to reduce the need for cribbing, Bluetooth remote diagnostics and hydraulic tool circuits. It is backed by a lifetime structural warranty. 

Felling Air Ramp System (Booth K332)

Felling has introduced the Air Ramp system for their 18-21K-capacity I series drop-deck trailers equipped with air brakes. It operates via an airbag system that works off the same supply as the air brake system, which means that any air-brake-equipped truck can operate a Felling Trailer equipped with air ramps without any other external power source (e.g., battery, gas engine or truck-powered hydraulic system). The air ramp system does the lifting for you – flip the switch and the air ramp system will raise or lower the ramps. 

Additionally, the air ramps work in combination with a slide track system. The slide track allows the ramps to move laterally along the trailer's full-width ramp rod operator to position each of the ramps in the optimal location for safe loading/off-loading. This makes loading of equipment – such as horizontal directional drills, skid steers and compact loaders – a safer operation as the ramps can be set to the loading needs of the equipment with ease.

Golight Stryker ST Series (Booth N2432)

The Stryker ST Series by Golight Inc. is the newest, sleekest line of wireless and hardwired remote-controlled searchlights. The Stryker ST Series is loaded with new wireless technology benefits, including multiple light operating capability, simultaneous pan/tilt movement and an on-command return-to-home feature. Other Stryker ST Series features include a wireless hand-held remote control or a hardwired dash-mount remote; permanent or portable mounting; and halogen or LED light output. Units are available in white, black or chrome. 

Knapheide Service Bodies (Booth E741)

Knapheide manufactures a full line of service bodies to meet nearly any vocational application or size of truck – from half-tons to Class 8. Whether you need a body that can handle your aerial device, telescopic crane, tools or welding equipment, Knapheide has a service body that will meet your individual needs.

Choose a Knapheide service body constructed of rugged galvanneal steel or military-grade aluminum. More mobile tradespeople throughout North America rely on Knapheide service bodies compared to any other brand, according to the company.

Mobile Desk Console-X (Booth N1505)

Mobile Desk/Mobile Office Solutions provides the utility, military and medical industries with various mobile office technology solutions – including the Console-X – that support first responders. We specialize in mobile computing and electronic mobile office technology, allowing end users to work more effectively.

Morooka Rubber Track Carriers (Booth E1027)

Morooka rubber track carriers combine traction with maximum load capacity to go wherever you have a job that needs doing. With the widest range of rubber track carriers in the market – many made right here in the USA – Morooka can match a model to any job.

Morooka Utility Carriers, also known as the VDL line, are sold as a blank slate to allow users to customize them to their needs. Anything that will mount to a standard truck frame will mount to a Morooka VDL model. Morooka also offers additional options from the factory, such as extended frame rails, protective cabin guards and tow hooks.

PowerBully Track Carriers (Booth E318)

PowerBully track carriers are strong and rugged for accessing challenging work sites. The PowerBully 5T has a payload capacity of 16,000 pounds. The PowerBully 18T chassis has a 36,000-pound payload and is powered by a Cummins Tier 4 Final, 310-horsepower turbo diesel engine. Combining payload and power with the company's exclusive rubber X-track, the 18T provides the traction, torque and muscle you need when you need it. Every PowerBully 18T also comes standard with a telematics platform to enable direct, mobile access to the carrier for fleet and tech services, ensuring your carrier is always ready for work. 

PRINOTH PANTHER Tracked Vehicles (Booth E823)

PRINOTH has unveiled its next generation of PANTHER tracked vehicles with the PANTHER T6, T8, T12 and T14R models. Throughout the development of the new generation, the PRINOTH team has always kept the vehicles' performance capacity top of mind. With that goal, they've been able to boost productivity for contractors while keeping the very high off-road mobility standards that the vehicles are renowned for.

Like they did for the development of the rotating dumper models, the PANTHER T14R and T7R, PRINOTH's engineering team managed to implement some efficient changes into the vehicles' design to improve their operation levels and maximize engine capacities.

Overall, PRINOTH is excited to announce a payload increase for its PANTHER T6 and a speed increase for the PANTHER T12. The PANTHER T8, with 16,000 pounds, and the T12, with 25,000 pounds, now both offer the highest payload in their respective categories and will continue to help operators and contractors do the job faster and better.

Tallman Equipment Co. Tri-Clamp (Booth B1554)

The Tri-Clamp is a patented, multi-plane clamp that securely cradles bolts in accordance with NEMA spacing, then clasps itself to the mounting pad of a connecting jumper line. The resulting bolt stability creates a process efficiency that cuts connecting times by as much as 65%. A starter socket holds a nut, lock washer and washer in alignment, enabling lineworkers to safely seat all three onto their corresponding bolt in one motion, thereby eliminating dropped washers and facilitating faster, more systematic connections. This tool reduces lineworker exposure and makes an otherwise hazardous task more practical and much safer.

Terex General 65 MAX (Booth E1335)

As the strongest digger derrick in the transmission market, the new General 65 MAX from Terex Utilities boasts greater capacities through all boom angles, but especially in the work zone. It has increased capacity for all zones, ranging from 26% at high boom angles with X‐boost to 80% at lower boom angles, specifically below 0 degrees (subject to chassis and unit configuration due to stability). Whether the transmission crew needs low boom angles for digging holes and pulling a full auger flight of dirt or to unload padmount transformers at high boom angles, the General 65 MAX has superior lifting capacity in all positions. It leverages many Terex-pioneered design features, such as trapezoidal dual hydraulic cylinders that stabilize the boom during digging and rotating; a hydraulic controlled, rectangular second boom section; and a filament-wound fiberglass third boom section.

Tessco Fleet Solutions

Providing fleet teams with the tools to efficiently do their jobs while in the field is a must. A well-constructed, ergonomically designed mobile environment built with best-in-class products ensures a high-performing and productive outcome.

Whether you're looking for an all-in-one solution built with the highest safety and quality standards, enhanced user comfort, or portability and on-the-go flexibility, Tessco has the products – including rugged laptops and tablets, consoles and mounting equipment, and mobile antennas – needed to keep fleets powered, connected and productive.

UTV International Digger Derrick Combo (Booth E1119)

UTV International has introduced a new and unique option for the Achiever RT-02 DD Tracked Digger Derrick & Aerial Combo Unit for electric distribution work. The hydraulic foldout fourth boom with a bucket is now available with a second single-man bucket in place of a jib. Two single-man buckets can be pinned on at the same time, allowing for the increased safety of two people working overhead power lines using only one vehicle. Buckets can be folded back, and the boom can be moved onto the boom rest for short, off-road, pole-to-pole transport. The second bucket can be removed, stored and secured on deck behind the cab during trailering.

Venco Venturo Workforce Service Trucks (Booth E1347)

From the maker of rugged and reliable Venturo cranes comes a series of work-ready Workforce service trucks and custom service trucks designed to get the job done. All Venturo products are built to withstand the most challenging work environments, and our packages were developed to enhance safety and productivity. 

Our VTEC Center team builds on our manufacturing experience, with salespeople who know their stuff and factory-trained technicians who spec, install and test every build. If you're looking for a single-source upfit solution that offers quality service truck builds and shorter lead times, look no further than our VTEC team. Choose from our ready-to-roll Workforce upfit packages or your choice of configurations in a custom build.